WHEN TO VISIT THE CANADIAN ROCKIES?We often get asked this question. First of all, the answer all depends on the traveller and reason for the trip, and secondly , how dare you make us choose! The peak summer season (June to September) is spectacular no doubt, but if you're looking for something more off the beaten path with less selfie-sticks blocking your shots, then winter is the way to go and you'll see why in just a minute.
WHAT TO DO IN THE ROCKIES DURING WINTER?That's where we come in! Last March, alongside a few travel experts from the Canada by Design team, I embarked on an action packed 6 night journey through Alberta's Rocky Mountains on a mission to scout out as many new winter experiences as possible.
Our amazing race through the Rockies had us repelling down waterfalls, hiking through thousand year old canyons and sampling local eats and craft beer on a walking tour , all in the name of matching you with your dream winter-wonderland itinerary...okay, some of it may have been just for us too. Tough gig - but someone has to do it!
These 11 winter trip ideas in the Rockies include some of our favorite experiences, photos, tips, and must-dos! Which ones are you up for?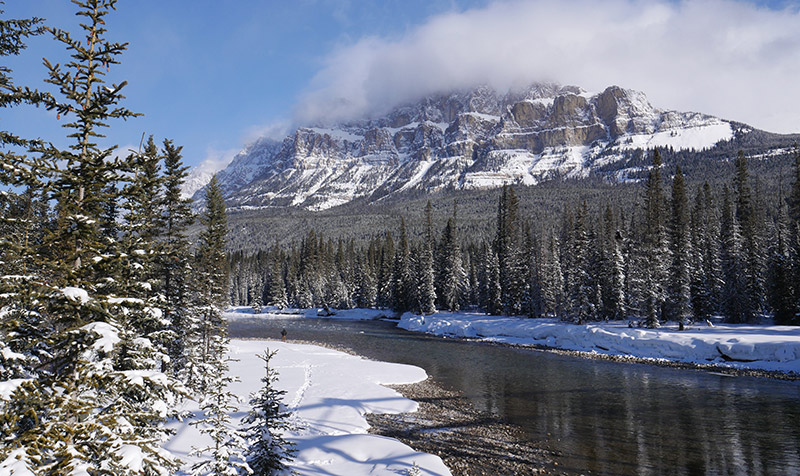 1. Snow Train to the Rockies with VIA Rail
Forget line ups, gate changes, and flight delays; we chose to take the train from Vancouver to Jasper, and make the actual getting to the Rockies part of the adventure. We basked in sparkling snow covered views from our private cabins, swapped stories with other travellers over a drink in the dome-viewing car, and were charmed by the overall throw-back romance of the train experience.
Our trip lasted from Friday evening to Saturday afternoon which was just long enough to settle in and enjoy ourselves without getting antsy - the perfect duration for an introductory rail trip.
Tip: This route involves guests sleeping on the train, so I'd recommend booking a private cabin for optimal comfort and overall experience. Check out our Snow Train to the Rockies itinerary suggestion here.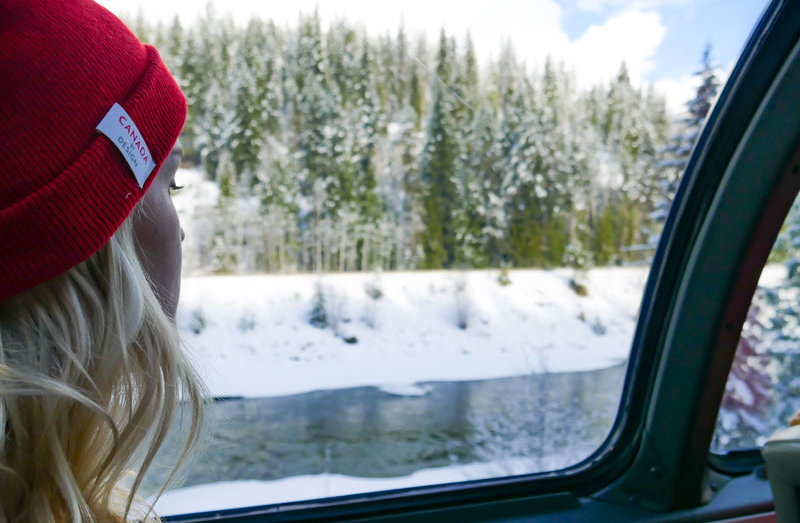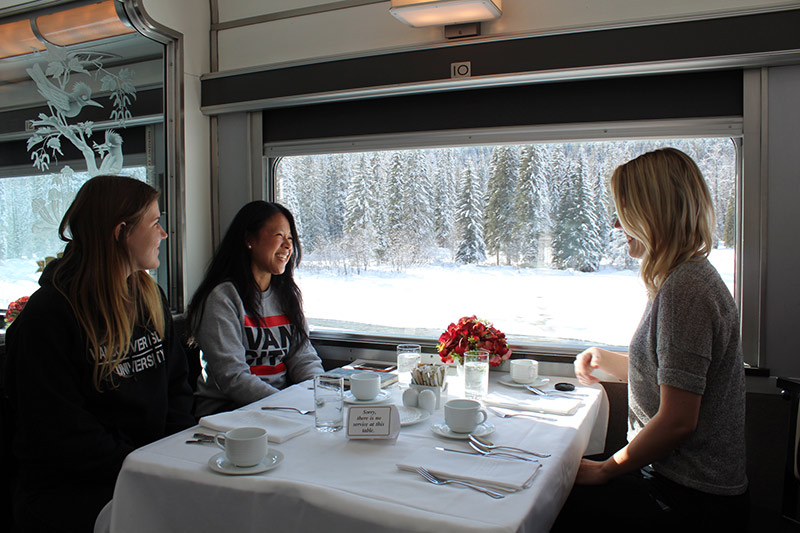 Next up...skiing at Marmot Basin!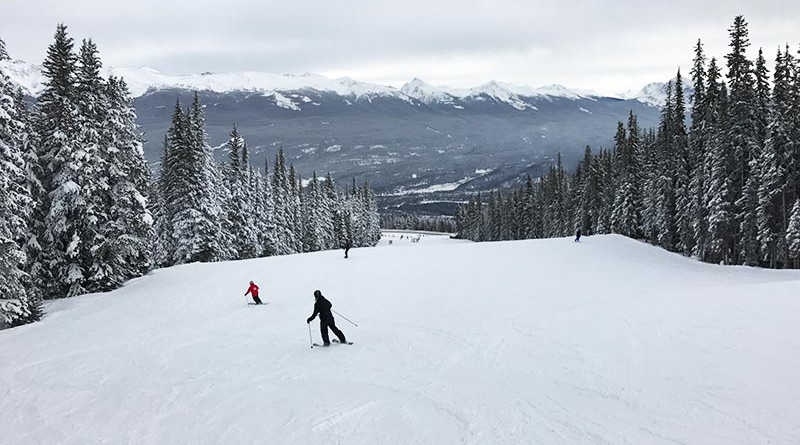 2. Skiing at Marmot Basin in Jasper
Grab an Americano and smoked salmon breakfast sandwich at Wicked Cup, then head up to the local mountain Marmot Basin for a powder-packed afternoon on the slopes. I hadn't skied in over 10 years and even then I had only mastered the pizza technique, so I was a little anxious.
But Marmot lived up to its reputation of having wide open terrain, excellent snow conditions, and no lift lineups , making it easy for me to feel comfortable (my ski instructor Andy was a huge help too!). Check out Andy and I above - I wasn't exaggerating about the wide open runs! The resort has this local charm that I loved, and really makes you feel like you've discovered a hidden gem in the Rockies.
Tip: Marmot's conditions and excellent rates make it a great choice for families.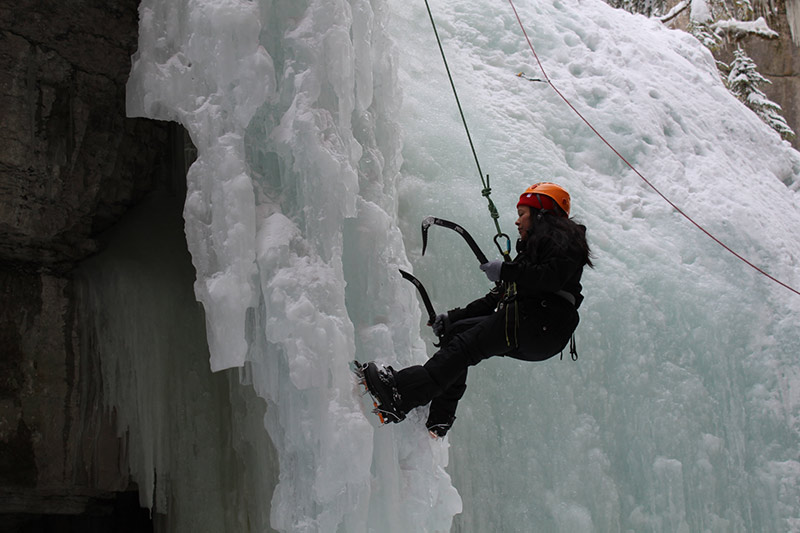 3. Ice Climbing in Maligne Canyon
How could we resist ice climbing inside the famous Maligne Canyon in Jasper? If nothing else than for the bragging rights that come with ice picking up a 100ft waterfall , I mean, that's just good story fuel! Ice climbing sounds much more extreme than it actually is; no experience is necessary to ice climb. The certified guides at Rockaboo Mountain Adventures are a ton of fun, and they say that if you can climb a ladder, then you can ice climb!
Tip: Those who feel less adventurous, but still want to experience the canyon should try the walking tour with Sundog Tours. We can time your tour with the ice-climbers in your travel party. Check out Anna at the bottom of Maligne Canyon below!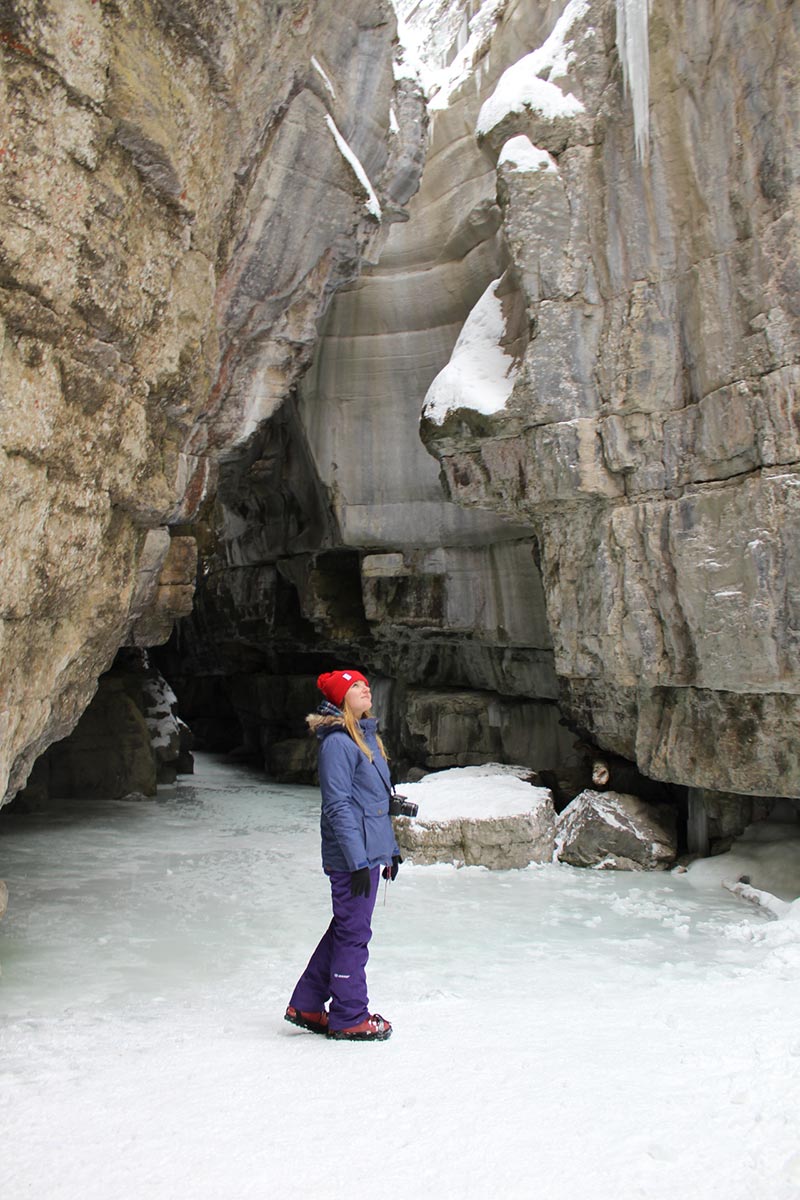 Next up...Lake Louise!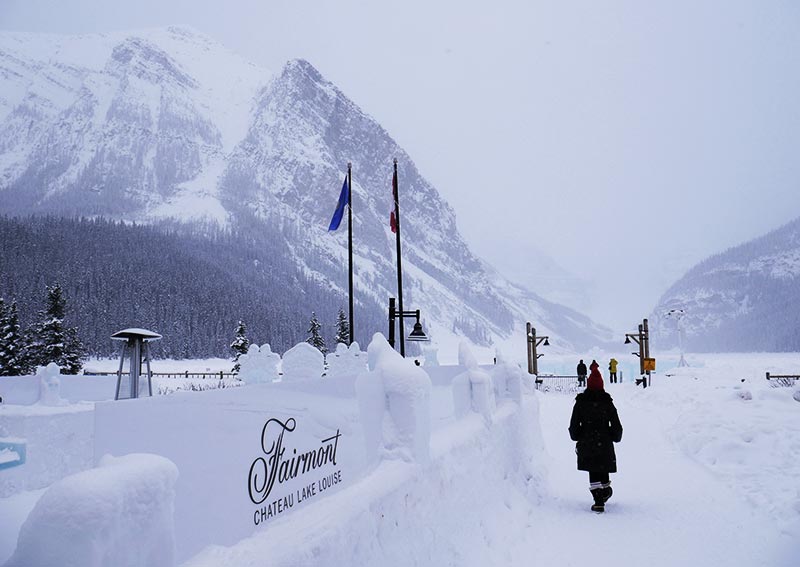 4. Skiing, Skating, and Sleigh Rides at Lake Louise
We started with a half-day of skiing at Lake Louise Ski Resort which proved not long enough to explore all 4200 acres of skiable terrain , especially when we kept stopping to gawk at the views! Non-skiers can (and should!) enjoy magnificent views from the middle of the lake on skates or by foot.
Even on a cloudy day, we could feel this sense of grandness and romance in the air. And it wasn't just us feeling the love , while skating; among the few others on the lake with us were a couple getting engaged! If that wasn't romantic enough, we finished the day with a sleigh ride around Lake Louise and a tasty European inspired feast at Walliser Stube in Chateau Lake Louise - hello, warm and fuzzies!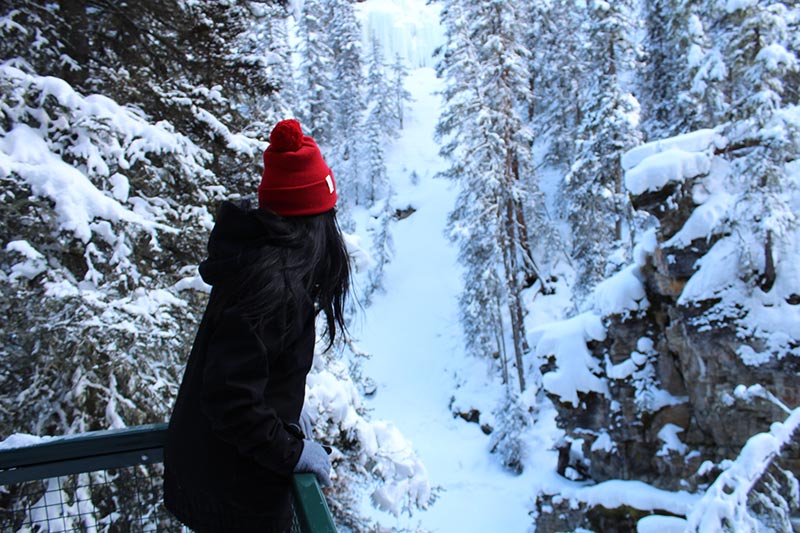 5. Johnston Canyon Icewalk in Banff
Venture into a limestone canyon shaped by thousands of years of water erosion and draped in frozen waterfalls and trickling streams. This is another popular summer experience that visitors can almost have to themselves in the wintertime. We embarked on a guided Icewalk led by Anik from Discover Banff Tours. She kept us entertained with her sharp wit and engaging stories about the canyon's history while we marveled at the ice falls and unique rock formations.
The guides timed our experience perfectly so that we were on our way out of the canyon as the self-guided visitors started trickling in , we could see them eyeing our hot chocolate in envy. Along with refreshments and snack, Discover Banff Tours include ice-cleats and walking poles which make this easy for all activity levels to enjoy.
Tip: This is comparable to Jasper's Maligne Canyon but varies in landscape and geology; it's worth experiencing both.
6. Calgary food Tour - Craving Kensington
If you're coming to the Rockies, you'll most likely start or end your trip in Calgary. Food lover to food lover, you're going to want to taste your way through as many restaurants as possible in this emerging foodie destination. The best way to do that (especially with limited time) is on a Calgary Food Tour lead by a food-crazed local.
We chose to try the Craving Kensington tour which had us digging into canapes, gourmet pizza, cheese, wine, spirits, craft beer, speciality teas, sweet treats and self-decorated cupcakes! We got a behind the scenes look at 6 yummy foodie stops and a real feel for the local culture and the stories behind the food.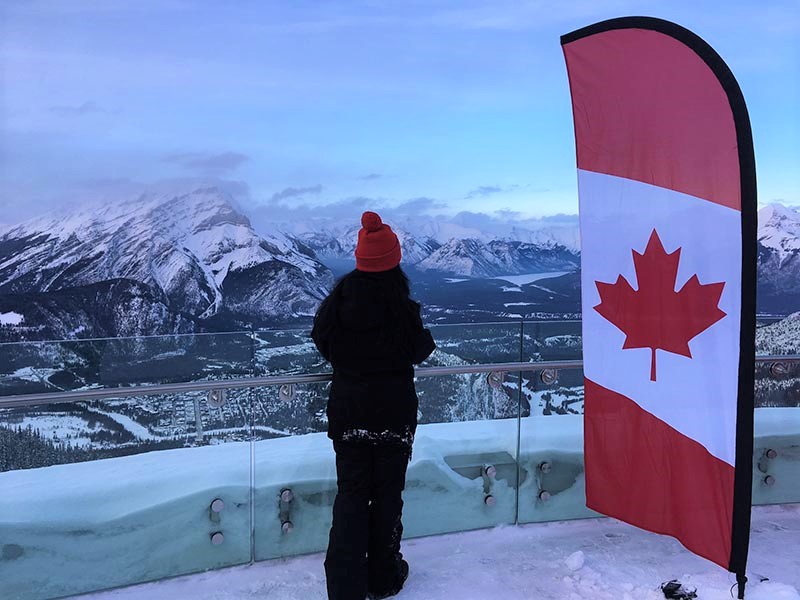 7. Banff Gondola
There was something about experiencing this major attraction in the quiet of winter, with only a few others around, that made it feel so special. After an 8 minute ride in the heated gondola, we reached the summit of Sulphur Mountain.
I remember stepping out onto the 360-degree rooftop observation deck and feeling blindsided by the incredible vastness of the six snow-covered mountain ranges in my view; it was overwhelming... in a good way though, in a remind-you-how-small-you-are-in-this-great-big-world kind of way...you know the feeling.
Tip: Sky Bistro restaurant at the top has some spectacular views. I'd recommend making a reservation if you're keen on dining there as it's a popular spot for both visitors and locals.
Another shot from the viewing deck because, wow.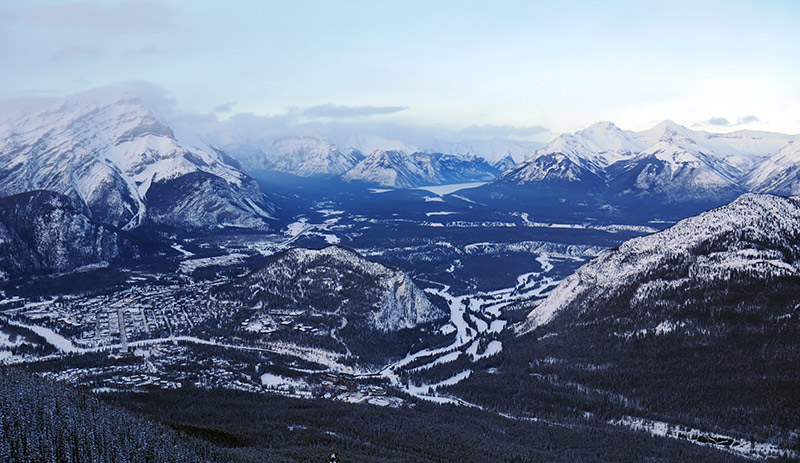 Up next...snow tubing at Mt Norquay!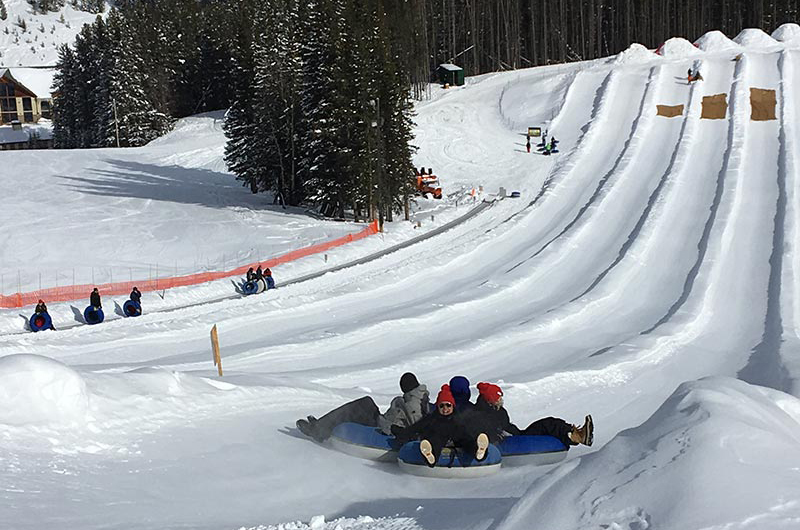 8. Tubing at Norquay Mountain in Banff
Want to feel like a kid again? Try hopping on an inflated tube next to your travel buddies while you whip down some of the fastest snow-tubing lanes in Canada. The magic carpet lift took us up the hill while music pumped and our anticipation built - then we linked tubes and off we went!
We really underestimated just how thrilling a snow-tube park could be, but as we came barreling down the hill laughing until tears ran down our faces , we were hooked. We ended up pushing our schedule around to fit a few more runs in.
Tip: Mt. Norquay is only 10 minutes away from the town of Banff making it easy to include in your Banff itinerary.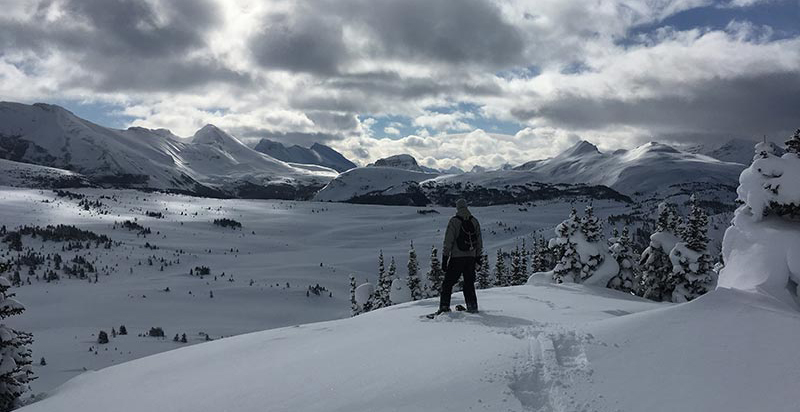 9. Snowshoeing on the Top of the World , Sunshine Village
This snowy adventure is the perfect mix of fun and challenging and surrounds you with the most spectacular untouched views stretching across to the British Columbia border. A gondola and chairlift ride lead us to the top of Sunshine Village Ski Resort where our guide from White Mountain Adventures prepped us for our journey.
How wonderfully surreal it felt to look around and see nothing but endless snow-covered mountain ranges with not a person in sight. We enjoyed a light snack and hot chocolate before returning back to the chairlift and heading to the lodge.
Tip: Dress for ski conditions as this tour will have you sliding down powdery hills and tromping through knee high powder. See our packing list below.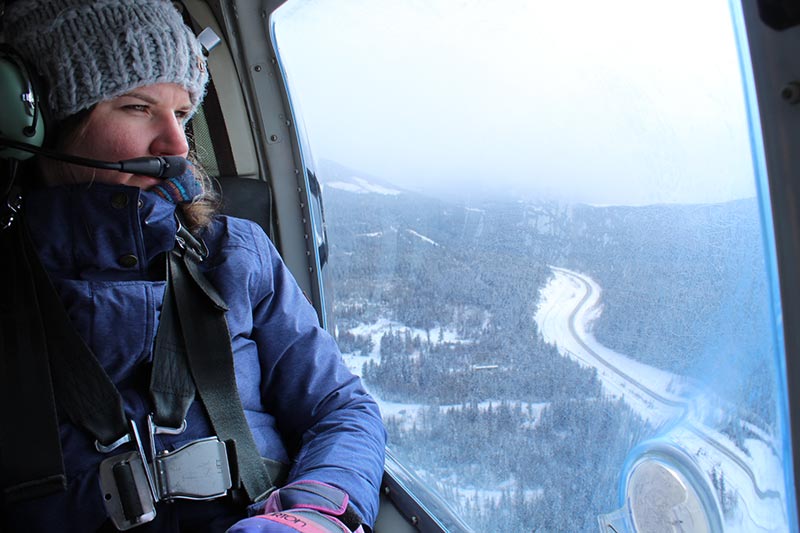 10. Heli-tour Over the Rockies with Snowshoe Landing
This is definitely a bucket-list experience and perfect for those who want to infuse some wow-factor into their itinerary. Our 20 minute flight with Rockies Heli Canada had us soaring over 6 glaciers before landing on a mountain for a hot drink and snowshoeing. It started to cloud over a bit once we landed, but we had clear skies on the way up so we weren't complaining , plus, who complains on a helicopter?
It was such a humbling experience to go eye to eye with these snow-capped giants, and I believe one of the few times in my life that I've been utterly speechless.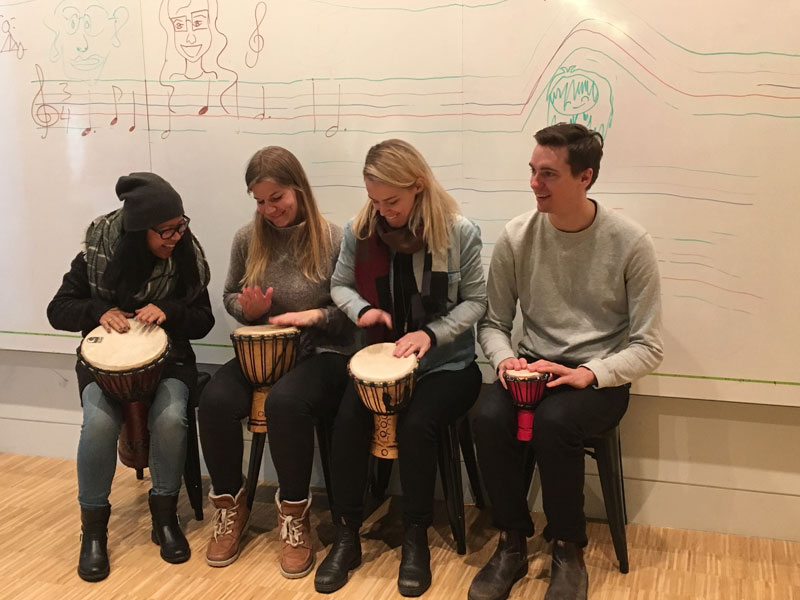 11. Studio Bell National Music Centre & Simmons Building
Start your day in Calgary with a visit to the Simmons Building - once a mattress factory, now a cool culinary destination right in the heart of East Village housing 3 of the city's top foodie spots. We ordered a house-roasted coffee from Phil & Sebastian Coffee Roasters then sat down for a delicious breakfast complete with fresh baked bread from Sidewalk Citizen Bakery before walking over to Studio Bell home of the National Music Centre.
Here we explored five floors of exhibitions celebrating the history of music in Canada. The architecture was so impressive, and we couldn't help but get a little carried away with the interactive instrument installations , not just for kids, we promise!
Tip: Studio Bell is only a 10 minute walk from the Calgary Tower so it's easy to add to your day of exploring by foot.
Our 11 winter adventures in the Rockies are just a kick-off point , from hot springs and annual ice sculpting festivals to aurora viewing and dog sledding, there's plenty more winter adventures that we can customize into your family's snowy getaway. Contact us to learn more and to begin planning.
WHAT TO PACKBeing based in mild Vancouver, we were all a bit nervous about the cold, but we soon realized that the Rocky Mountain air is definitely crisp but it's a dry cold and never seeps into your bones. So, if you're dressed in your winter wear, it's very manageable.
HERE'S WHAT TO BRING:
Ski jacket or warm waterproof jacket/parka
Long sleeve shirts or turtle necks and a warm sweater
Fleece or thick sweater for under your jacket
For the outdoor activities: waterproof snow pants
Chap stick for the dry climate
Waterproof boots and wool or thick socks
Warm hat, scarf or neck warmer and waterproof gloves or mitts
Sunglasses for Alberta's sunny skies and the bright reflection off the snow
Thermal under-layers are a great idea - I wore them under my jeans most days
Want more travel tips and inspiration like this? Join our newsletter list here!