From soaring over glaciers to strolling near spires, our recent heli-hiking trip in the Canadian Rockies wow-ed us with stunning landscapes, spoiled us with attentive service, and inspired us to share with travelers looking to take their Canadian vacation to new heights (pun intended). Here we share everything a first-timer needs to know about a heli-hiking adventure in Canada.
Before we dive in (and for all you quick scrollers) here are the highlights and a short video of our heli-hiking trip operated by our partners at CMH (Canadian Mountain Holidays).
Why We Loved Our Heli-Adventure at Bugaboo Lodge
Spectacular backcountry accessed only by helicopter
Scenic walks and inspiring strolls next to glaciers, lakes, ridges and meadows
Professionally certified guides leading the way
No experience necessary , customized perfectly to your comfort
Delicious and hearty meals shared together
Relaxing at the well-appointed lodge with a cocktail, massage or soak in the outdoor hot tub
Making unforgettable memories and newfound friends

Press play to watch our heli-highlights captured on the trip!

Arrival: What to Expect?
When my colleague Melissa and I arrived at the CMH Bugaboo heli-pad, we got out of the rental car, and in what felt like one swift motion, were greeted with a warm welcome by one of the guides, who tagged our bags and informed us where to stand to wait for the helicopter.
After a short 10-minute heli-ride (and a few giddy squeals), we were landing on the immaculate lodge grounds with no idea what the next three days would bring, yet already feeling at home thanks to the personable staff. The stunning remote setting didn't hurt either.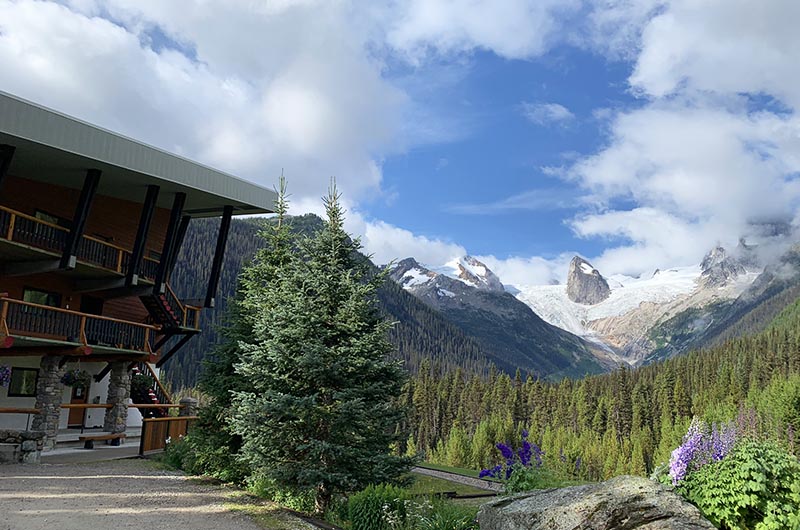 The beautiful Bugaboo Lodge grounds and Bugaboo glacier
Dave, the ex-lodge manager of 20 years and hiking guide extraordinaire, welcomed us "home" and gave our group of eight a tour of Bugaboo Lodge. We learned the lodge was the birthplace of heli-hiking back in 1978 after years of operating as a heli-ski resort. Half of our group were avid heli-skiers of the Bugaboos and had returned to try the summer program with their families.
After orientation, we were fitted with our new hiking gear provided by the lodge, fed a delicious hearty lunch, and given a helicopter safety briefing by the pilot before preparing to take off for our first hike. Here we go!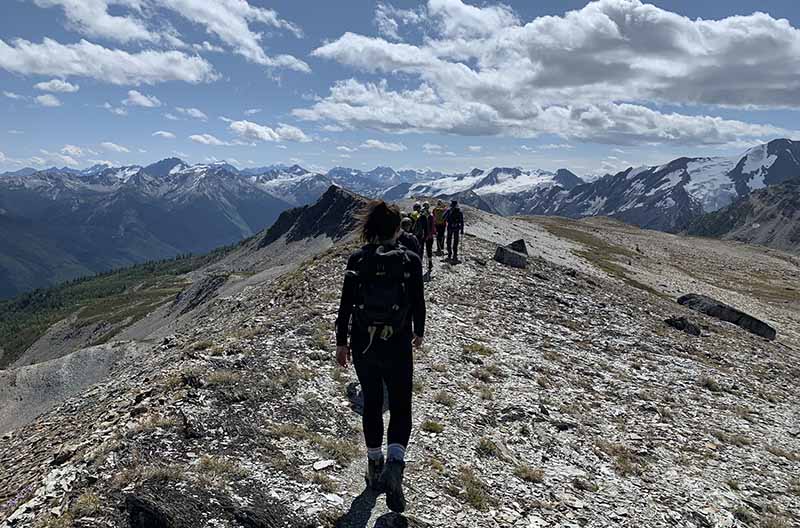 Melissa and our group hiking along a summit
Spectacular Backcountry Accessed Only by Helicopter
Something magical happens that first time you land by helicopter on top of a mountain ridge overlooking glaciers and the Canadian Rockies in the distance. Okay, I'll be honest , something magical happens EVERY TIME you land by helicopter on top of a mountain ridge.
There's a feeling of first-class exclusivity humbled by the awe-inspiring landscapes that surround you. Not to mention the exhilaration that comes with shuffling out of a booming chopper, then crouching next to it as it takes off, blowing your sunglasses and hat off in its wake (so, hold on tight!).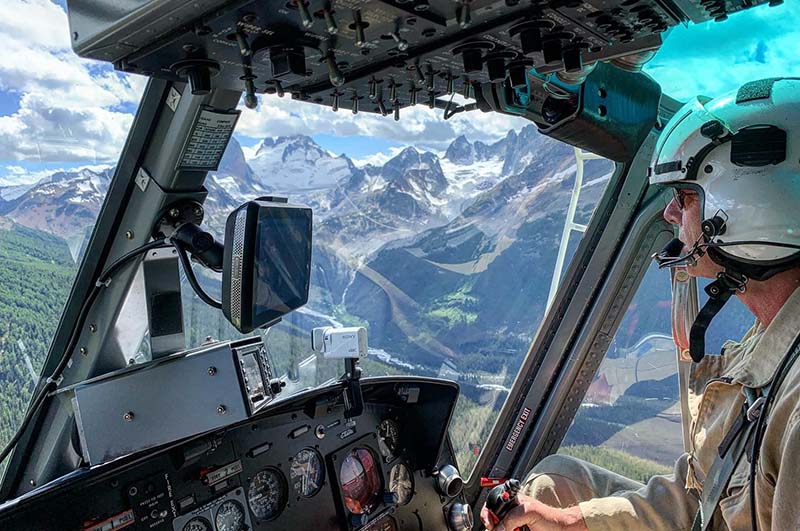 Fun Fact: While your itinerary begins in the Canadian Rocky Mountains, you technically won't heli-hike in them as helicopters aren't permitted within protected National Parks. Instead, you'll view their peaks while hiking the incredible sub ranges of the Columbia Mountains. It's an entirely new perspective; none of the crowds, with all the beauty.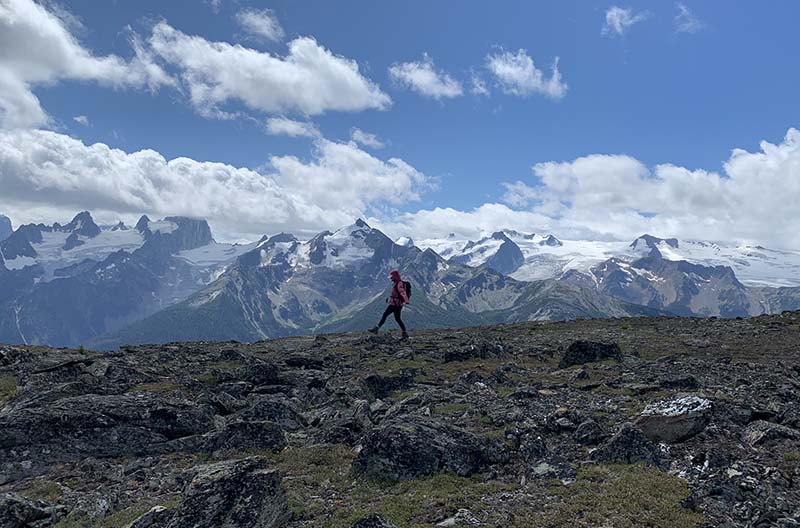 Scenic Walks and Inspiring Strolls
As an outdoor lover, it was not lost on me just how special it was to access these stunning natural surroundings, that without a helicopter would have taken hours (if not days) to reach by foot. Strolling above the clouds, while surrounded by glaciers and mountainous peaks, I was surprised just how easy it was to leave the city and daily stress behind.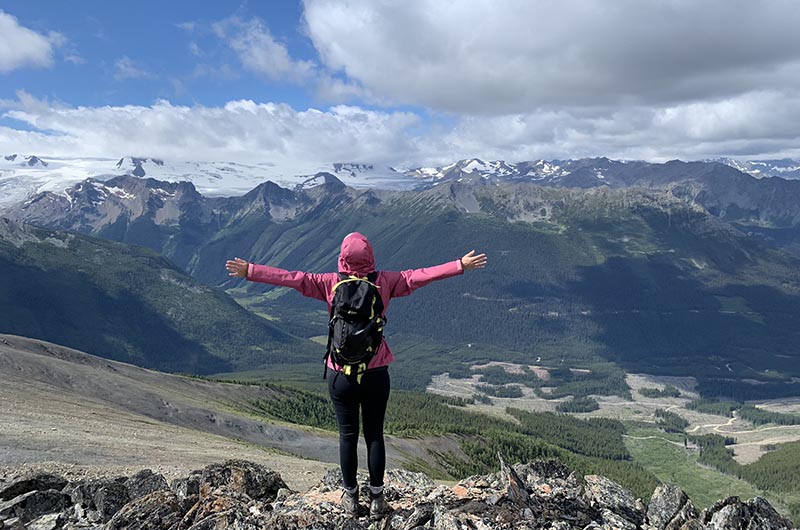 One foot in front of the other was all that mattered. The rhythmic stepping combined with sweeping vistas placed me effortlessly in the present moment. And it wasn't just me having these alpine epiphanies, either - Melissa mentioned entering a 'meditative state' at one point. Nature, who knew?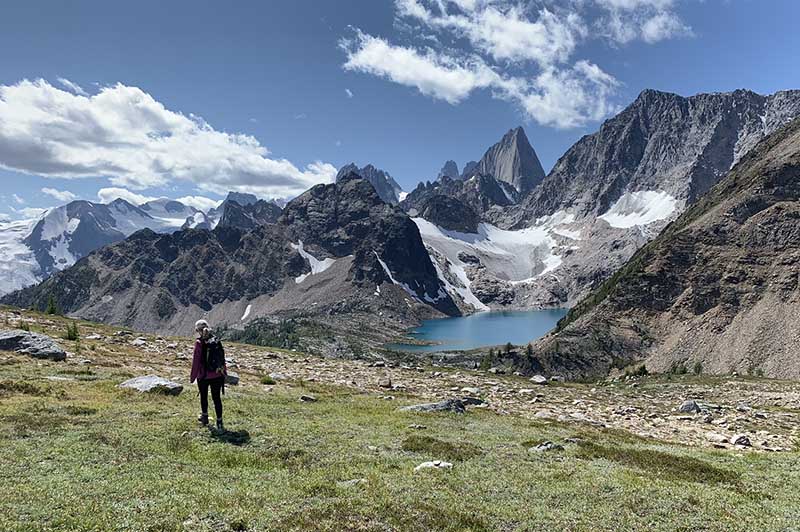 Strolling near Cobalt Lake with Bugaboo Spire ahead.
In between our moments of mountain inspiration, the guides would stop to point out nearby Vowell and Conrad glaciers and various spires and peaks. I sometimes was keen enough to write them down, but mostly I just ambled in awe and tried to keep my jaw from hitting the ground.
Did you know? The Bugaboo mountain range, located in the Purcell Mountains of eastern British Columbia, has been claimed one the most dramatic ranges in Canada. After experiencing it for ourselves, we can certainly vouch for that!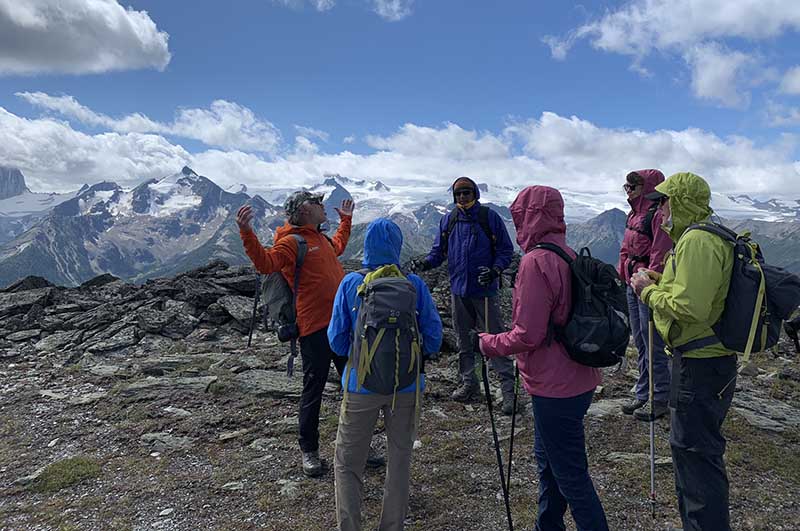 One of our guides keeping us informed and entertained, as always.
Customized to Your Activity Level, Led by Professionally Certified Guides
On day one, the guides will connect with each guest to determine the exact pace they're looking for. Do you want to feel challenged and cover a lot of ground? Or you want to go slow, take photos and just enjoy the scenery? We opted to feel challenged , I believe Melissa's exact words were, "tire us out!"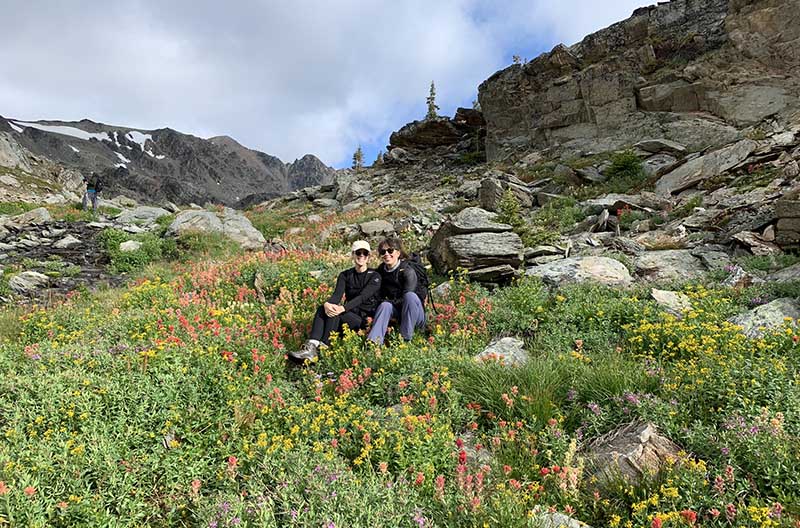 Based on your pacing requests, you'll be put into a small group of no more than eight for a hike, gentle walk or even Via Ferrata climb, if you wish (more on that to come).
Even in the advanced group, the certified guides checked in regularly with us, giving us the freedom to request a heli back to the lodge at any time. We were in the right group for us, steadily hiking without getting too strenuous, as the helicopter ride eliminates steep inclines from the hiking-equation.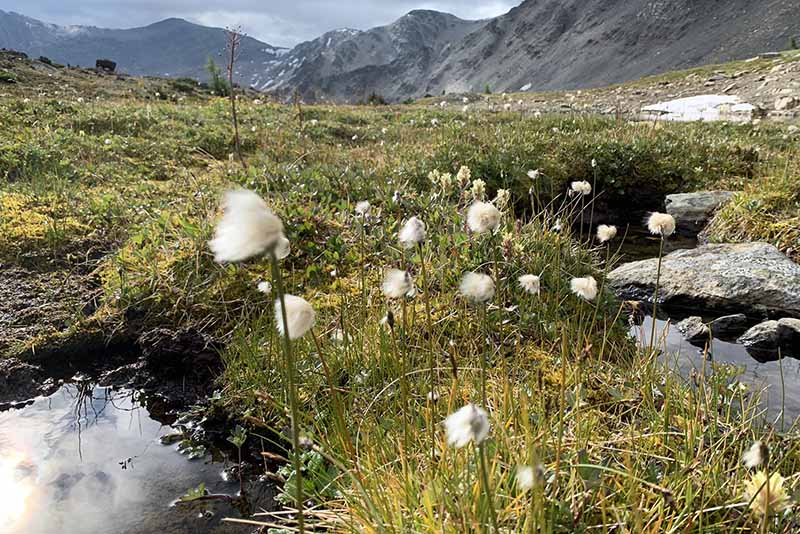 Scenic meadow and alpine flowers
As we crunched along shale-covered ridges and strolled through meadows with no path, Dave would give us tips on hiking form and breathing techniques to preserve our energy while describing the flora and fauna along the way; he even had us tasting edible plants!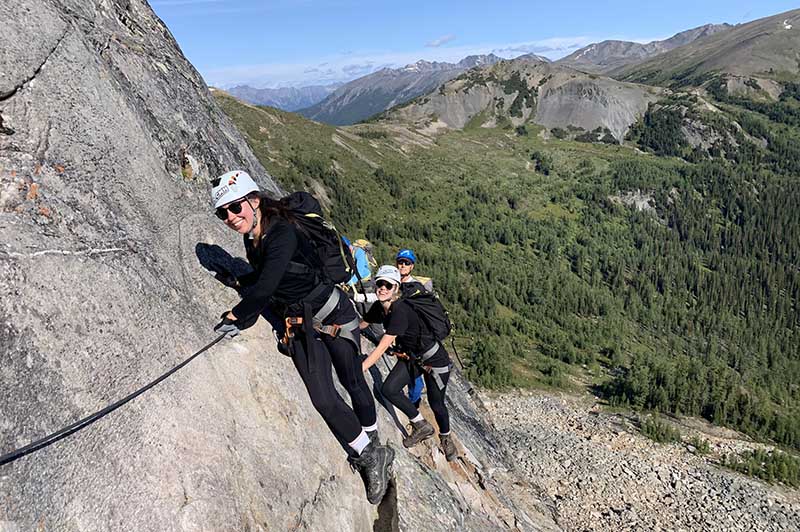 Melissa and I on the Skyladder Via Ferrata course
Via Ferrata: What You Need to Know
I went into this trip knowing that Via Ferrata was an optional included activity and feeling confident that I would have no part in it. Boy, did I ever prove myself wrong.
What is Via Ferrata? Italian for 'iron road', Via Ferrata is a series of rungs and cables built on a steep mountain face for assisted climbing. It was originally designed to help move supplies during war time and eventually became popular as a hobby and unique opportunity for regular people to feel like true mountaineers.
At the lodge, we were asked if we'd like to try Via Ferrata during our trip, and after much encouragement by guests who had tried and loved it (and much grilling the guides on what to expect) we wiped the nervous sweat off our brows and decided to tackle this new challenge! I mean, how else would we tell our clients about the experience? And equally important, the bragging rights!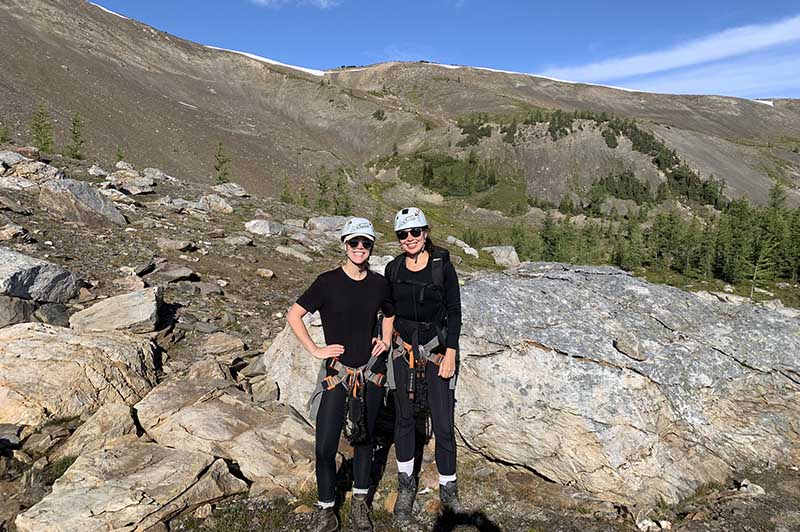 Suited up, ready to Via Ferrata!
Via Ferrata was scheduled for our last day and after a safety briefing and harness fitting, we were showed how to clip into the cables and reminded that our safety was our responsibility, so we'd need to pay close attention to our next move while on the course...gulp.
As apprehensive as I was at first, I was amazed at the transformation that took place as I got comfortable navigating my way up the Skyladder. I felt like I was in Mission Impossible and if I ever felt uneasy, the guide was there offering tips and techniques for finding the next move.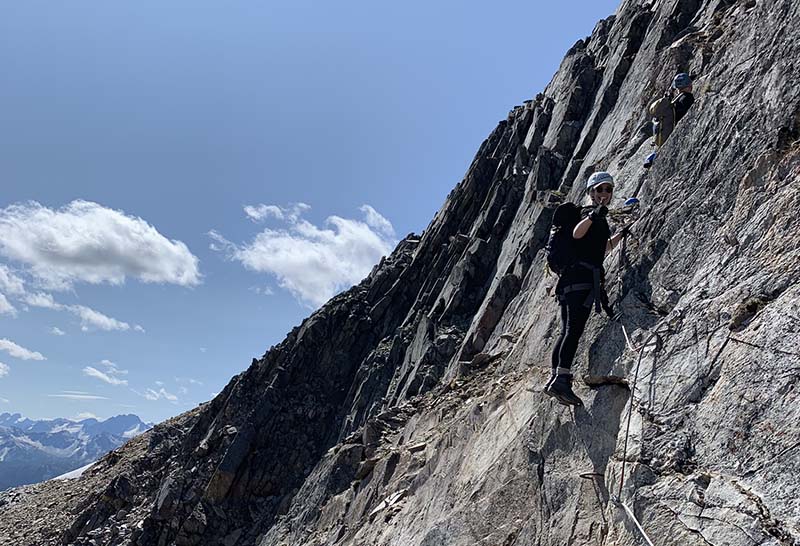 Just conquering the Skyladder and enjoying views of the Rockies behind me...no big deal.
By noon, we had reached the top and were rewarded with dramatic 360-degree views of snow-covered glaciers. That, and the accomplished feeling of conquering a mountain face. My eyes welled with happy tears, I smiled as the sun warmed my face, and then I demolished my lunch before hiking for the remainder of the day.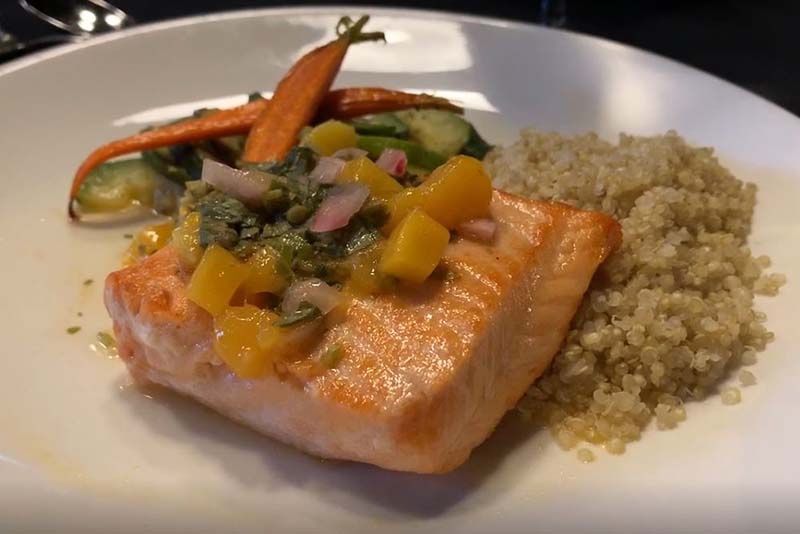 Delicious Meals Shared Together
Rest assured, you will not go hungry on this trip. We fueled up each morning with a hearty breakfast (everything from eggs benedict and French toast to fresh fruit salad and homemade granola) at the lodge, and then packed our lunch grab-and-go style from an array of prepared goodies.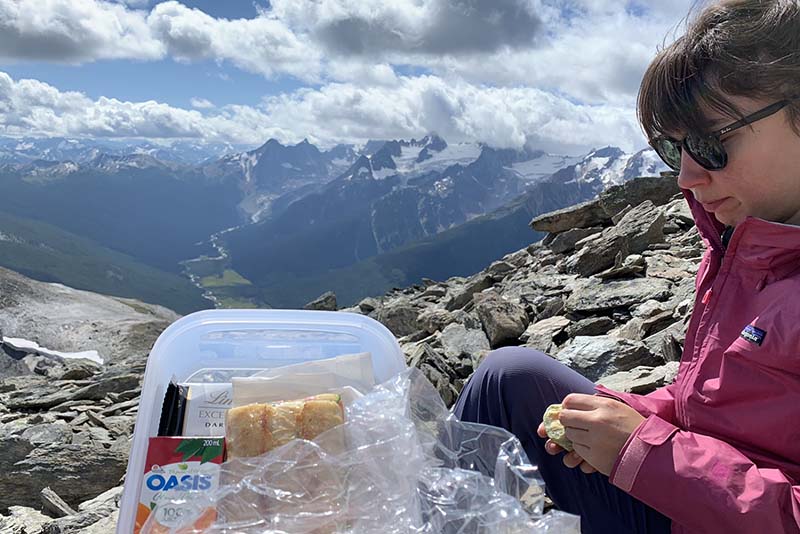 Lunch on the go and always with a view
After each day of hiking, casual snacks are available in the dining room , think nachos, wings and cheese plates - then at 7pm a delicious four-course dinner is served. For those with dietary restrictions, the CMH team handles these requests seamlessly, and will collect this information prior to your arrival.
So, no you certainly won't go hungry , but you will work up an appetite! And remember, calories don't count in the mountains. Go ahead and indulge (I certainly did).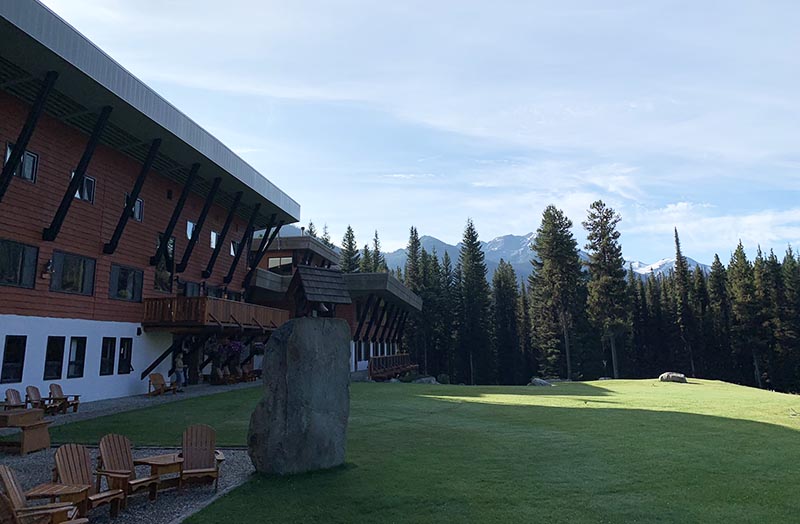 Relaxing at the Lodge
Each day we'd have time at the lodge to relax and enjoy its amenities. You can head to the sauna, take a dip in the nearby swimming pond or schedule a massage (tip: we highly suggest booking this as soon as you arrive). There are also board games, a climbing wall or a fully stocked bar if you'd like to sit on the deck with a cocktail and marvel at the pronounced Bugaboo spire commanding your view.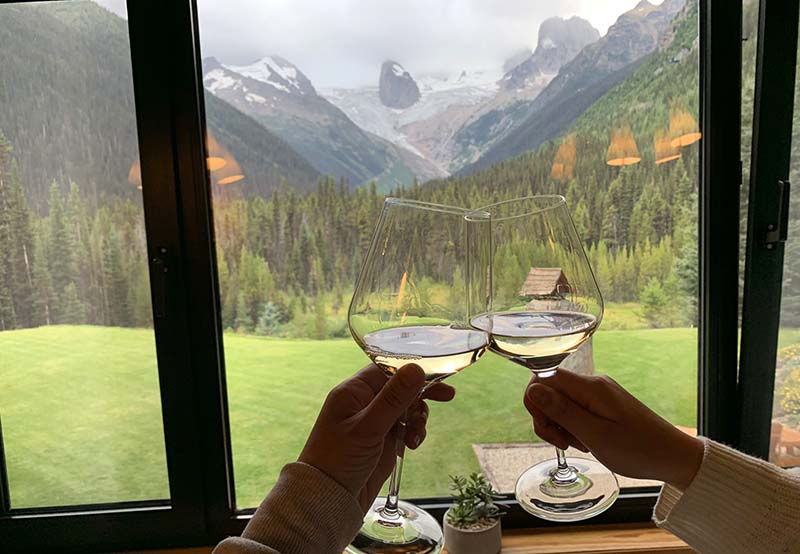 When we weren't hiking, we were enjoying the outdoor hot tub with a crisp beer in hand, socializing with our new hiking buddies or relaxing with a good book on the sun-drenched deck. Oh, and there's Wifi, so you can wow your friends back home with a few amazing Instagram shots.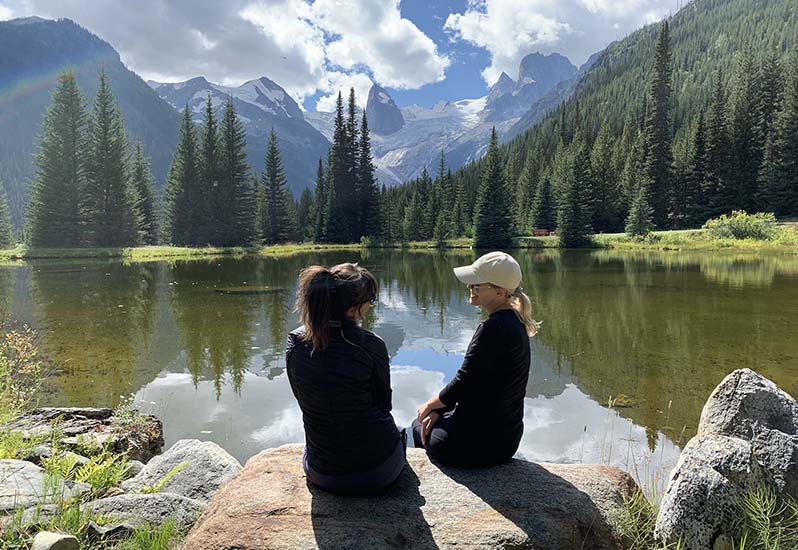 Melissa and I enjoying the sun at the lodge swimming pond.
Unforgettable Memories and Newfound Friends
Speaking of new hiking buddies, we knew to expect phenomenal hiking and a beautiful lodge, but we were completely surprised by the bonds that could develop in just three days. Sharing these amazing experiences with other travelers in such a unique setting, fosters genuine connection effortlessly.
After a day of hiking, we'd gather in the lodge to compare stories and photos at the dinner table, by the fire pit or around the bar. The whole experience is designed to bring people together, whether it's a closer bond with those you came with or the new friends you'll meet along the way (you know who you are!).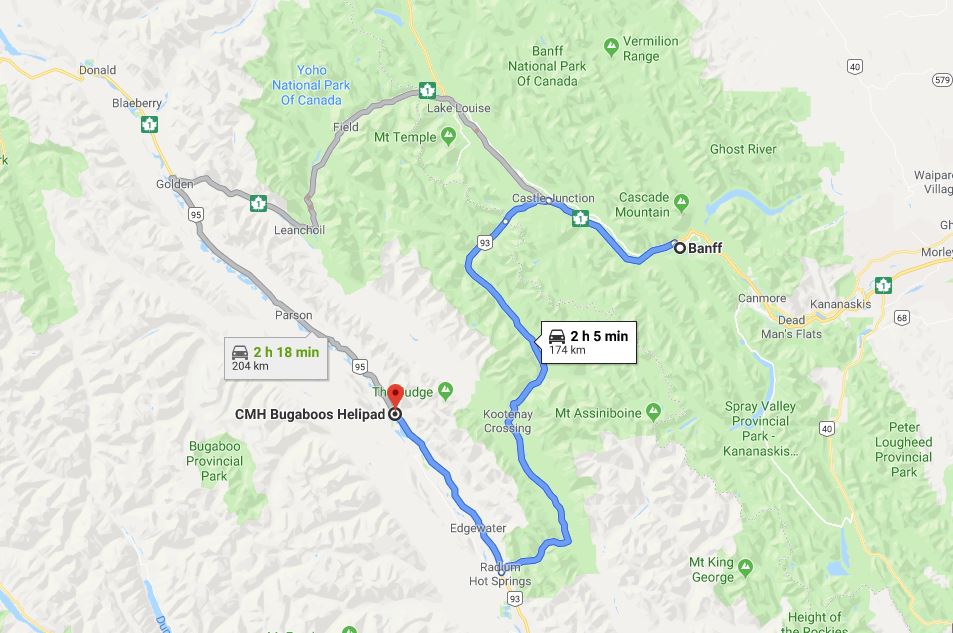 Google Maps directions for Banff to the Heli-Pad
Logistics
Located near Radium Hot Springs, just a two and half-hour drive or coach transfer from Banff, guests will find it easy to fit this experience into their Rockies itinerary. We've made it extra easy for you with private touring of the Rockies included before your trip with this customizable itinerary.
We were traveling road-trip style, so we drove to the CMH Bugaboo Helipad from Canmore, but most of the guests took advantage of the free CMH coach transfer from either Banff, Lake Louise or Golden. Also included in your itinerary is the drop off at those locations plus Calgary.
Self-Drive Tip: Be sure to download the Google maps directions and look out for the small Helipad sign off the highway. If you're coming from Canmore, the sign isn't as easily noticeable so be sure you have GPS or Google maps to help you.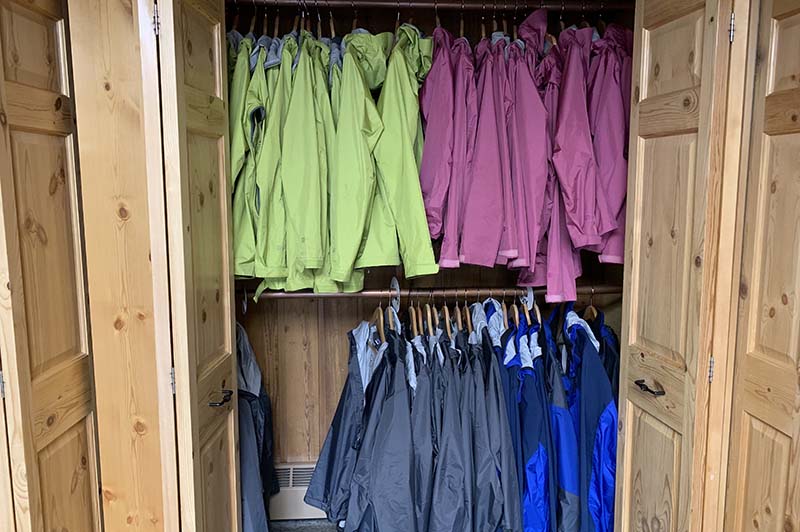 Quality rain jackets provided by the lodge
What to Pack?
The lodge will provide your hiking essentials: quality hiking boots with ankle support, hiking poles, wind breaker jackets, rain pants, day packs and water bottles. They also have a shop in the lodge if you need to purchase any additional hiking wear or just get hit by the shopping bug while you're there.
Packing List , bring on the layers!Rocky Mountain climate means that temperatures are constantly changing, so layers are your best friend.
Comfortable hiking pants (I wore stretchy exercise pants and was comfortable)
Lightweight jacket
Fleece sweater or vest
A couple t-shirts and long sleeves
Socks (my wool socks were perfect and kept my feet blister-free)
Earplugs for the helicopter , the lodge also has some available if you forget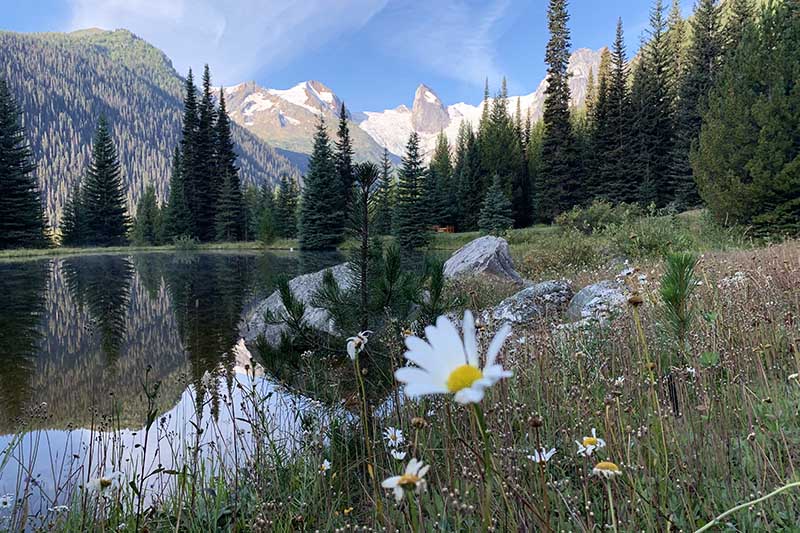 How Fit do I Have to Be to Heli-hike?
You should be mobile, but you do not need to be fit. People of all activity levels ages 8 to 90 have heli-hiked the Bugaboos, and as mentioned above, the experience is completely customized to your comfort level. Helicopter to beautiful view after beautiful view or spend the day hiking and climbing until you're satisfied and ready to return.
When to Go?
The heli-hiking experience can be booked as a three or six night trip with select departure dates running early July to late August. Next summer is already booking up so you're wise to plan early for this trip.
To request rates and check for early booking offers contact our Travel Designers toll free at 1-800-217-0973 or email sales@canadabydesign.com and the team will gladly personalize your Canadian Rockies heli-hiking vacation.