When you picture a once-in-a-lifetime vacation in Canada, what do you see? For our team of Canada travel experts, unique Canadian wilderness resorts are inarguably part of the picture, particularly two of our preferred: Farewell Harbour Lodge and Clayoquot Wilderness Lodge.
Taking two videographers to both lodges on one of our recent adventures, Travel Designer Samantha and myself captured every aspect of the trip , remote hideaways in pristine nature, jaw-dropping wildlife encounters (cue grizzly bears!), gourmet local food and wine and unforgettable memories made together.
For the travelers who have seen it all and are looking for their most amazing trip yet, a unique Canadian wilderness resort is the ultimate add-on to any Western Canada itinerary. And, as always, we've experienced the properties for ourselves to better tailor your dream vacation.
Watch the video below to experience Farewell Harbour Lodge and Clayoquot Wilderness Lodge, then follow along as I take you through the entirety of the adventure.
Farewell Harbour Lodge
Partially floating on the waters of the Broughton Archipelago and perched on the edge of the Great Bear Rainforest, Farewell Harbour Lodge was the first stop on our trip. A west coast inspired waterfront retreat with private 10 acre forest, the lodge is a 30-minute transfer by boat from Alder Bay on Vancouver Island , or a total travel time of 4.5 hours by plane, shuttle and boat from Vancouver itself.
An aerial shot of Farewell Harbour Lodge on Berry Island
Staying at Farewell Harbour Lodge

The primary lodge features a shared lounge and dining room, a bar and a brick fireplace surrounded by large picture windows and a wrap around deck. Continuing as a boardwalk along the shore, the deck leads to eight private ocean-side suites, each with ensuite bathrooms, cozy gas fireplaces and views of the water right from your bed.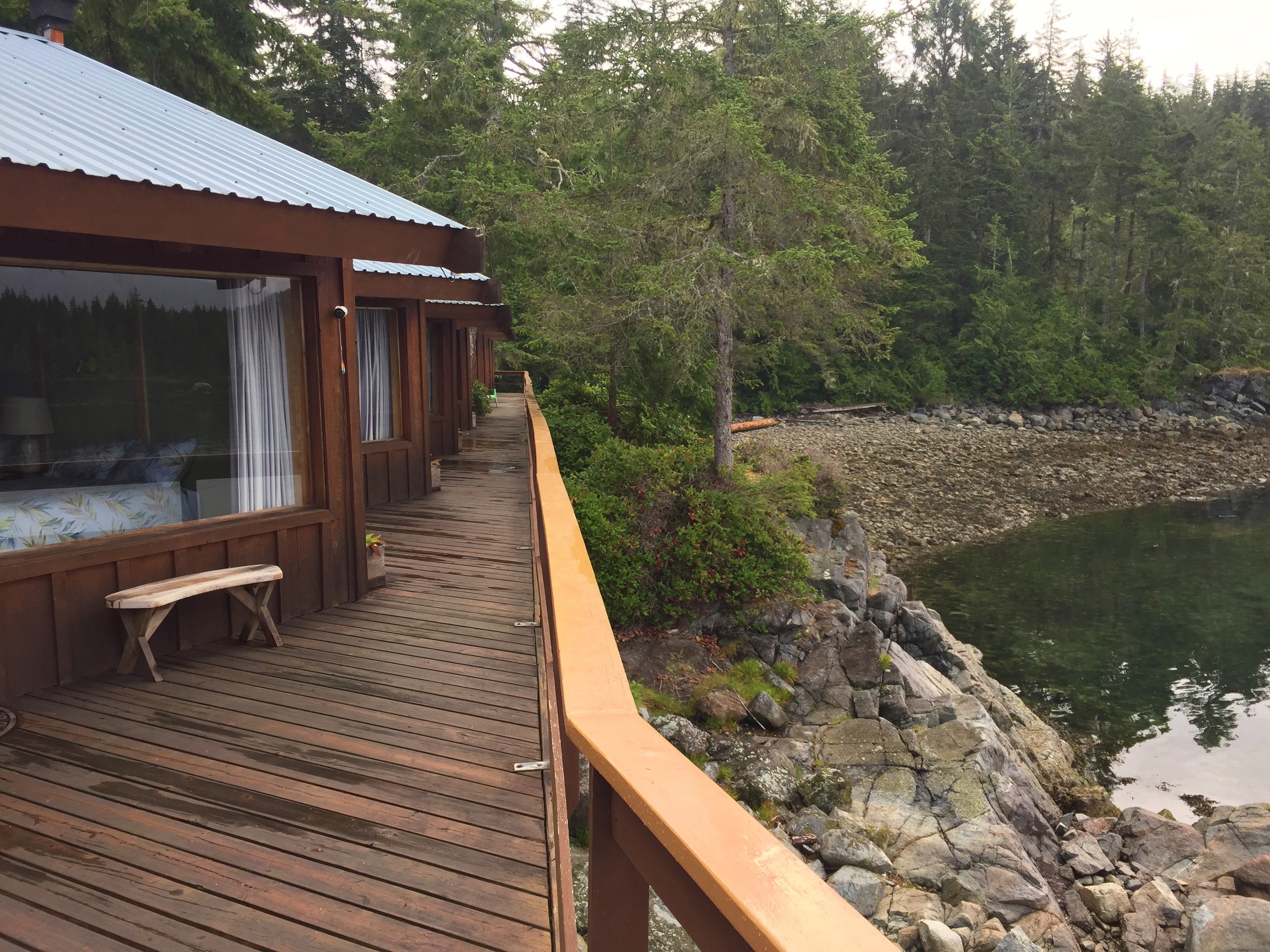 Rooms overlooking the water at Farewell Harbour Lodge
A ramp leads off the main lodge to the floating portion below, where four additional suites sit directly on the water, each with a private bathroom and incredible views. The gear room, kayaks and boats are also at this level, making it easy to step out your door and into the next adventure.
Marketing Specialist Steph (that's me!) watching whales with Farewell Harbour
Wildlife Viewing at Farewell Harbour Lodge

On day one at Farewell Harbour Lodge, whale watching was first on the agenda. Orcas, dolphins, porpoises and humpbacks are regulars in the waters surrounding the lodge, and it wasn't long before we saw spray rising from the water, leading us to two humpback whales breaching and feeding at the surface.
A quick memo over the radio informed us that a pod of orcas was nearby, so we sped past small islands of evergreen forest (and a few more humpbacks!) to meet up with a couple other boats. As promised, a sizable pod of orcas were traveling through the sound, led by a particularly large male whose dorsal fin punctured high above the waves.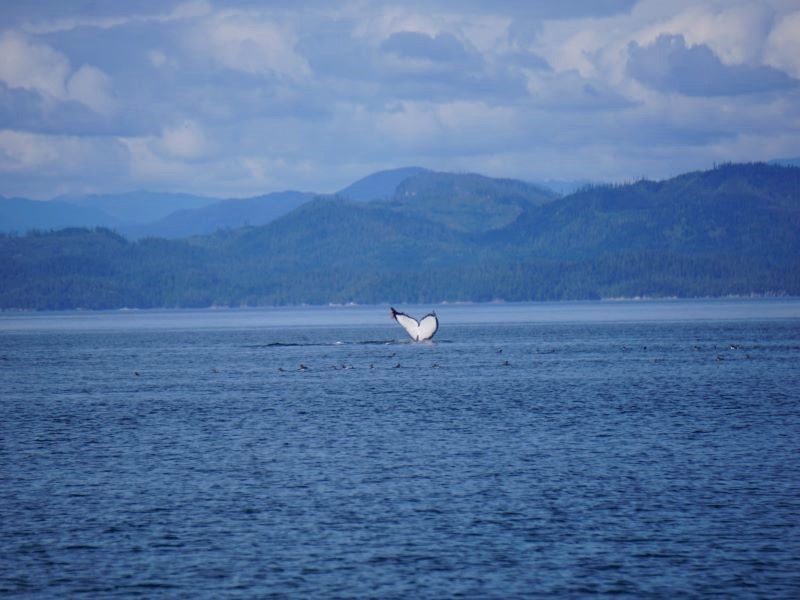 A whale tail caught on camera by Travel Designer Samantha
It's worth noting that there are certain legal obligations for tours that involve wildlife. Canada's marine mammals regulations prohibit boats from getting any closer than 100 meters from most whales, 200 meters from killer whales in BC and 400 meters from killer whales in Southern Resident killer whale critical habitat. While you'll still have an incredible view of these majestic animals, bring binoculars or a camera with good zoom to avoid any disappointment.
Another photo taken by Sam! A grizzly bear foraging along the coastline
Day two at Farewell Harbour was dedicated to something truly special: grizzly bear viewing in the Great Bear Rainforest. Home to the most southerly coastal grizzly bear population remaining on the Pacific coast, we filled our complimentary reusable cups with coffee and took off first by boat, heading towards Glendale Cove but stopping as we saw bears along the way. And let me tell you, we saw at least three large grizzlies foraging along the coastline.
Hooked on the thrill and buzzing with excitement, we ventured out on foot after lunch for a little more bear viewing in the forest. We didn't get as lucky on the trails as we did on the water, but we did see plenty of signs that Grizzlies were close by, including paw prints in the mud!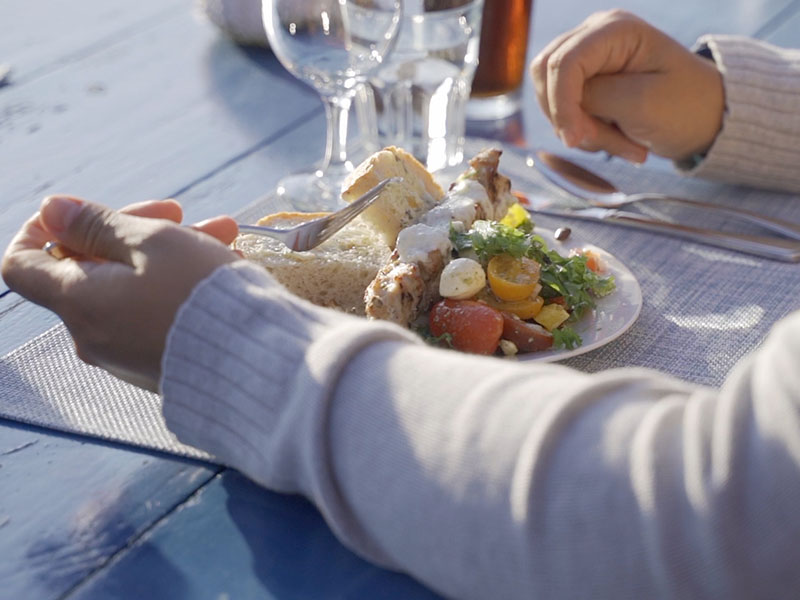 Enjoying a delicious dinner outdoors at Farewell Harbour Lodge
Wining and Dining at Farwell Harbour Lodge

Let's be honest , a huge part of the travel experience is food, and I'm not talking strictly to foodies. At any of our Canadian wilderness resorts, fresh and local produce takes center stage, often worked into a drool-worthy piece of edible art by a talented and highly-trained chef.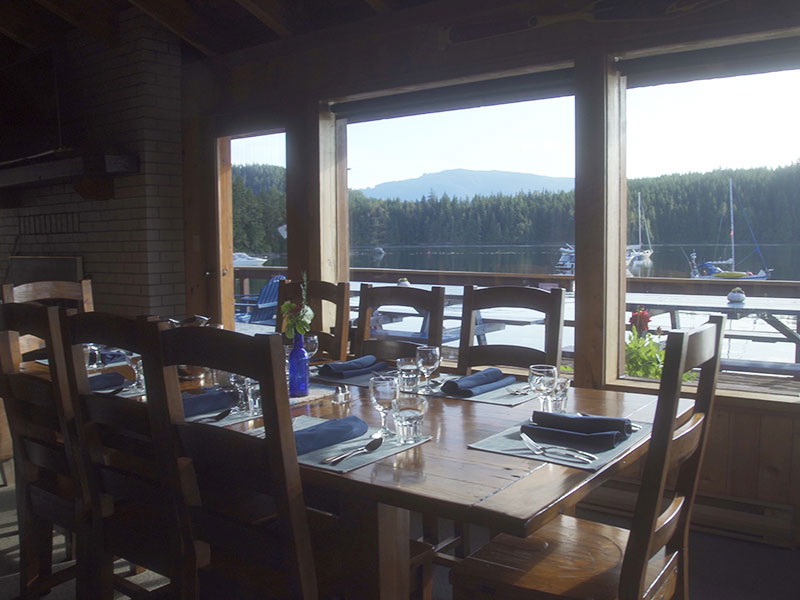 A dining table set up for dinner at Farewell Harbour Lodge
At Farewell Harbour, meals are shared together in the main lodge and the food is presented self-serve style. With the ring of a bell, the buzz of socializing begins as guests mix, mingle and make their way to filling up their plates , a job easily accomplished once you get a glimpse of all the delicious dishes on offer.
If you get a chance and the weather cooperates, I highly recommend sitting outdoors. There are a couple of picnic tables on the deck overlooking the water and the sunsets from here are unreal. Lunches are packed and enjoyed while you're out on your tour, comprised of your choice of sandwiches and snacks.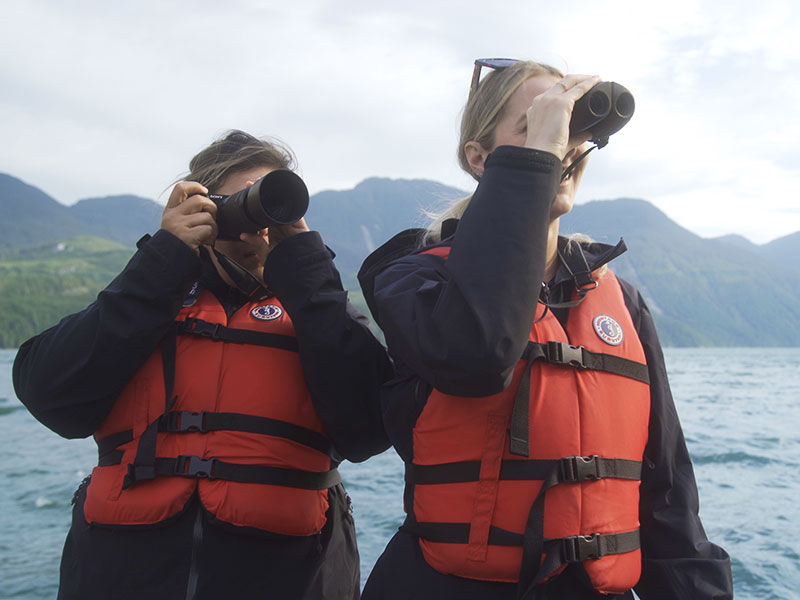 Travel Designer Sam and myself wildlife viewing with Farewell Harbour
Unique Activities at Farewell Harbour Lodge

The focus at Farewell is primarily the wildlife, with whale watching and bear viewing the most popular activities. Whether by boat or on foot, guests can spend hours or days searching for these beautiful and wild creatures, which more often than not is a jaw-dropping success. You can sign up for these tours by chatting with the guides or by asking your hosts Tim and Kelli.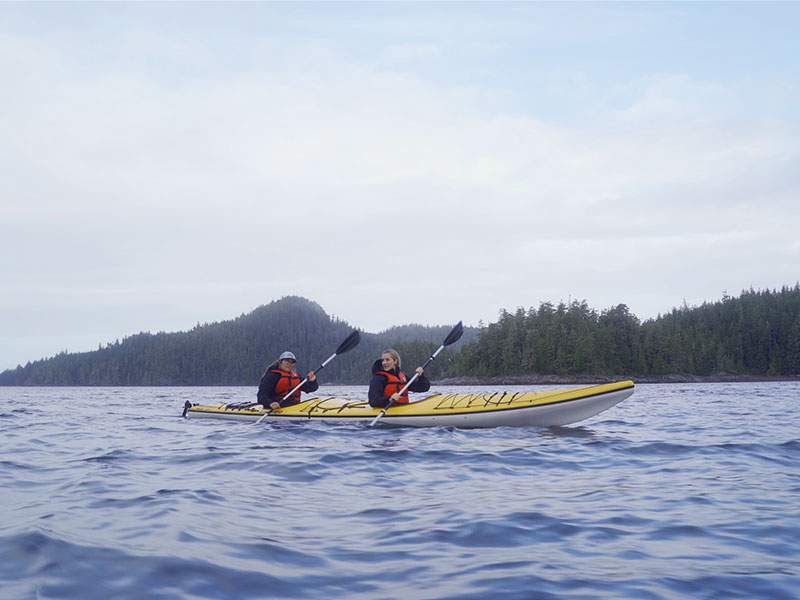 Travel Designer Sam and myself kayaking along the coast
Of course, we'd be remiss not to mention the other activities at Farewell Harbour. Sam and I spent a morning kayaking along the coast, and our guide taught us how we could use a cut piece of bull kelp as a natural musical instrument. Blowing into one end like a horn, the more talented of our group could just about play a tune!
Another popular activity and fan-favorite at Farewell is the Five O'Clock Swim Club. The staff will encourage each other and all the guests to jump off the dock at 5pm for a swim, resulting in a gleeful splash of fun just before dinner.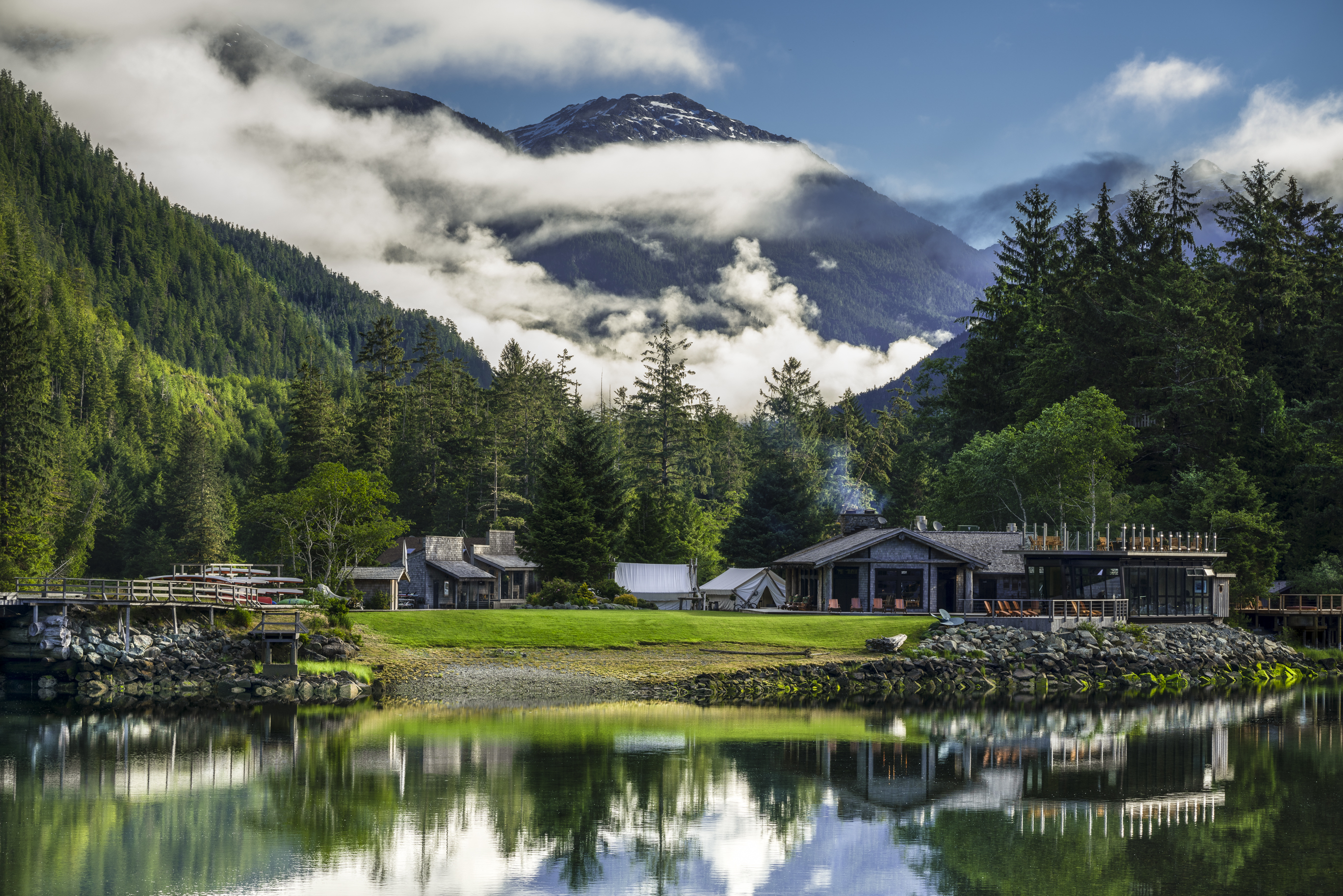 Clayoquot Wilderness Lodge from across the estuary
Clayoquot Wilderness Lodge
At Clayoquot Wilderness Lodge guests have the unique opportunity to stay in luxury safari-style tents at the edge of Clayoquot Sound. Equally remote as Farewell Harbour, access is made by a 45-minute seaplane flight from Vancouver Airport or a short 30-minute boat transfer from Tofino on Vancouver Island.
On arrival, a beautiful horse-drawn carriage takes you from the docks to the resort, where a cool glass of champagne awaits followed by an introduction from a guide. Learning all about the lodge, the activities and prompted to make reservations for dinner, you'll know from the moment you arrive that you're in for something special.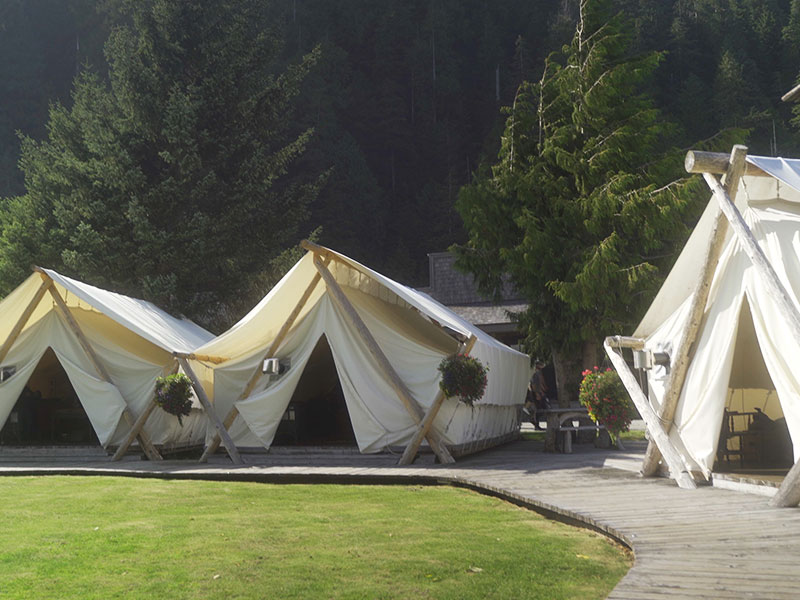 A couple of the safari-style activity tents at Clayoquot Wilderness Lodge
Staying at Clayoquot Wilderness Lodge

The 25 canvas tents at Clayoquot are arranged along the water's edge, in the rainforest or on the hillside overlooking the estuary and are outfitted with the luxury comforts of any five-star resort. Billowy duvets, cast-iron stoves and heated floors keep you cozy, while antique furnishings, vintage oil lamps and crystal accents create an experience.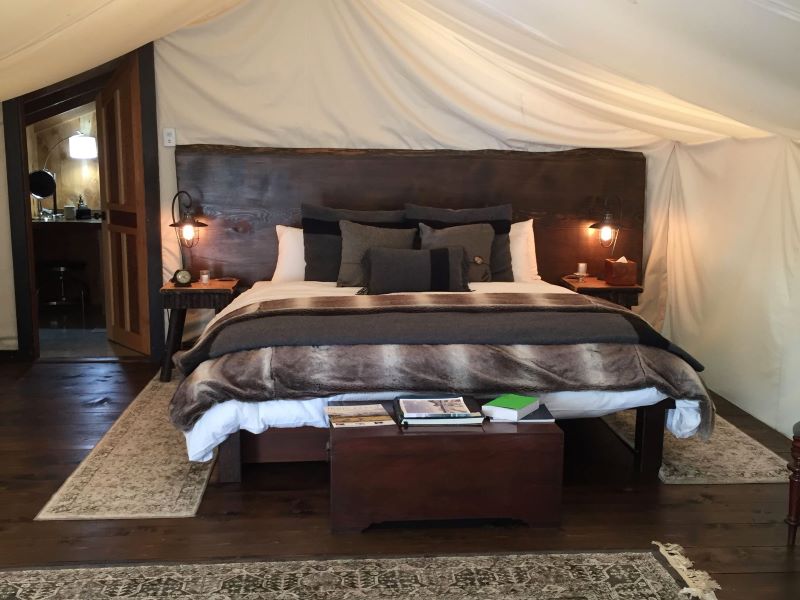 The interior of our tent at Clayoquot Wilderness Lodge
A nice touch at Clayoquot Wilderness Lodge is the evening turn-down service. Sam and I were both pleased to return to our tent after a long day outdoors to find that the stove had been turned on and a hot water bottle had been tucked into the bed. It's the little things that often lead to a great impression, and Clayoquot doesn't miss a beat.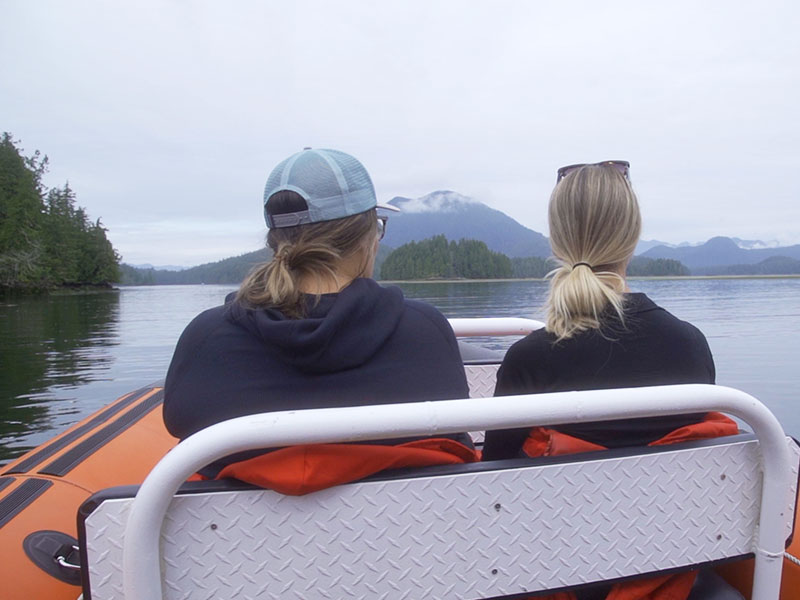 Travel Designer Sam and myself on the Wild Side Eco-Safari tour with Clayoquot WIlderness Lodge
Wildlife Viewing at Clayoquot Wilderness Lodge

Wildlife viewing at Clayoquot Wilderness Lodge looks a little bit different, particularly as there are more activities on hand so it isn't the primary focus. While no grizzly bears inhabit the area surrounding Clayoquot, black bears can be found, along with seals, sea lions and eagles , all of which we had no trouble finding on our tour.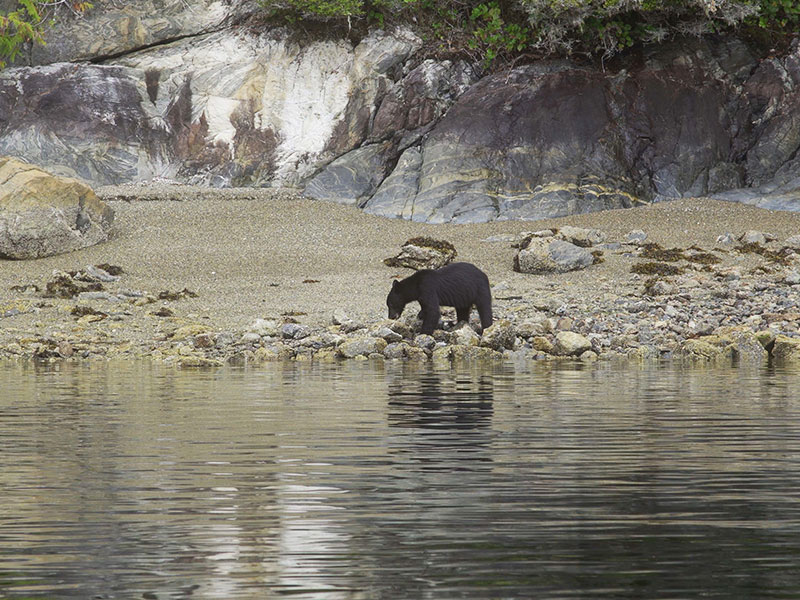 A black bear on the beach in Clayoquot Sound
As part of the Wild Side Eco-Safari tour, Sam and I were taken on a zodiac to Meares Island just off the coast of Tofino. Home to some of the oldest Red Cedar trees in British Columbia, we followed wooden boardwalks into the forest and ended at the Hanging Garden , the largest Western Red Cedar tree named for the other trees and plants that grow from it. This gorgeous tree measures 18 meters wide and is estimated to be around 2,000 years old.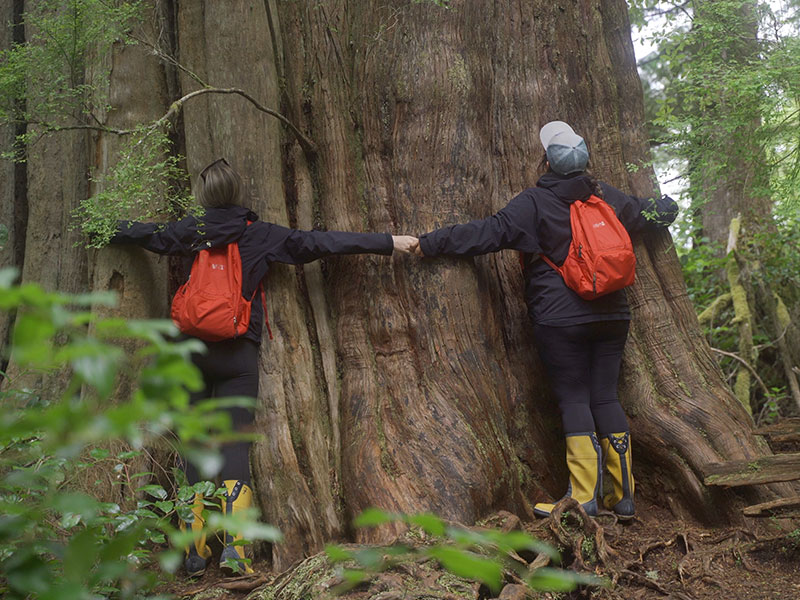 Myself and Sam attempting to reach around one of the largest Red Cedar trees on Meares Island
Freshly reconnected to Mother Nature, we continued our journey back by boat. Passing Flores Island we learned about the ancestral village of the Ahousaht First Nation, and how people had been living in Clayoquot Sound for many thousands of years, far before European settlers. As a result, Clayoquot Wilderness Lodge and the Nuu-chah-nulth First Nation of Ahousat have grown a friendship-based partnership of mutual respect. Together they honor, celebrate and protect the cultural legacy of the land.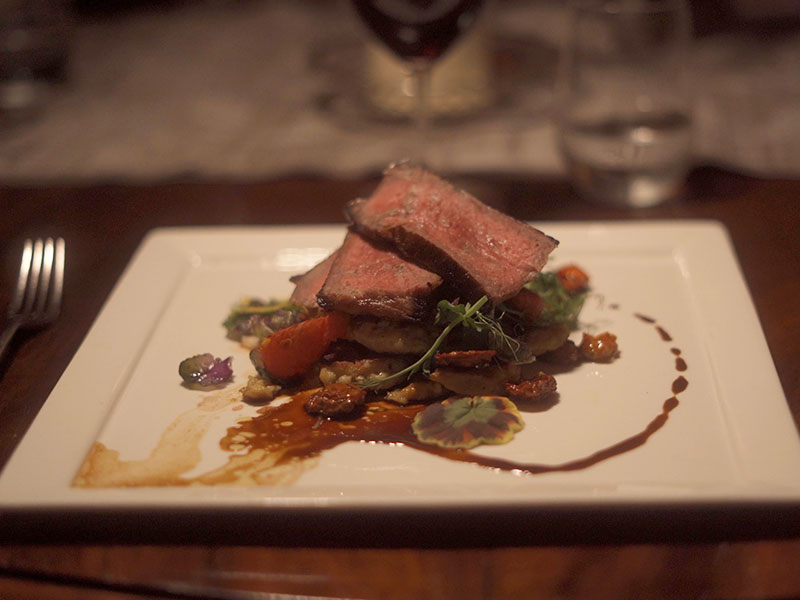 A delicious beef dinner at Clayoquot Wilderness Lodge
Wining and Dining at Clayoquot Wilderness Lodge

Clayoquot has been critically acclaimed time and time again for it's chef and mouthwatering plates. Executive Chef Michael Pataran is an award-winning chef, sommelier, certified sake educator, food writer, restaurant designer and consultant, and he's spent time in Europe, Australia and Southeast Asia perfecting his culinary skills.
The interior of the Ivanhoe Glass Lounge at Clayoquot Wilderness Lodge
Our team made a point of ordering different dishes every night, sampling succulent beef, smoked octopus, fresh scallops, creamy burrata and creative desserts. Michael works alongside a team of Relais & Chateaux class artisan chefs to ensure that every dish is perfect, plated to please the eye as much as the mouth and served to private dining tents, the bar overlooking the open kitchen or to tables in the Cookhouse restaurant.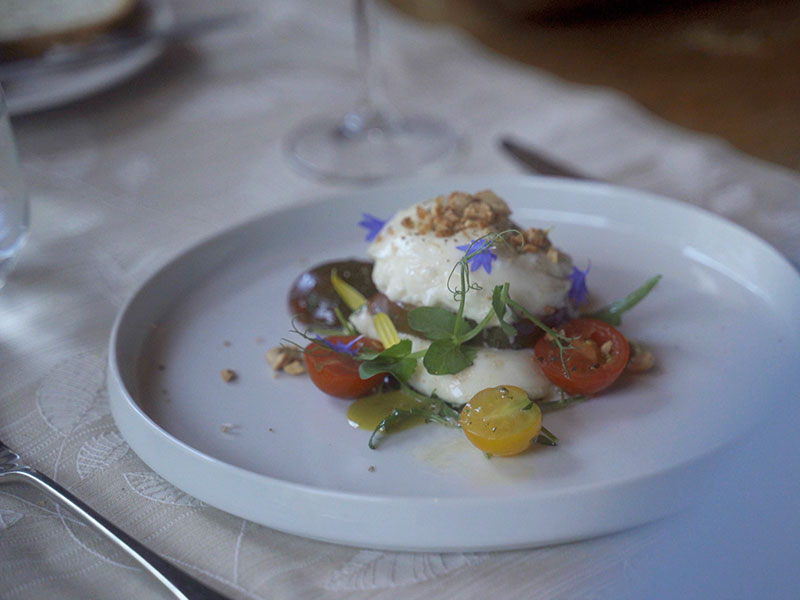 A perfectly-plated burrata appetizer at Clayoquot Wilderness Lodge
At any point throughout your stay a visit to the Ivanhoe Glass Lounge is in order. With its eleven-foot-high, floor-to-ceiling windows overlooking the estuary, you can sit back to enjoy a craft cocktail, wine or beer while soaking up the beauty of the surrounds. Even better, spend an evening on the roof of the lounge for some stargazing by the fire.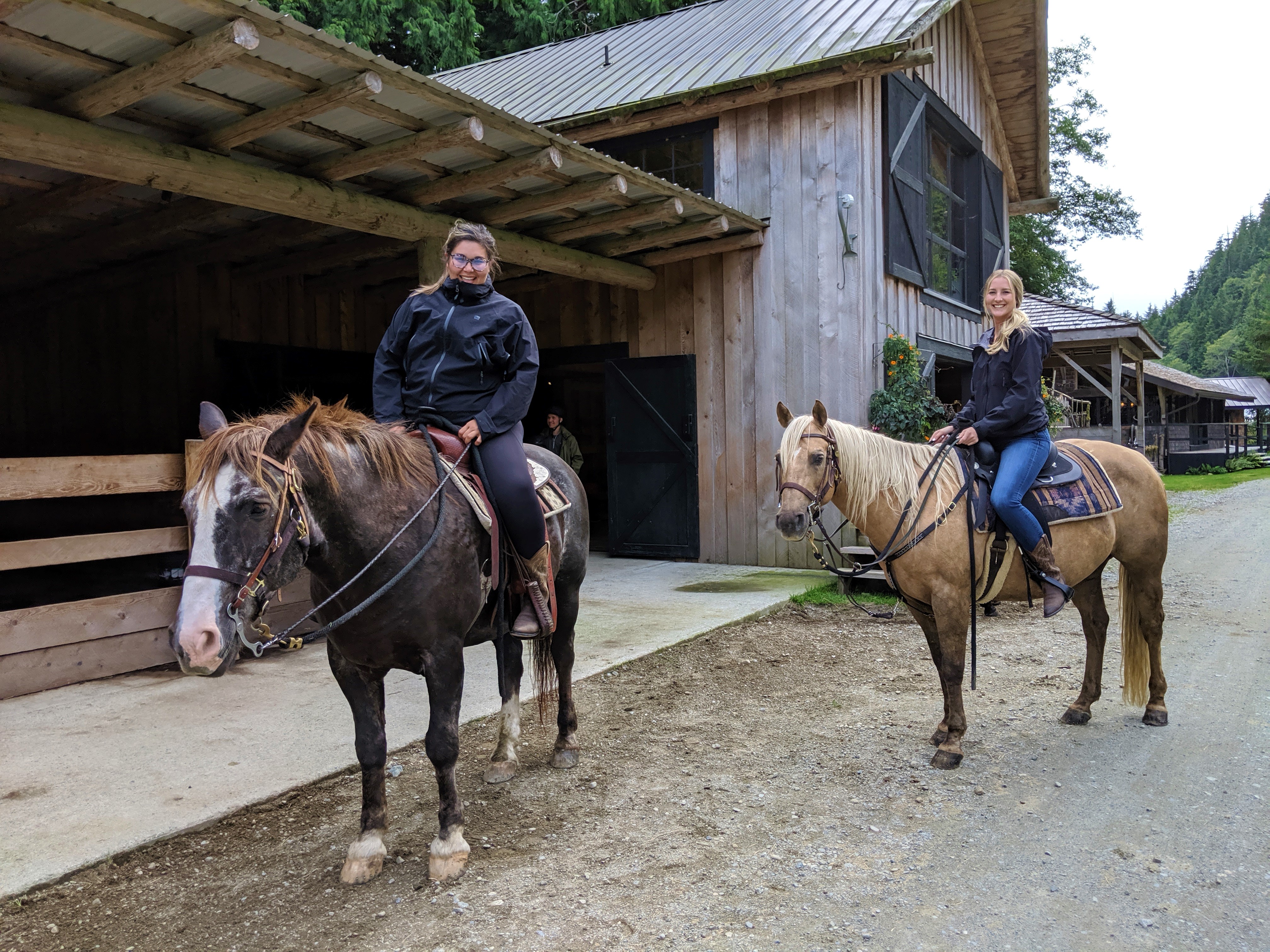 Travel Designer Sam and myself ready for our horseback riding adventure at Clayoquot Wilderness Lodge
Unique Activities at Clayoquot Wilderness Lodge

Shortly after you arrive at Clayoquot, a guide will meet you for an orientation and talk about the activities. Every tour is private and scheduled to a time that suits you, so you can meet your personal guide at the gear room and set out for your adventure of choice. All stays include kayaking, horseback riding, mountain biking, wildlife viewing, archery & rock climbing, hiking, surfing, paint ball, stand-up paddle boarding, yoga, meditation, canoeing and trail running.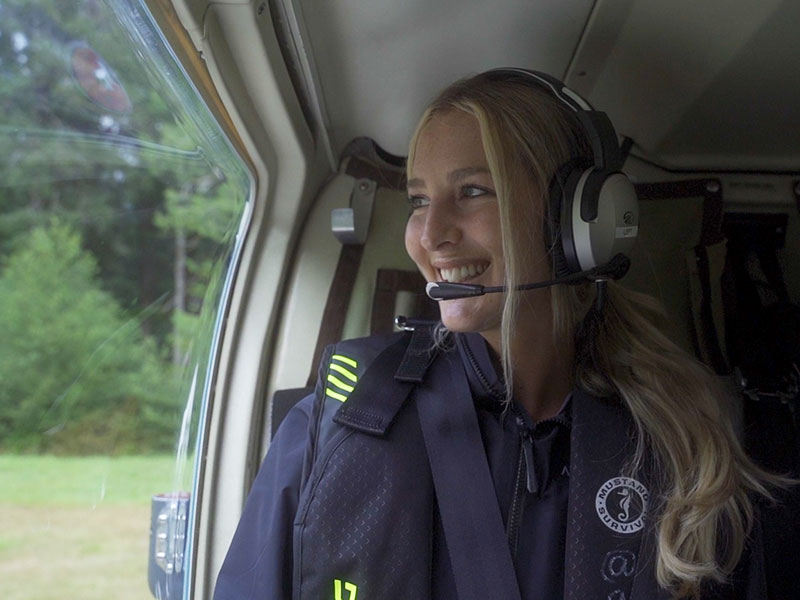 Marketing Specialist Steph (me again!) in the helicopter at Clayoquot Wilderness Lodge
While we weren't able to try all of the activities during our stay, we did have a few epic experiences: wildlife viewing (as part of the Wild Side Eco-Safari tour), horseback riding and helicopter touring. The latter is available at an additional charge on request, and can be personalized to include hiking, kayaking, picnicking, yoga or stand-up paddle boarding.
Flying high over Clayoquot Sound and the surrounding mountains, the helicopter climbed and soared over the estuary, rivers, peaks and even a glacier. While time didn't permit us to land (you can on your tour!) we had no words for the views, which were framed perfectly from the large bubble windows of the heli.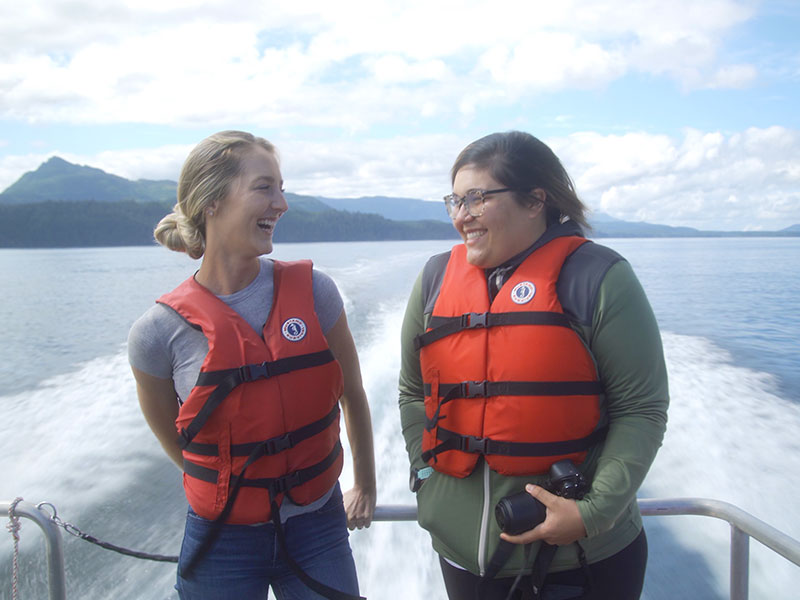 Myself and Sam on the boat at Farewell Harbour Lodge
Unforgettable Memories Together

As you can imagine, a trip to any of our unique Canadian wilderness resorts creates unforgettable memories for all who experience them. Between Farewell Harbour Lodge and Clayoquot Wilderness Lodge, Sam and I bonded over beautiful scenery, first-time experiences, unexpected moments and the thrill of the adventure , which, as it turns out, was even better than either of us imagined.
It takes a lot as a Canada travel expert to be blown away by an experience, but that's just what these wilderness lodges do. Truly taking your trip above and beyond, they're the cherry on top of your once-in-a-lifetime vacation.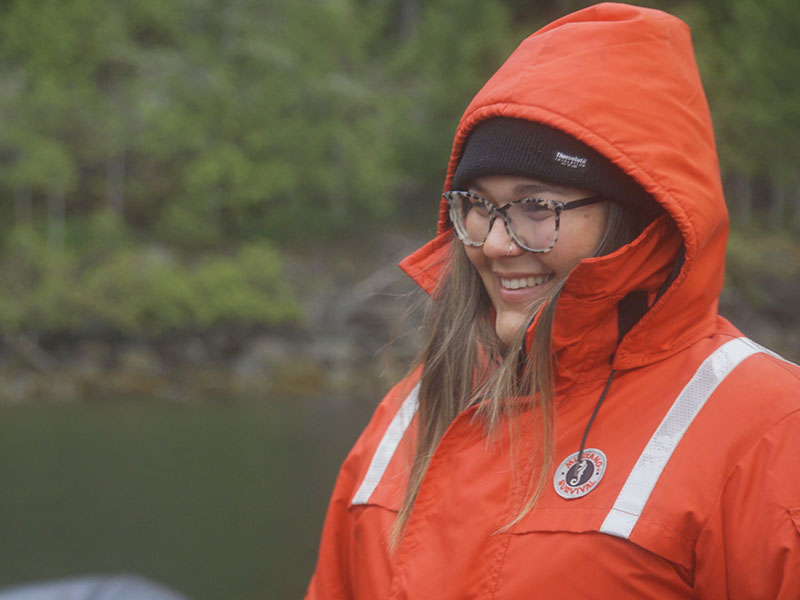 Travel Designer Sam geared up for the Wild Side Eco-Safari tour with Clayoquot Wilderness Lodge
Feeling inspired? Get in touch with one of our travel designers (like Sam!) to chat about which lodge is right for you. Prefer to simply stay in touch? Subscribe to our newsletter for up-to-date deals, trip ideas and more!