1/8
Western Canada & Canadian Rockies Road Trip Itinerary | Fraser River
2/8
Western Canada & Canadian Rockies Road Trip Itinerary | Duffy Lake Road
3/8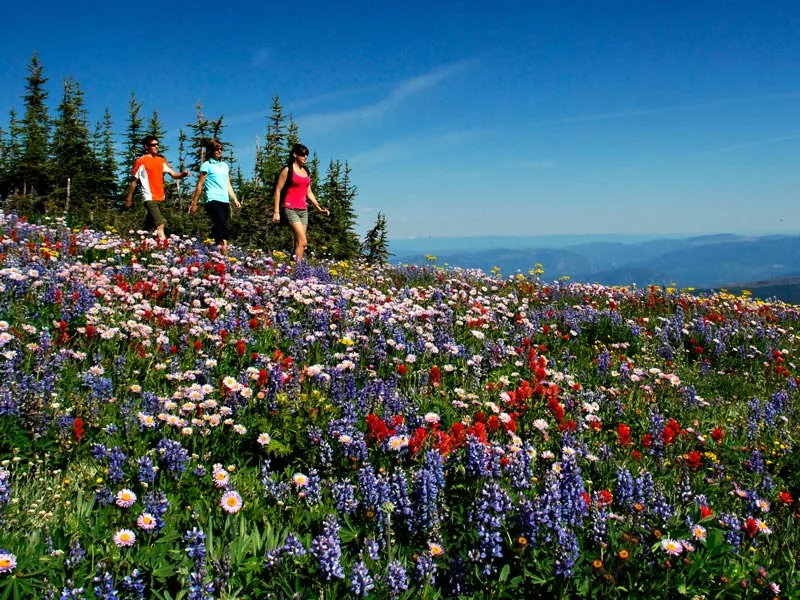 Western Canada & Canadian Rockies Road Trip Itinerary | Sun Peaks Resort
4/8
Western Canada & Canadian Rockies Road Trip Itinerary | Jasper Maligne Lake
5/8
Western Canada & Canadian Rockies Road Trip Itinerary | Icefield Parkway
6/8
Western Canada & Canadian Rockies Road Trip Itinerary | Peyto Lake Icefield Parkway
7/8
Western Canada & Canadian Rockies Road Trip Itinerary | lake Louise
8/8
Western Canada & Canadian Rockies Road Trip Itinerary | Banff
Spirit of Western Canada & the Rockies Road Trip
7 Days / 6 Nights
Vancouver to Calgary or Calgary to Vancouver
INTRODUCTION
This compact Western Canada & Canadian Rockies road trip focuses on two of Canada's most beautiful areas – the scenic drive from Whistler to Sun Peaks Alpine Resort and the spectacular Rocky Mountain national parks.
Soak up turquoise lakes, rugged peaks and glittering glaciers, plus take your choice of tours from a cruise, nature walk or river float in Jasper and a canoe tour, gondola ride, cruise or horseback adventure in Banff for a personalized experience.
.
Day 1
Vancouver to Sun Peaks
Day 3
Jasper | Freedom of Choice - Choose 1 of 3 Excursions
Option 1. Maligne Lake Cruise
Option 2. Jasper River Float
Option 3. Jasper Nature Walk
Day 4
Jasper to Lake Louise | Ice Explorer + Skywalk
Ice Explorer Ride onto the Athabasca Glacier + Glacier Skywalk
Day 5
Lake Louise to Banff
Day 6
Banff | Freedom of Choice - Choose 1 of 4 Excursions
Option 2. Lake Minnewanka Cruise
Option 3. River Explorer Canoe Tour
Option 4. Bow River Horseback Adventure
MAP
View map
DETAILED ITINERARY
Read more
INCLUDED
Read more
WANT TO KNOW MORE?
Arrange a call with a Canada Travel Designer and bring your vacation one step closer!
Schedule a Call
DATES & PRICING
Read more
REVIEWS
We would like to express our appreciation for a wonderful trip arranged through Jules M, Canada by Design. From start to finish it was an ideal trip for us to enjoy Canada scenery, atmosphere and hospitality. We were afforded the right amount of activity for the trip yet relaxing. The suggested route from Calgary to Jasper was just spectacular. The hotels we stayed in are in town. And of course the train ride is A plus. Again Thank you.
Manuel United States
Worked with Jennifer planning a road trip from the Calgary Stampede through Lake, Louise, Banff, Jasper, Sun Peaks and finishing in Vancouver. We worked together using some of my ideas and many of her ideas. She booked most of our hotels, sight seeing venues and car rental. We had a marvelous trip. Everything fell into place and each hotel she selected was great and a little different from the one before. Thank you Jennifer for all your help. Will never forget this trip.
Anne New Jersey, United States
My family recently completed the 7-day self-drive tour of Western Canada. I couldn't be more pleased with the trip! Jennifer B. was absolutely fantastic helping me figure out how we wanted to customize our trip and making suggestions. She was always so patient with my many questions, too!The lodgings that this trip placed us at were more than wonderful. We particularly liked Deer Lodge at Lake Louise. It is a beautiful historic lodge, just a few minutes walk from the Fairmount. All aspects of the tour were problem-free, and I really feel that the cost of the tour was very reasonable, especially for the quality experience we had.I highly recommend Jennifer and Canada by Design to anyone who wants to visit Western Canada!!
Marlene Schillinger Petersburg, Virginia, United States
Spirit of Western Canada & the Rockies Road Trip
Start planning your tailor-made vacation to Canada or Alaska by contacting our travel specialists
Call 1 800 217 0973US
Monday - Friday: 8am - 5pm PST
, Saturday: 8am - 4:30pm PST
, Sunday: 11am - 5pm PST
Send an email sales@canadaroadtrip.com