1/8
Canada Railway Hotels | Fairmont Chateau Lake Louise
2/8
Canada Railway Hotels | Fairmont Chateau Lake Louise
3/8
Canada Railway Hotels | Fairmont Chateau Lake Louise
4/8
Canada Railway Hotels | Fairmont Chateau Lake Louise
5/8
Canada Railway Hotels | Fairmont Chateau Lake Louise
6/8
Canada Railway Hotels | Fairmont Chateau Lake Louise
7/8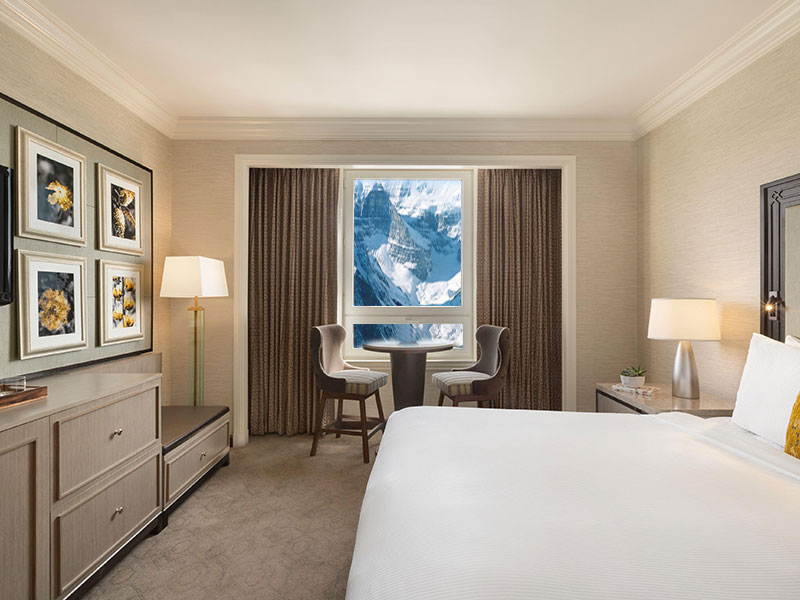 Canada Railway Hotels | Fairmont Chateau Lake Louise
8/8
Canada Railway Hotels | Fairmont Chateau Lake Louise
Grand Canada Railway Hotels | Fairmont Chateau Lake Louise
INTRODUCTION
The Fairmont Chateau Lake Louise sets an imposing figure over the azure blue waters and snow dusted white peaks rising from this stunning lake.
Whether you visit in summer or winter, the Chateau offers a serene and luxurious base to explore the Rockies.
Located in the heart of Banff National Park and within a UNESCO World Heritage Site, the Fairmont Chateau Lake Louise is an iconic sight, much photographed as it towers over this most stunning of Rocky Mountains lakes.
Whether you visit in the summer, when the lake is the deepest blue or whether you enjoy a winter holiday as the lake transforms into an ice covered wonderland, it certainly is a sight to behold.
Part of the impressive Fairmont group, the Chateau offers superb facilities, accommodations and services.
From the grand entrance resplendent with chandelier and the sound of live music playing gently in the background through to the floor to ceiling windows affording those beautiful views from the lounge where afternoon tea is enjoyed by guests and visitors alike, the elegance of this grand dame is all around you.
Offering something for the whole family, this is the perfect base for exploring the Banff National Park and the surrounding parks as well.
Open year round it offers a wide variety or summer and winter activities so guests can make the very most of their stay in this beautiful area.
Accommodations vary from more simple and elegant through to stunning suites with panoramic views of the lake.
Families can enjoy interconnecting rooms or suites and the Fairmont Gold Floor offers the ultimate in exclusive luxury and a discreet lounge with lake views.
When not exploring the surrounding area, guests can enjoy the indoor pool, spa, choice of restaurants and even a selection of boutique shops.
Relax in the beautiful gardens or stroll down to the lake and watch the colours change as the sun sets on another mountain day.
STAY
Read more
WANT TO KNOW MORE?
Arrange a call with a Canada Travel Designer and bring your vacation one step closer!
Schedule a Call
Grand Canada Railway Hotels | Fairmont Chateau Lake Louise
Start planning your tailor-made vacation to Canada or Alaska by contacting our travel specialists
Call 1 800 217 0973US
Monday - Friday: 8am - 5pm PST
, Saturday: 8am - 4:30pm PST
, Sunday: 11am - 5pm PST
Send an email sales@canadaroadtrip.com