1/7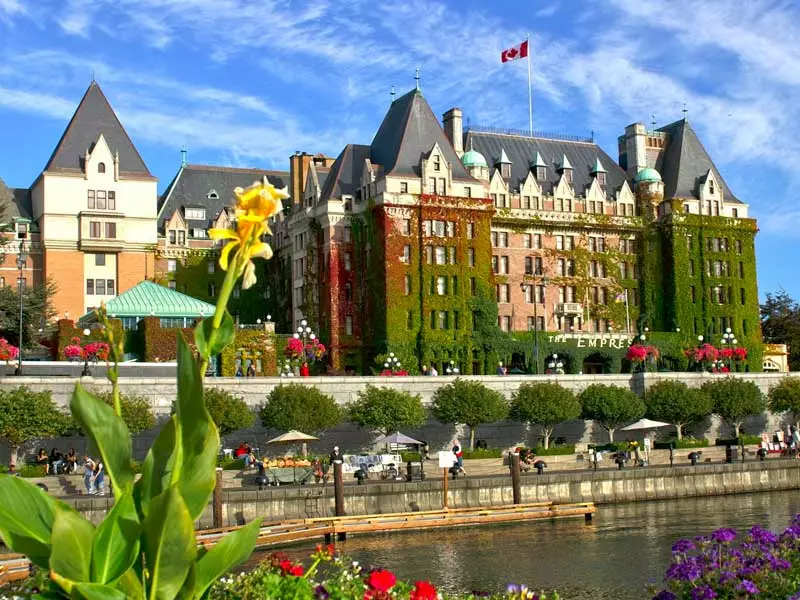 Canada Railway Hotels | Fairmont Empress Hotel
2/7
Canada Railway Hotels | Fairmont Empress Hotel
3/7
Canada Railway Hotels | Fairmont Empress Hotel
4/7
Canada Railway Hotels | Fairmont Empress Hotel
5/7
Canada Railway Hotels | Fairmont Empress Hotel
6/7
Canada Railway Hotels | Fairmont Empress Hotel
7/7
Canada Railway Hotels | Fairmont Empress Hotel
Grand Canada Railway Hotels | Fairmont Empress Hotel
INTRODUCTION
Since 1898, the Fairmont Empress has been Victoria's most iconic and celebrated hotel.
Set in prime position on Victoria's Inner Harbour and next to the government buildings, its fascinating history and pedigree is a marvel for all visitors to the city.
Steeped in tradition with elegance and opulence flowing through its refined hallways, the Fairmont Empress surely is the "grand dame" of Vancouver Islands hotels.
Its ivy clad walls take pride of place on Victoria's Inner Harbour, making it a tourist attraction in itself, with many visitors flocking to take a peak at it.
A stay at the Fairmont Empress is like stepping back in time.
Beyond the more modern atrium style reception the hallways sweep through into the magnificent Empress Dining Room and beyond into the serene and elegant tea lounge where guests come from far and wide to experience Victoria's definitive Afternoon Tea.
With several seating's throughout the day, guests can indulge in a decadent array of delicate sandwiches, sweet treats and scones whilst listening to the piano being played by the resident pianist.
Continue further and you arrive in the Bengal Lounge.
Drawing inspiration from Queen Victoria's role as Empress of India, the Bengal Lounge is renowned for its authentic curry cuisine and signature martini.
Beyond the sumptuous mouth-watering goodies on offer, the hotel also houses one of the first Fairmont Willow Stream Spas.
With 85 authentically local aesthetic and spa treatments customized to your needs it is the perfect spot for a touch of pampering.
With 477 guest rooms, the Fairmont Empress is certainly not a boutique hotel, however, the traditional style of the hotel lingers on throughout the rooms from the original wood furniture through to the classic décor.
The Fairmont Gold Floor with its superb harbour views and dedicated lounge and concierge offers the best accommodations in the hotel.
Having recently undergone a multi million dollar refurbishment, these are the freshest rooms in the hotel, many with new bathrooms and come highly recommended, along with the superb additional extras of being part of the Fairmont Gold experienceFor those who would like to be part of the full Victoria experience, a stay at the Fairmont Empress is a must.
MAP
View map
STAY
Read more
WANT TO KNOW MORE?
Arrange a call with a Canada Travel Designer and bring your vacation one step closer!
Schedule a Call