Tis the season to start searching for festive things to do in Vancouver, and here we've used our local knowledge to write the perfect list. Based in Vancouver and boasting nearly 20 years experience designing dream trips to Canada, allow us to make your season bright with lights, sights and edible delights.
This list of festive things to do in Vancouver has been tried and tested by local experts (that's us!). Whether it's a Whistler ski trip, a winter train journey to the Rockies or a northern lights adventure that brings you to the city, why not extend your stay and get into the festive spirit? We promise you'll love winter in Vancouver.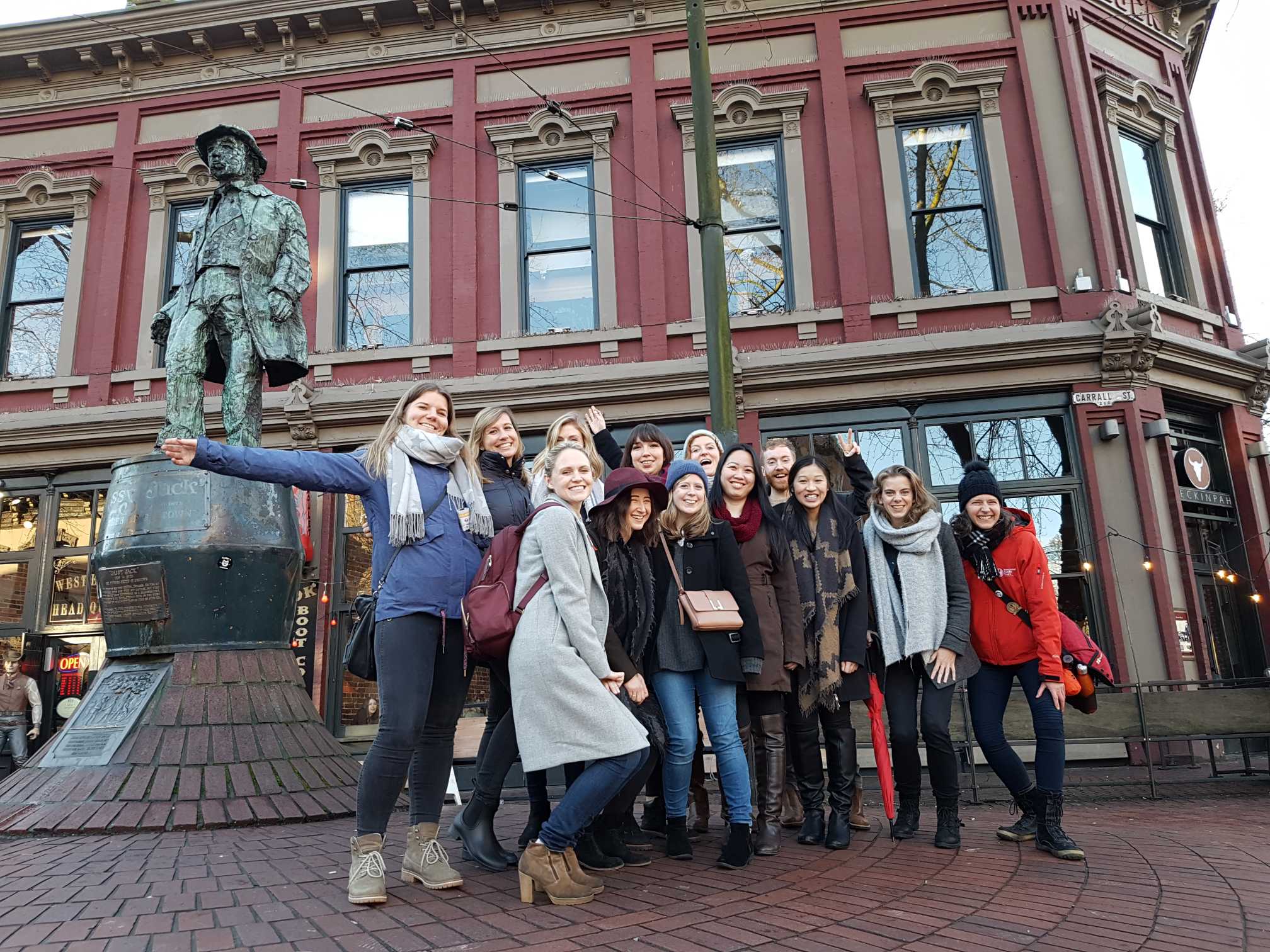 Some members of the Canada by Design team (your local experts!) exploring winter in Vancouver
For all you quick scrollers, here's our top 12 events. Keep reading for more details and dates, and note that some attractions will be closed on Christmas Day itself.
Canyon Lights at Capilano Suspension Bridge Park
Christmas Classics Market Tour at Granville Island Public Market
Vancouver Christmas Market
Ice Skating at Robson Square
Peak of Christmas at Grouse Mountain
VanDusen Festival of Lights
Christmas at FlyOver Canada
Bright Nights at Stanley Park
Aurora Winter Festival
Christmas at Canada Place
Catch a Holiday Performance
Christmas Dinner at Local Restaurants
Psst... there's also a few exciting post-holiday events at the bottom of this article.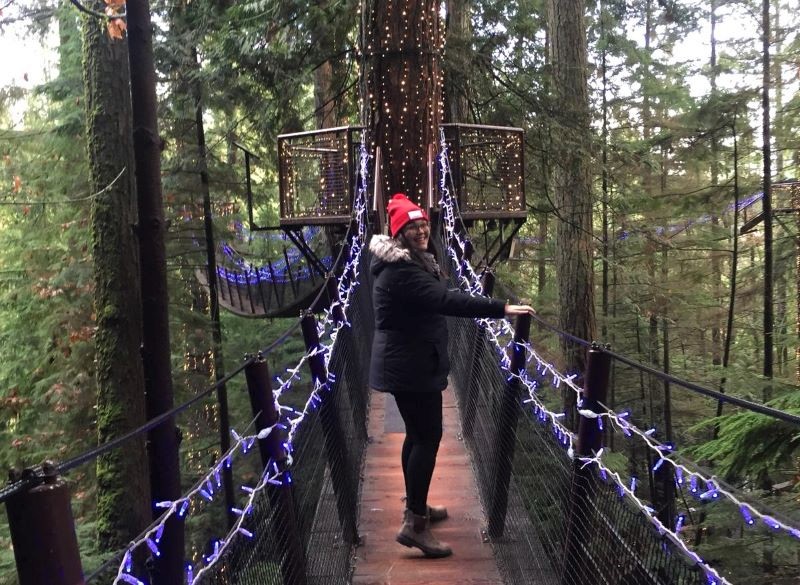 Travel Designer Samantha exploring the Treetops Adventure at Capilano Suspension Bridge Park
1. Canyon Lights at Capilano Suspension Bridge Park
November 22 2019 - January 26, 2020

Year after year, this event is one of the classics. Capilano Suspension Bridge Park is beautiful in any season, but dressed up for Canyon Lights is when it will simply steal your heart. Let hundreds of thousands of lights lead you 110 feet above the forest floor, taking in the suspension bridge, the Treetops Adventure and the Cliffwalk experience.
Transformed into a world of visual enchantment with sing-along carols, hot chocolate, gingerbread cookie decorating and the returning Snowy Owl prowl, it's the perfect family-friendly event on Vancouver's North Shore. Travel Expert Tip: Take the free shuttle bus from downtown Vancouver for easy access from your hotel.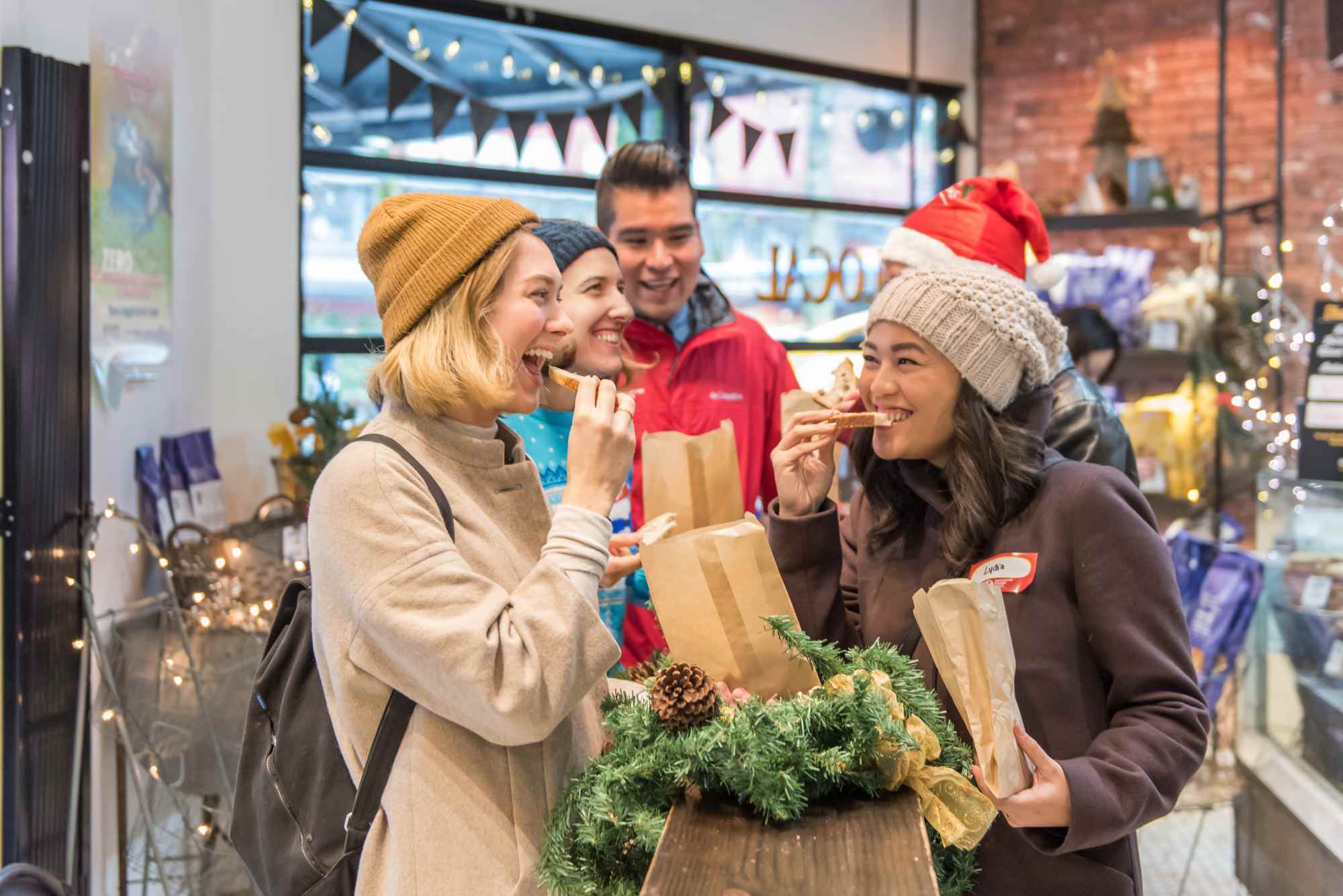 Guests sampling foods on the Christmas Classics Market Tour. Image courtesy of Vancouver Foodie Tours
2. Christmas Classics Market Tour at Granville Island Public Market
December 1-30, 2019

A limited-edition holiday experience, the Christmas Classics Market Tour tempts with all kinds of festive foods. Venture out with Vancouver Foodie Tours to delight in cranberry bread, winter cheeses, seasonal charcuterie and Gingerbread donuts. Browse artisan shops, learn local shopping tips and celebrate Christmas cheer in the heart of the city.
Granville Island Public Market has long been a shopping staple for locals and tourists, and there's simply nowhere better in Vancouver to try so many artisan foods. Starting at 10:30 am daily in December and lasting two hours, this tour offers the perfect taste for foodies in the city. Don't forget to bring an appetite!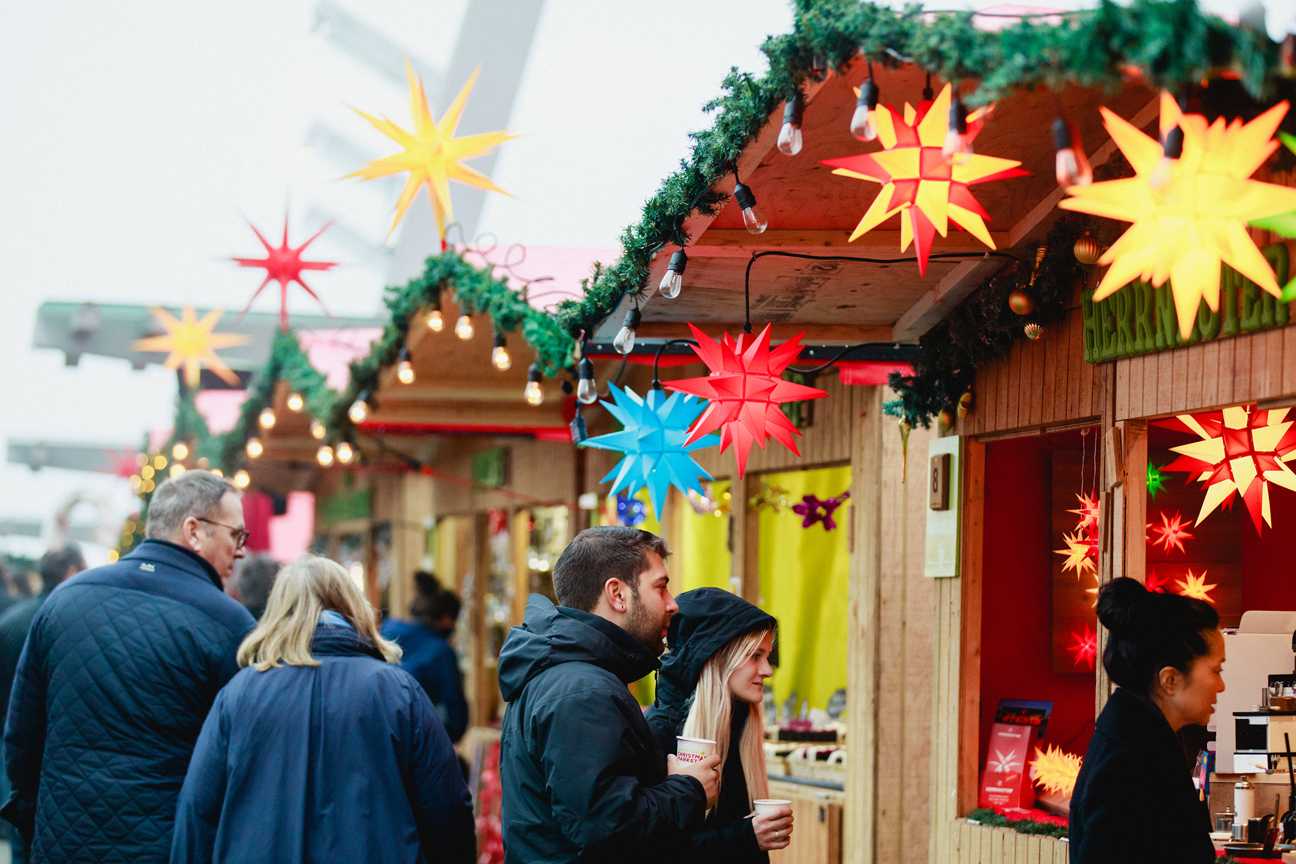 Browsing the huts at the Vancouver Christmas Market. Image courtesy of Tourism Vancouver / Lindsay Elliott
3. Vancouver Christmas Market
November 20 - December 24, 2019

Another beloved holiday tradition is the Vancouver Christmas Market. Here you'll find more than 80 huts selling authentic German treats and treasures, plus Christmas cocktails in the WunderBAR, carolers singing songs, a carousel loved by kids and a romantic glittering walkway with cheeky mistletoe.
Perfectly situated in Jack Poole Plaza downtown Vancouver, the market is within easy walking distance from many hotels and just steps away from the seawall. Open from 11:30am - 9:30pm daily except Nov 24, pair it with ice skating at Robson Square or Christmas at FlyOver Canada for a full afternoon of festive fun.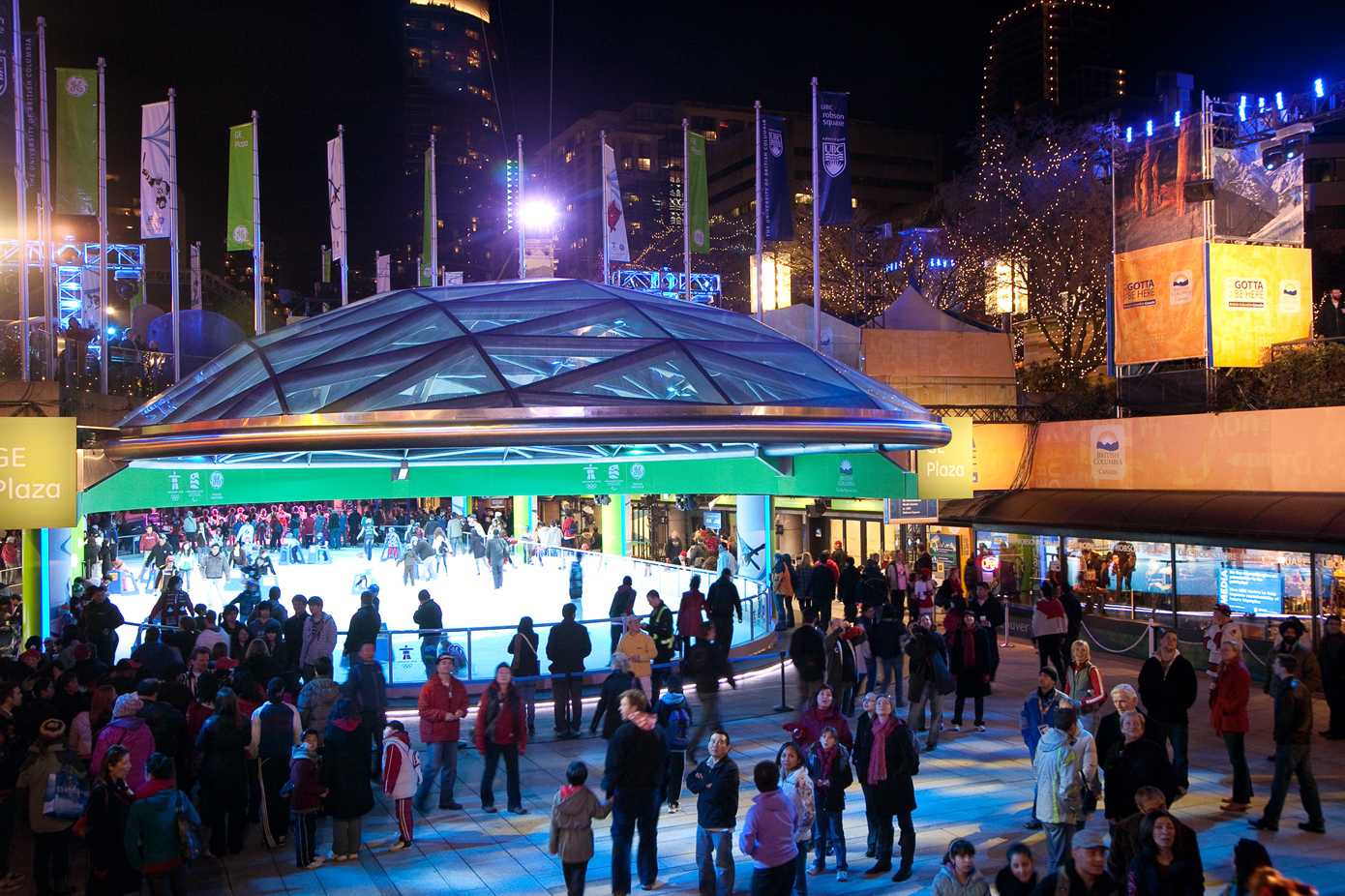 A busy evening of ice skating at Robson Square. Image courtesy of Tourism Vancouver / Coast Mountain Photography
4. Ice Skating at Robson Square
November 30, 2019 - February 29, 2020

This Christmas classic is conveniently located on downtown Vancouver's famous Robson Street. In between browsing and holiday shopping, why not strap on a pair of skates to carve and glide your way around the ice? Admission to the rink is free and skates can be rented for $5, though keep in mind skate rentals end 30 minutes to close.
As of November 30th, the rink will be open Sunday to Thursday from 9am to 9pm, and on Friday and Saturday from 9am to 11pm. Special hours may apply for Christmas Eve, Christmas Day, Boxing Day, New Year's Eve and New Year's Day, so check the Robson Square website for more information.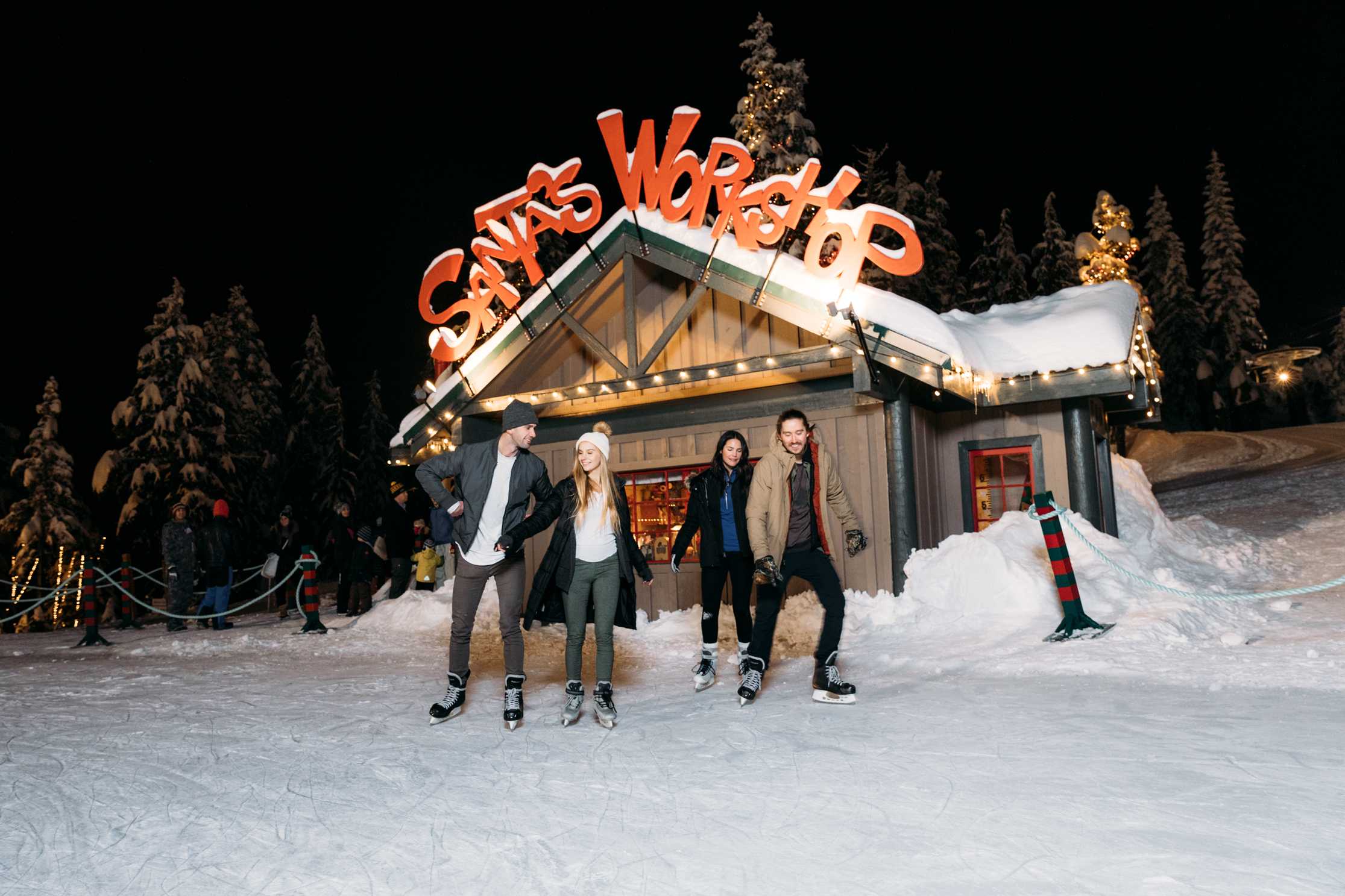 A group of friends ice skating at Peak of Christmas on Grouse Mountain. Image courtesy of Tourism Vancouver / Rishad Daroowala
5. Peak of Christmas at Grouse Mountain
November 22, 2019 - January 5, 2020

A true family favorite, the Peak of Christmas at Grouse Mountain has all the holiday traditions. Enjoy breathtaking light installations, meet Santa in his workshop, skate on a 8,000 square foot mountaintop pond and visit the Theatre in the Sky to watch Christmas movies. Oh, and did we mention there's real reindeer to check out?
Open from November 22, 2019 to January 5, 2020, all of the Peak of Christmas activities are complimentary with a Mountain Admission Ticket. Our experts highly recommend adding a few other Grouse Mountain activities to the day, like a snowshoe and fondue tour at the top or a meal in the beautiful observatory.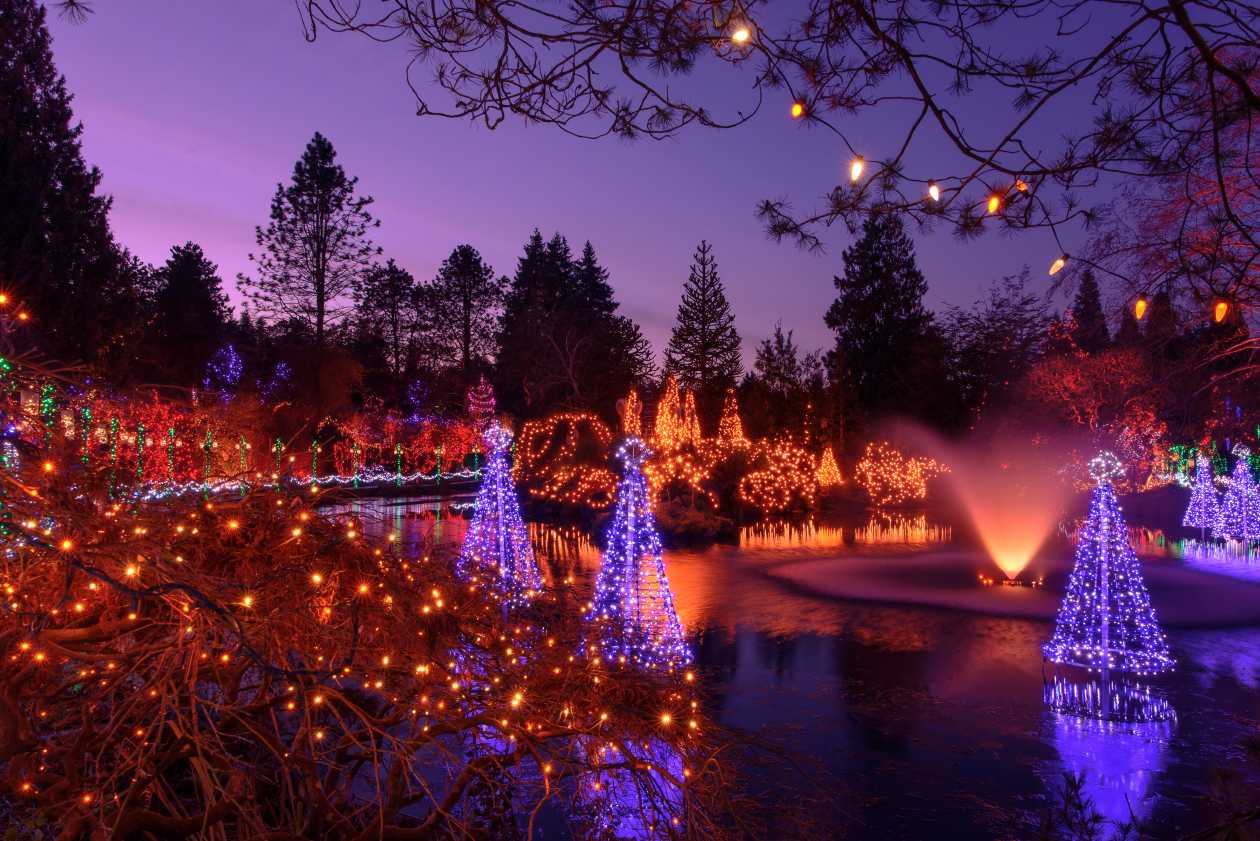 Festive lights at VanDusen Botanical Gardens in Vancouver. Image courtesy of Tourism Vancouver / VanDusen Botanical Gardens
6. VanDusen Festival of Lights
November 30, 2019 - January 5, 2020

There's something about a beautiful garden decked out in beautiful lights, and the 55-acre VanDusen Botanical Gardens in Vancouver has created one of the best. Highlights include a carousel (a free ride is included with your ticket!), lights that dance to music, the Fireside Lounge, Santa's Lodge and plenty of spots for photo ops.
For this event it's best to plan your visit in advance, as tickets tend to sell out between December 14 to 24. Our Travel Designers can add a ticket to your trip, or you can buy them online for $11.50 - $22 (child, senior and adult rates available). This will also help you to skip the line when you arrive and spend less than at the door.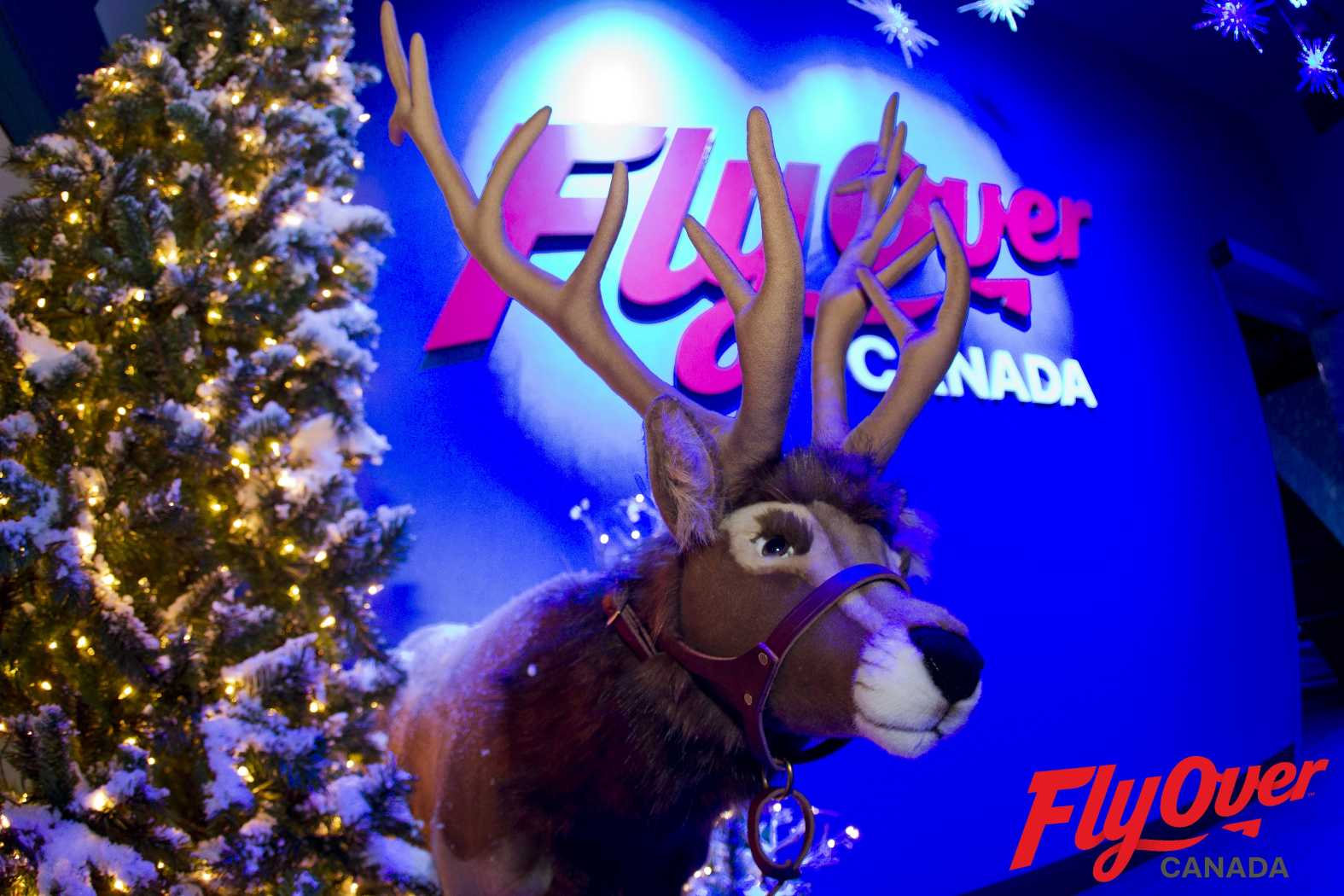 Christmas decor at FlyOver Canada. Image courtesy of FlyOver Canada
7. Christmas at FlyOver Canada
November 21, 2019 - January 5, 2020

See Canada from Santa's perspective with a themed ride at FlyOver Canada. An eight-minute simulated flight experience that takes you across the country, you'll start with a Winter Wonderland themed preshow to learn how it works, then follow along with two little elves and end soaring over the North Pole.
While great for families, keep in mind that children need to be at least 102cm (or 40in) to go on the ride and must be accompanied by an adult. Situated directly next to the Vancouver Christmas Market in the waterfront district of Vancouver, you can purchase a Holly & Jolly Combo ticket (from $39) to combine the two attractions.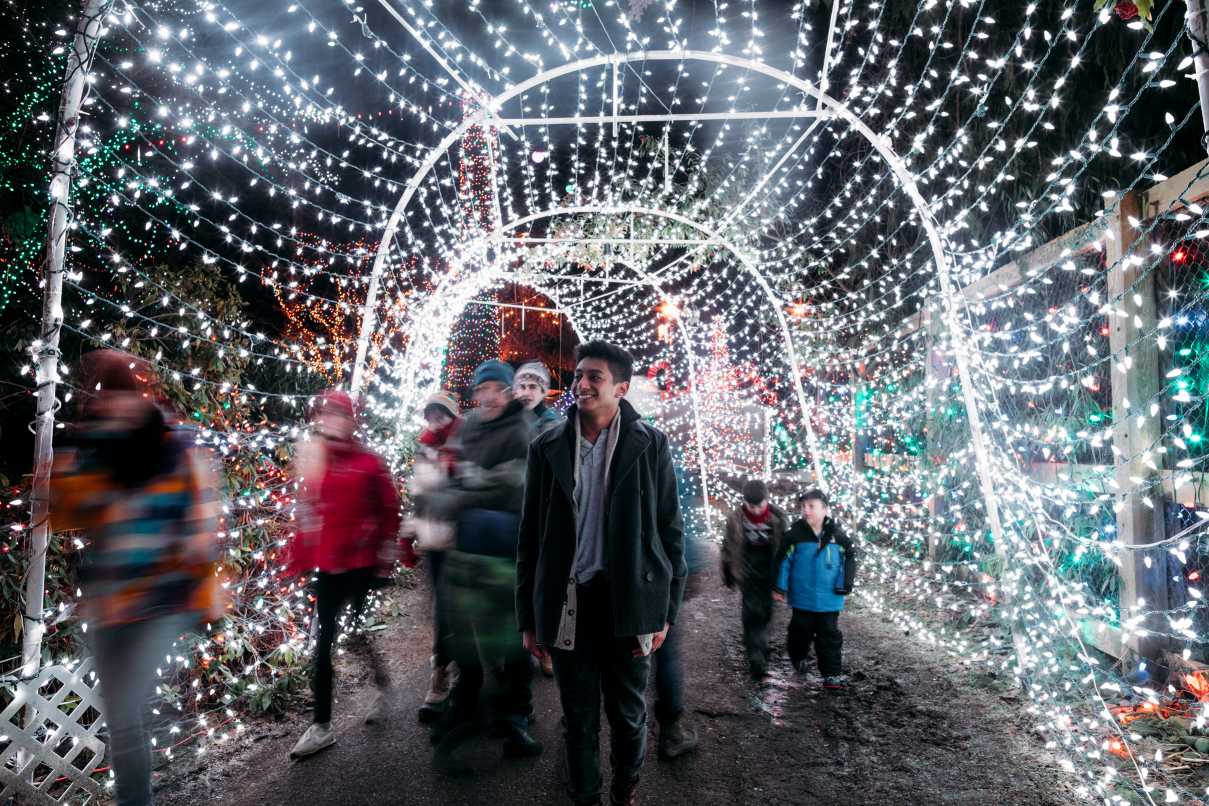 Wandering through the light displays of Bright Nights at Stanley Park. Image courtesy of Tourism Vancouver / Rishad Daroowala
8. Bright Nights at Stanley Park
November 28, 2019 - January 1, 2020

A 400-hectare public park that borders downtown Vancouver, Stanley Park is Vancouver's first, largest and most beloved urban park. Of course that means it's practically mandatory that there be at least one Christmas event, and Bright Nights is just the ticket with its Christmas train, live performances, edible treats and twinkling lights.
To find your way through the park simply take Pipeline Road via the West Georgia Street entrance. Tickets can be purchased for either the matinee or the evening train rides, and donations at the front gate and a portion of the ticket sales go to the BC Professional Firefighters' Burn Fund.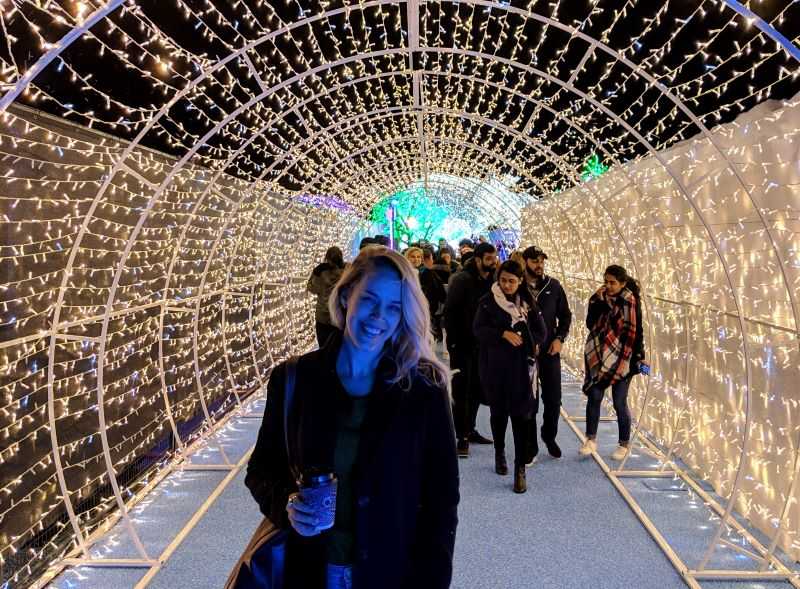 Marketing Manager Lindsay enjoying a hot chocolate at Aurora Winter Festival
9. Aurora Winter Festival
November 22, 2019 - January 5, 2020

Located in Hastings Park at the PNE lies Canada's largest winter festival. Complete with a hidden village, skating rink, tube park, light displays, a Christmas market, amusement rides, food gardens, live music and theatrical performances, this is the ultimate event for families or friends wanting to fully immerse in the holidays.
Just a 20-minute drive from downtown Vancouver prepare to find yourself in another world. Explore the Land of Giants, the Polar Passage, the Whimsical Forest or the Luminous Gardens and encounter special characters along the way. Typically open from either 2pm or 4pm until 10pm daily, tickets are $19 for adults or $14 for a child.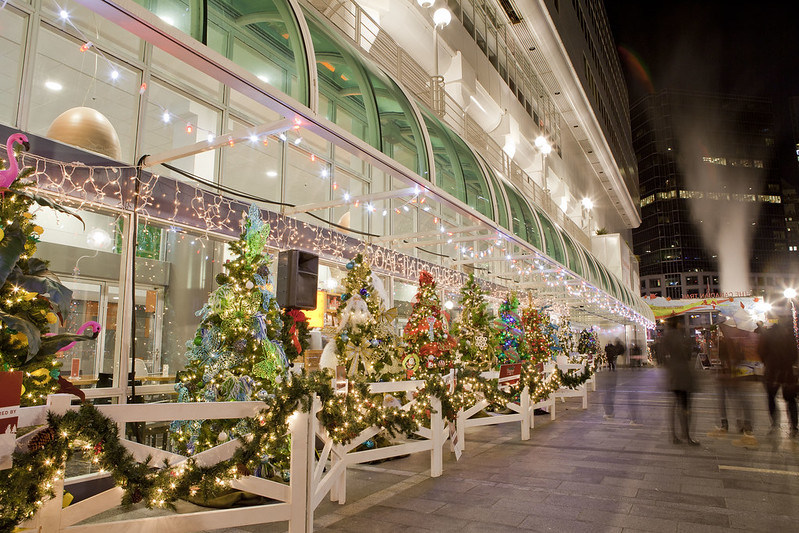 Christmas trees on display along the Canadian Trail at Canada Place. Image courtesy of GoToVan via flickr
10. Christmas at Canada Place
December 6, 2019 - January 1, 2020

This holiday season marks the 32nd annual Christmas at Canada Place, presented by the Port of Vancouver. A free and family-friendly event that can be explored at your own leisure, see a 15-foot tall moose light sculpture, watch the sails light up in reds and greens and wander through impressive Christmas decor at the Avenue of Trees.
This event is located specifically on the west promenade and north point of Canada Place, and can easily be combined with the Vancouver Christmas Market and Flyover Canada as they're all in the same vicinity.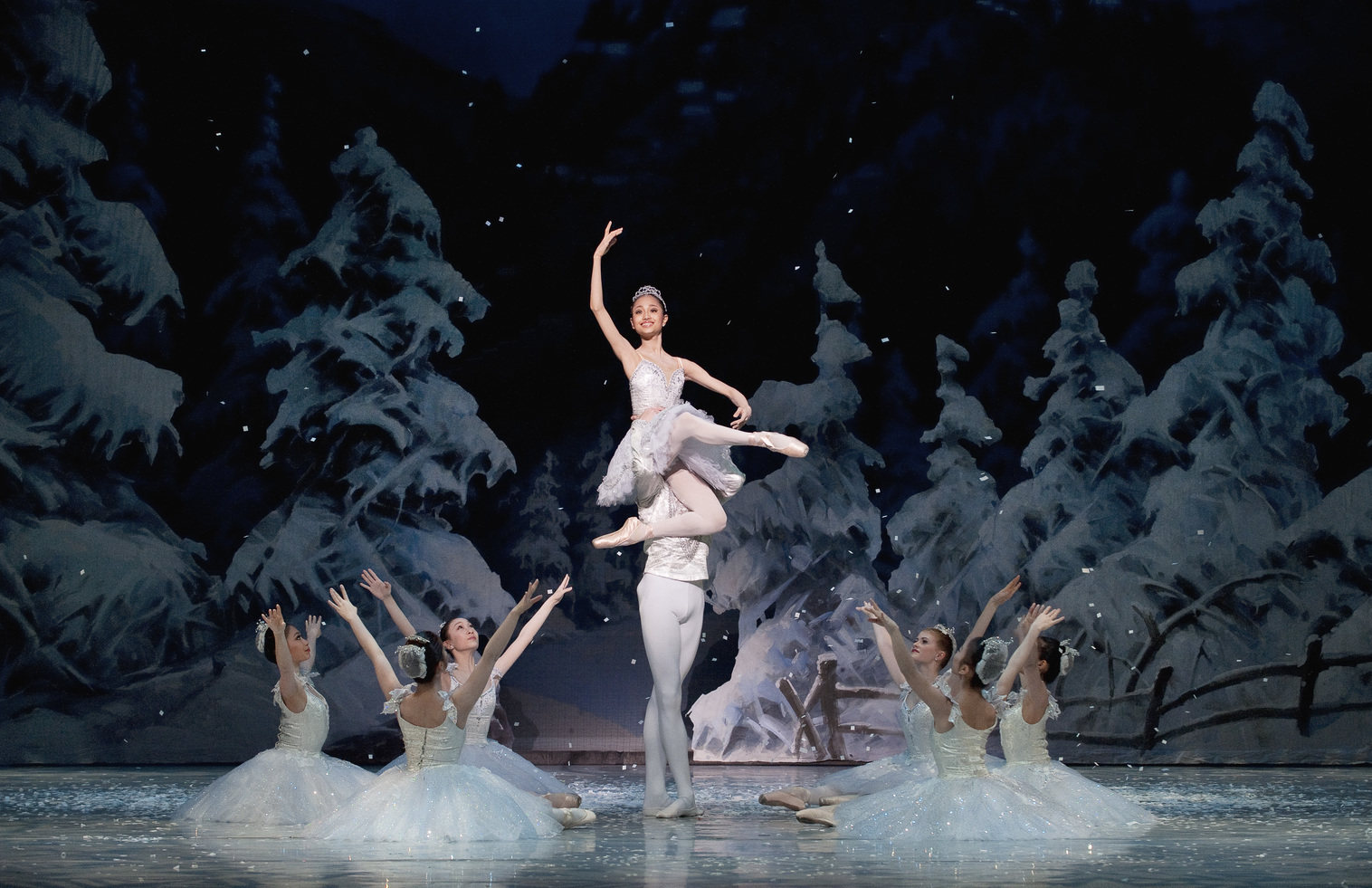 The Goh Ballet performing The Nutcracker. Image courtesy of Tourism Vancouver / David Cooper / Goh Ballet
11. Catch a Holiday Performance
December (various dates)

Be it a ballet, a play or an orchestral performance, Vancouver boasts an impressive event calendar each December. This year, catch a traditional rendition of a classic masterpiece with The Nutcracker by Goh Ballet (December 20-22) or listen to the Vancouver Symphony Orchestra play their Traditional Christmas concert (December 12-14 & 22).
Whether at the Orpheum, the Vogue or the Queen Elizabeth Theatre, Vancouver's best and most beautiful venues are bound to impress in more ways than one. Bring a camera to capture the space and the moment, then tuck it away as the show starts so you can sit back and enjoy.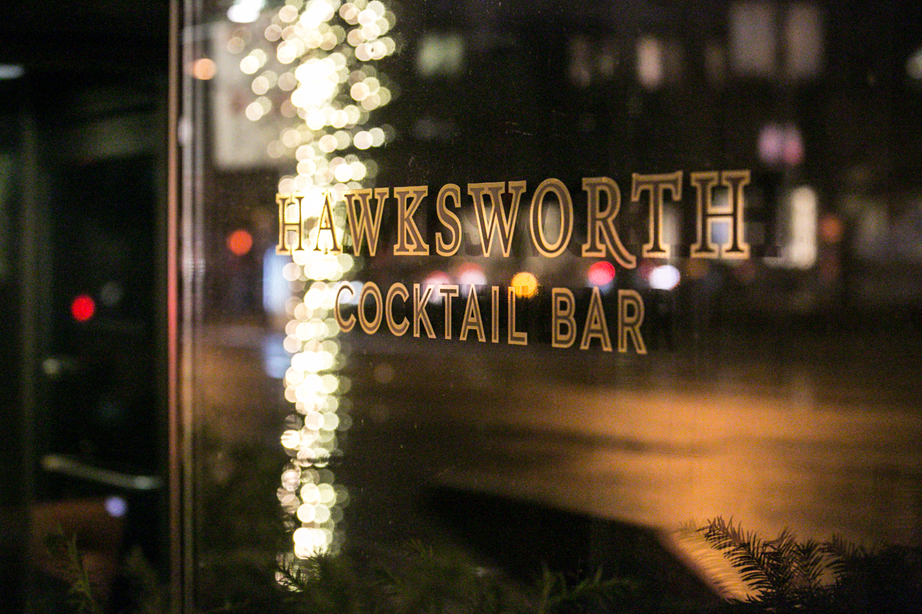 Hawksworth Restaurant. Image courtesy of Tourism Vancouver / Vision Event Photography
12. Christmas Dinners at Local Restaurants
December 25, 2019

While many Vancouver Restaurants will close down for Christmas Day, there are still some exceptional places to wine and dine. Impressive buffets and multi-course meals can be enjoyed at The Teahouse in Stanley Park, the Pacific Ballroom at the Fairmont Hotel Vancouver, Five Sails at the Pan Pacific or Hawksworth in Hotel Georgia.
Expect dishes like traditional turkey, mouth-watering meatballs, squash soups and delicious veggie options. Of course, it wouldn't be dinner in Vancouver without some succulent seafood options as well. Making your reservation in advance comes highly recommended, as these restaurants are bound to book up prior to Christmas day.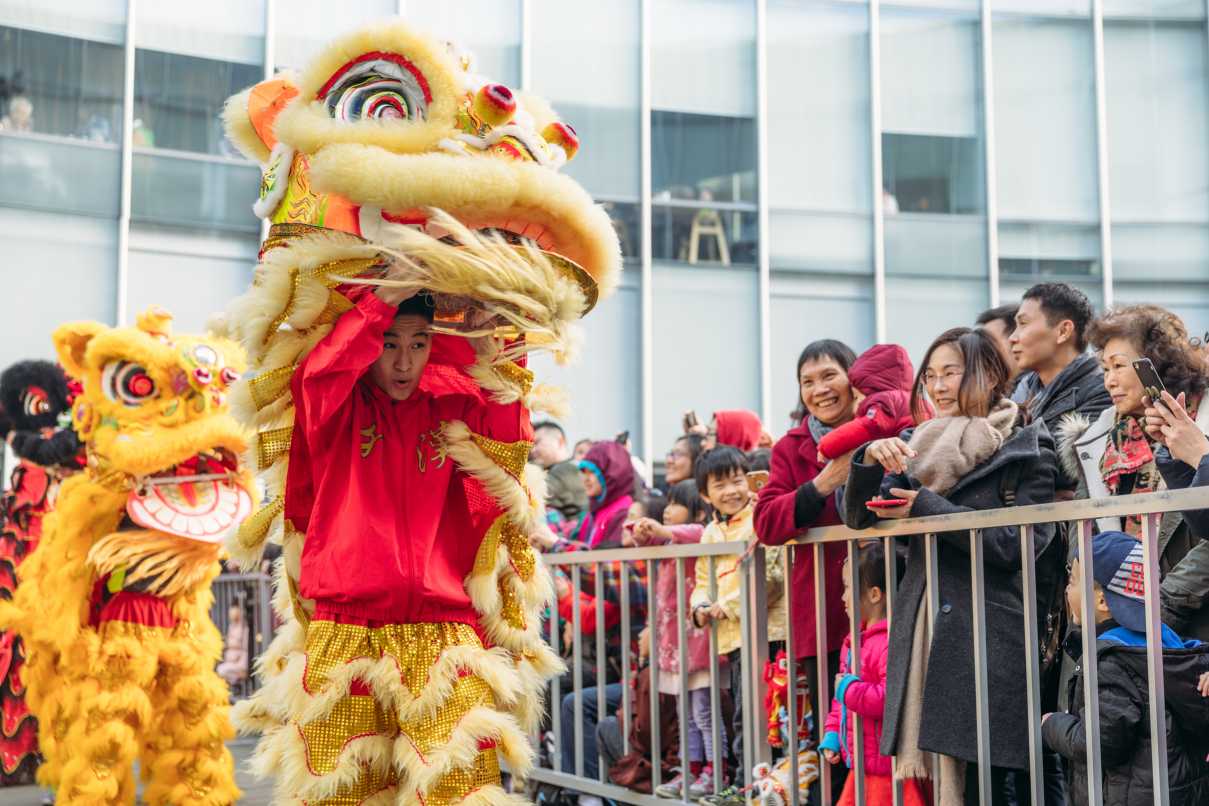 Lunar New Year lion dancers. Image courtesy of Tourism Vancouver / Rishad Daroo Photography
Bonus Post-Holiday Festivals
Lunar New Year Festival: January 17 - February 2, 2020
A celebration of Vancouver's Asian communities, the Lunar New Year Festival aims to highlight Canada celebrating spring, Chinese New Year and traditional Asian New Year. Discover a whole new world of festive traditions through lion dances, decadent treats, paper lanterns and cultural performances. January 25, 2020 marks the Year of the Rat and promises to be a feast for the senses!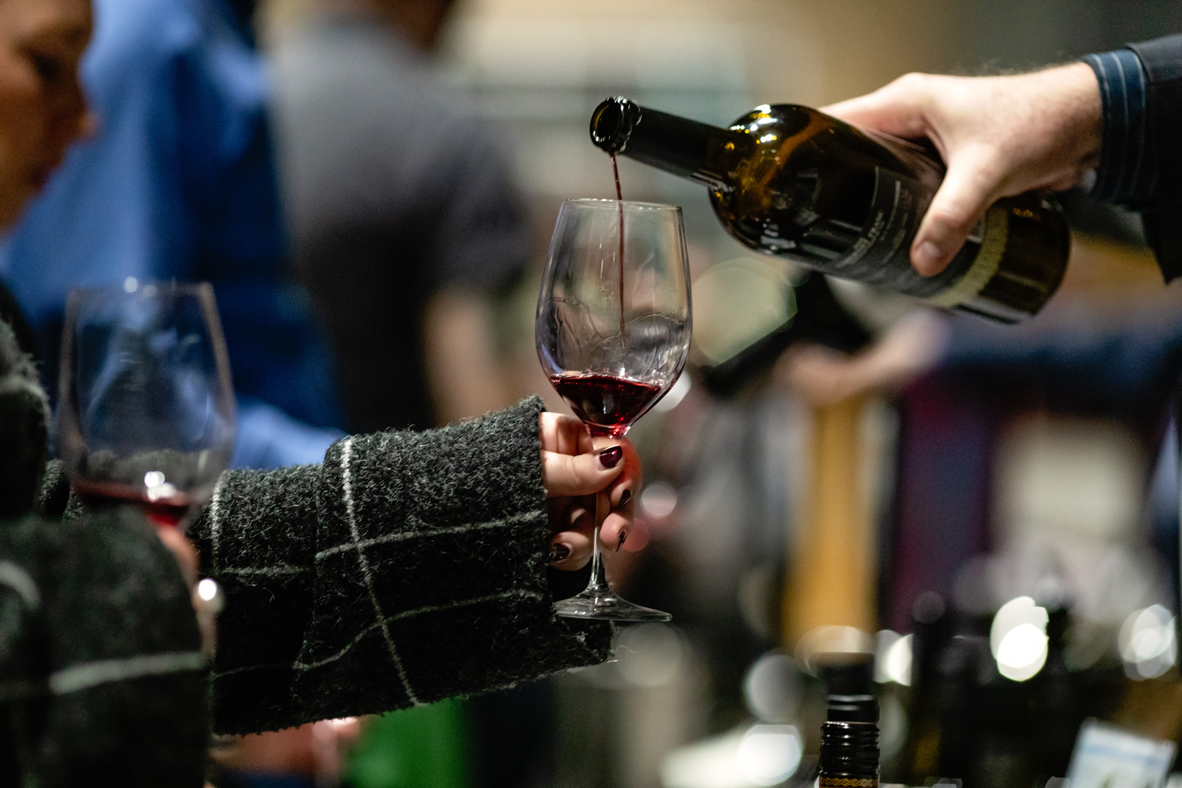 Wine being poured at the Vancouver International Wine Festival. Image courtesy of Tourism Vancouver / Vision Event Photography

Vancouver International Wine Festival: February 25 - March 1, 2020
The Vancouver International Wine Festival is a premier wine show that has been voted the number one food, wine & hospitality event in Canada for the last six years in a row. The Tasting Room features some 750 wines for the public to choose from, along with the chance to meet owners, winemakers and senior representatives from various wineries all over the world. Swirl, sip and mingle your way through the room , it's bound to be a blast.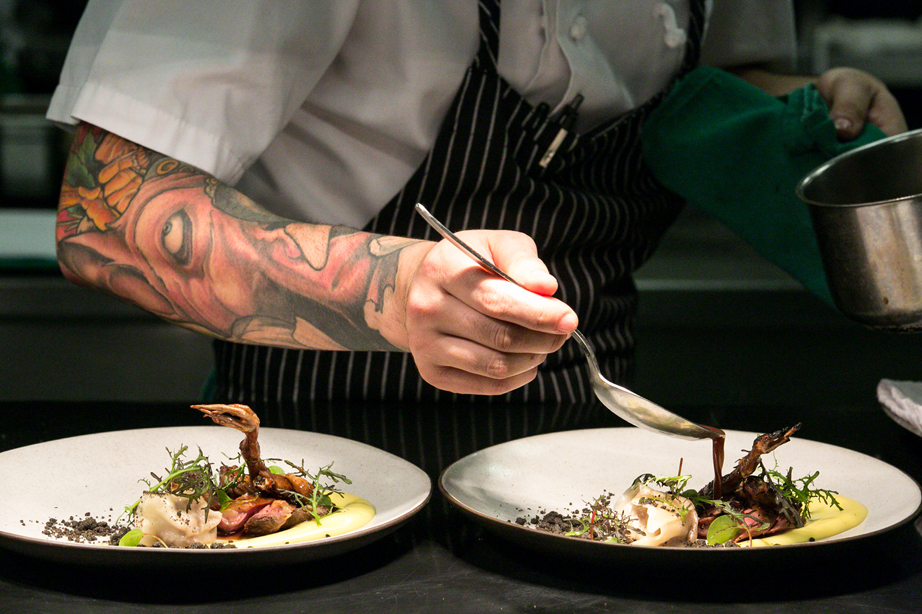 A chef plating food for Dine Out Vancouver Festival. Image courtesy of Tourism Vancouver / Vision Event Photography

Dine Out Vancouver: January 17 - February 2, 2020
One of the most anticipated events of the year for foodies in the city, Dine Out Vancouver Festival features special deals at over 300 restaurants. Whether Indian, Mexican, Japanese, Thai, Vietnamese or something else entirely, there's a huge variety of multi-course menus to choose from, each available at a set price of $15, $25, $35 or $45 per person. Mark your calendar for the big reveal of participating restaurants, which is happening on January 9, 2020.
Feeling inspired?
Get in touch with one of our travel designers to customize your own magical winter experience. Prefer to simply stay in touch? Subscribe to our newsletter for up-to-date deals, trip ideas and more!