Intriguing and alluring, Atlantic Canada (featuring New Brunswick, Newfoundland and Labrador, Nova Scotia and Prince Edward Island) calls travelers seeking authentic experiences in spectacular landscapes. From driving the world-famous Cabot Trail and kayaking along the coast to savoring local seafood and getting 'screeched in' by a local, follow along for 15 must-do experiences in Atlantic Canada. May this list inspire future travel plans and give you something to look forward to.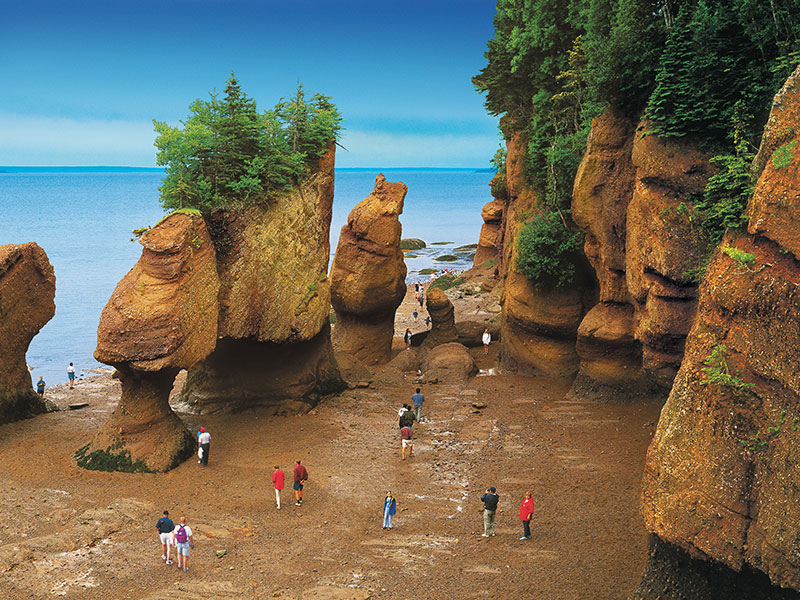 Hopewell Rocks in the Bay of Fundy. Image credit New Brunswick Tourism
1. Witness the World's Highest and Lowest Tides
New Brunswick's Bay of Fundy is home to the world's highest and lowest tides, and Hopewell Rocks is the best place to witness its entirety. With the highs and lows happening twice a day, every day, you can kayak on the surface one moment and walk the ocean floor the next. The Rocks Provincial Park opens for the main travel season mid-May and continues to mid-October.
A good-to-know is that the time between high and low tides is 6 hours and 13 minutes. Tide tables are available to help plan your visit, or you can chat with one of our experts when booking our Wonders of the Bay of Fundy or History & High Tides packages.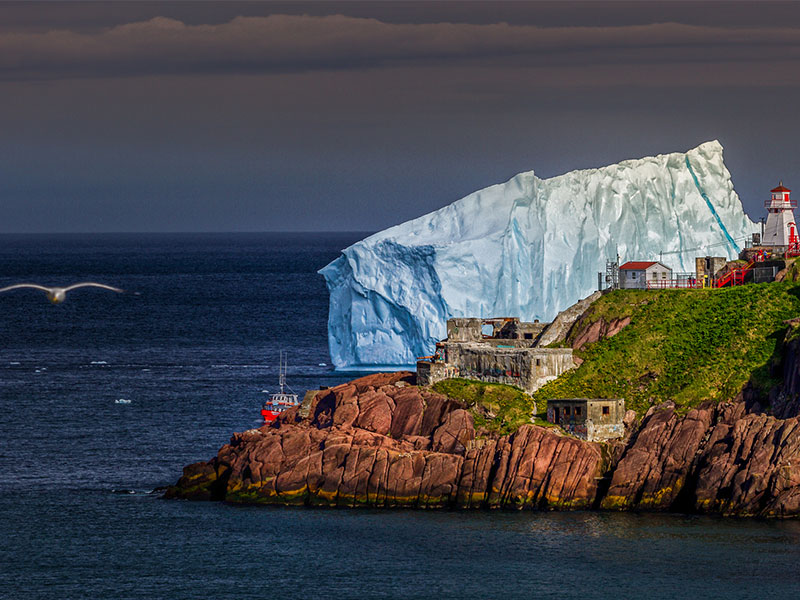 An iceberg off the coast of Newfoundland. Image credit Tourism Newfoundland & Labrador
2. Spot 10,000 Year-Old Icebergs
Plan to visit the northern coast of Newfoundland & Labrador in late May or June and you'll likely see massive icebergs cutting through the Atlantic Ocean. Breaking off from the ancient glaciers of western Greenland and Canada's Arctic, these behemoth's date back 10,000 years and can weigh as much as 10 million tons.
Unsurprisingly, such a sight attracts travelers from all over the world. Our Iceberg Alley Newfoundland tour ensures the very best viewing locations, plus you'll witness whales and the Atlantic Puffin on a boat excursion, wander small villages and feel utterly enchanted by coastal beauty. All in all, it's the perfect six-day drive to get a taste of Newfoundland & Labrador.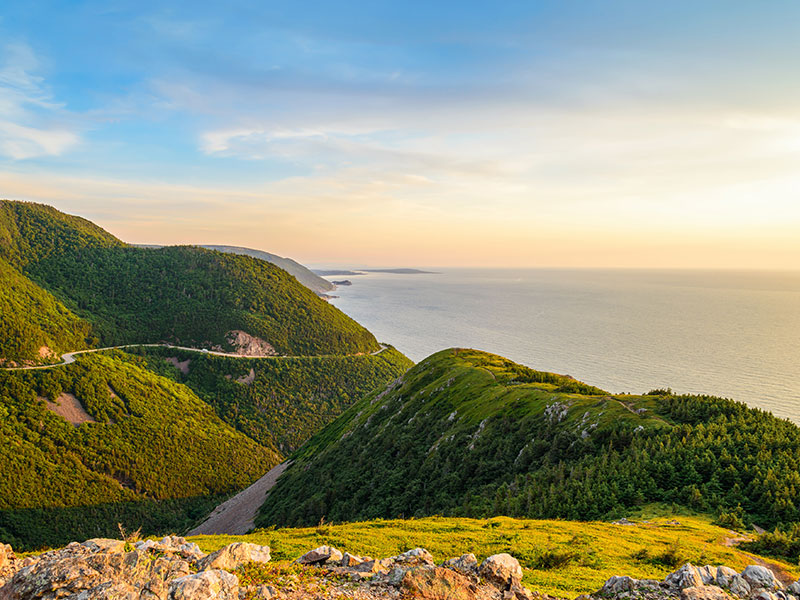 The Cabot Trail on Cape Breton Island. Image credit Shutterstock
3. Road Trip the World-Famous Cabot Trail
The Cabot Trail is a bucketlist road trip that you simply must experience in Nova Scotia. Showcasing the natural beauty of Cape Breton Highlands National Park, this 186-mile highway follows the coast and delivers spectacular views with every curve. Get out of the car to discover one of 26 trails , ranging from easy strolls to challenging hikes, there are ample lookouts in every direction.
Looping the entirety of Cape Breton Island, the full drive takes approximately five hours, though we recommend setting aside at least a day as this doesn't account for stops (which, really, are the best part). Even if you're used to driving steep grades and curves, take it slow. There is much to see and less experienced drivers may hold you back in the single-lane sections.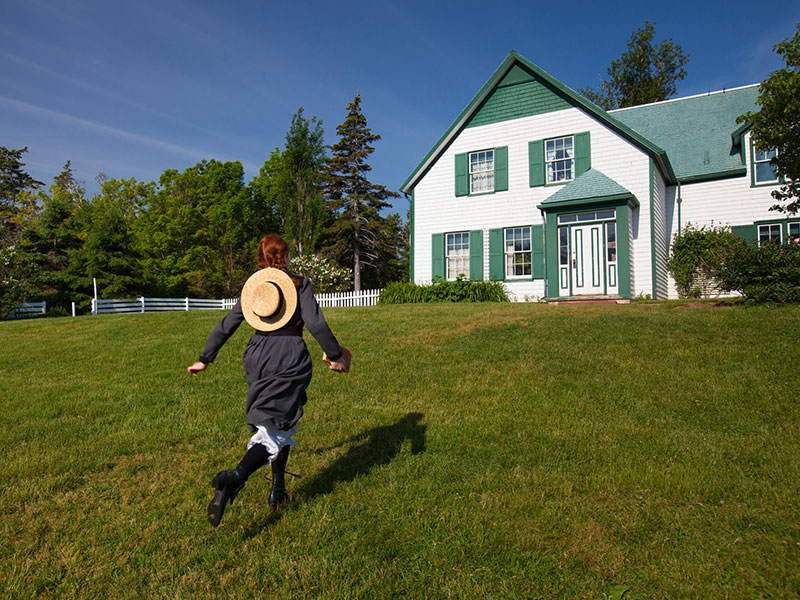 Anne at Green Gables Heritage Place. Image credit Tourism PEI and John Sylvester
4. Walk Into a Real Life Storybook
Designated as a World Heritage Site in 1985, Green Gables Heritage Place welcomes hundreds of thousands of visitors each year to the charming setting that inspired Lucy Maud Montgomery's book, Anne of Green Gables. Located in Cavendish, Prince Edward Island, fans can feel the story come to life as they visit this and several other museums and sites that share more of the story.
Another way to get to know Anne is by attending a show in Charlottetown. Anne of Green Gables - The Musical holds a Guinness World Record as the longest running annual musical, with 3.3-million viewers (and counting) since it first staged in 1965.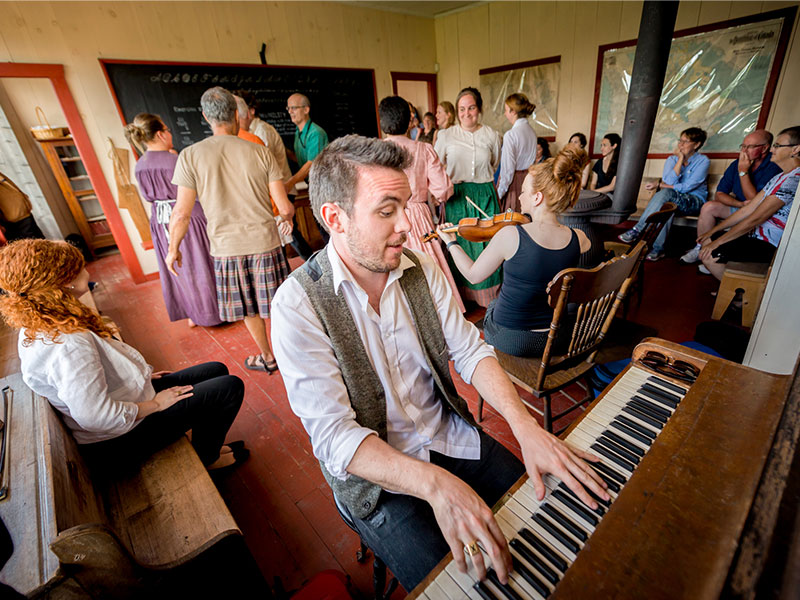 A community ceilidh. Image credit Tourism Nova Scotia
5. Enjoy Live Acadian Music at a Ceilidh
A ceilidh (pronounced 'kay-lee') is an exuberant old-school kitchen party in Nova Scotia where people play the fiddle, piano, bagpipes and guitars and dance, sing or tell stories. It's a great way to immerse in the community and feel the rhythm and way of life, and a trip to Atlantic Canada simply wouldn't be complete without attending one (or at least listening to some live music).
Online event calendars can often tell you when and where a ceilidh is happening, but if you can't find your way into one, there's always live acts. Visit The Carlton Music Bar & Grill in Halifax to toe-tap into the night, or come for the 9-day Celtic Colours International Festival that occurs on Cape Breton Island each October.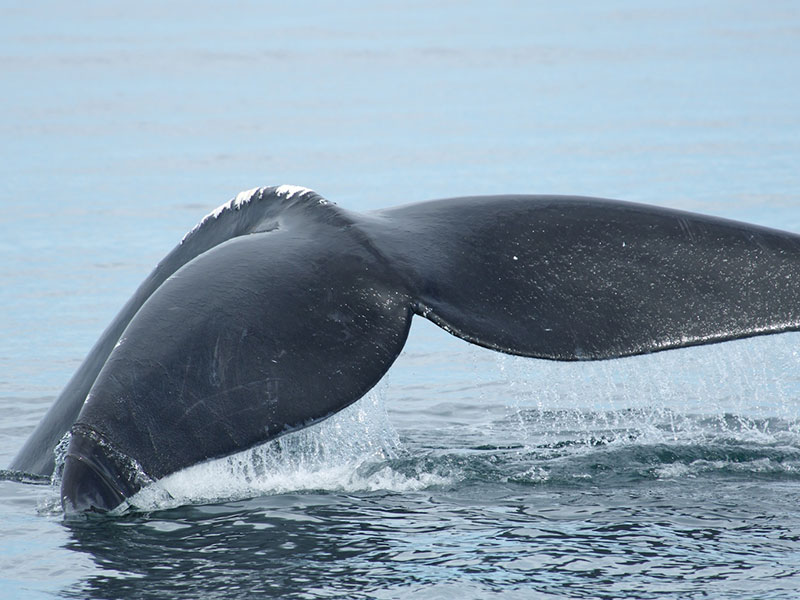 Whale watching in Nova Scotia. Image credit Tourism Nova Scotia
6. Whale Watch for 12 Different Species
Summer and early fall are the best times to go whale watching in Atlantic Canada, a place where 12 different species share the same waters. Have your breath taken away as one breaches the surface, and brace yourself for the loud smack and plume as their large body re-enters the sea. It's a majestic sight that awakens you to the beauty of mother nature, and is not to be missed.
Curious what you could see on a tour? Minke whales, pilot whales and fin whales are often sighted, as are the endangered North Atlantic Right whales. Humpback whales, blue whales and white-sided dolphins tend to be seen in the late summer months.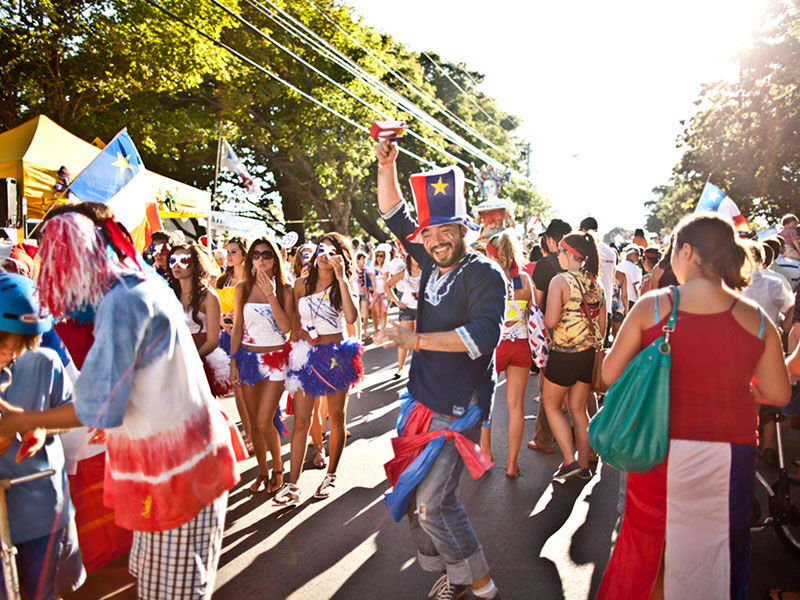 People celebrating Festival Acadien. Image credit New Brunswick Tourism
7. Find Your Acadian Joie de Vivre
Both French and English speaking, Acadians form one of the oldest and most important francophone communities in Canada. Arriving in North America some 400 years ago, they now make up one third of New Brunswick's population and celebrate their culture through their own music, literature and art.
Well known for their spirit, Acadians celebrate their culture each year on August 15, National Acadian Day. Communities big and small get decked out in blue, white, red and yellow (the colors of the Acadian flag) and take part in festivities like the Tintamarre. At this infectious parade, you can dance to the sounds of bells, horns, pots and wooden spoons to show your joie de vivre!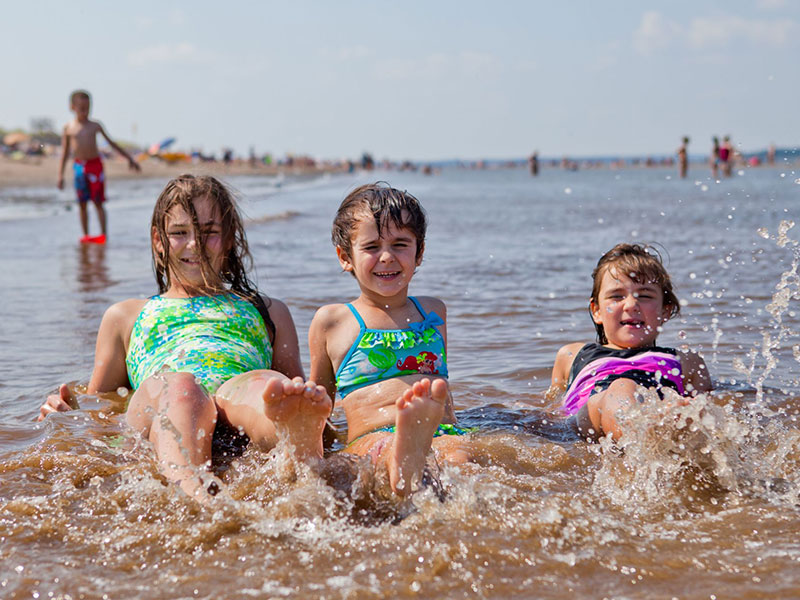 Children at the beach. Image credit New Brunswick Tourism
8. Swim in Canada's Warmest Salt Water
You may or may not believe it, but Canada's warmest salt water is along the Acadian Coast in New Brunswick. From about Dalhousie to Murray Corner, the waters can rise to 84 degrees Fahrenheit (29 degrees Celsius) in the summer, which is warmer than anything north of Virginia (and anywhere else in Canada).
This is all thanks to a combination of shallow water and The Gulf Spring flowing all the way up from Florida. The best places to dig your toes into the sand? Kouchibouguac National Park, Parlee Beach and Murray Beach provincial parks, plus Bouctouche Dune and Aboiteau Beach. Ask our experts to make time for one on your trip!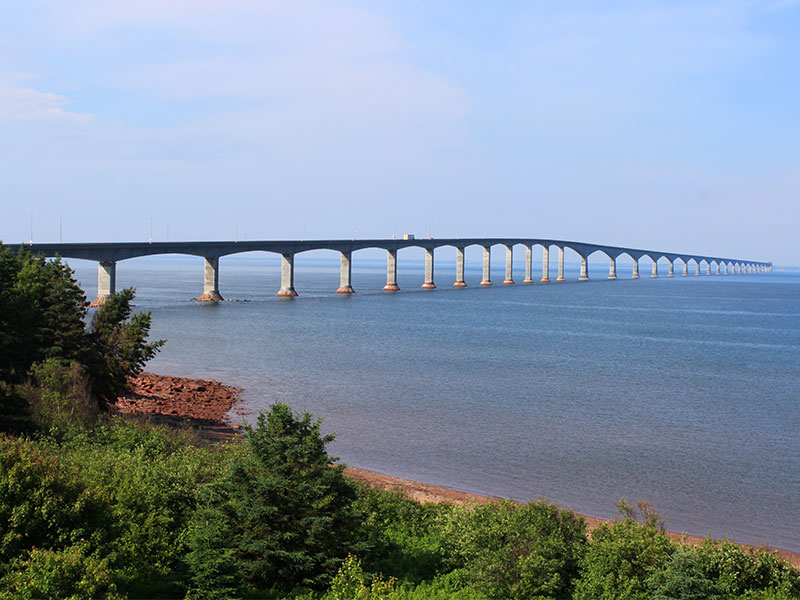 The Confederation Bridge. Image credit Shutterstock
9. Drive Across the Longest Bridge in Canada
If you find yourself on our 18-day Grand Maritimes package, 14-day Atlantic Charm package or 11-day Acadia Adventure, you'll have a chance to drive across Canada's Confederation Bridge. At 8 miles (13 km) in length it's regarded as the longest bridge in the country, and the longest bridge in the world that spans over ice-covered water.
Connecting New Brunswick and Prince Edward Island, the bridge makes travel through the Maritimes all the more convenient. While long, it takes only 10 minutes to drive across, with a speed limit of 50 mph. Don't forget to snap some pictures while you have the chance , with ocean as far as the eye can see, it's a pretty spectacular crossing.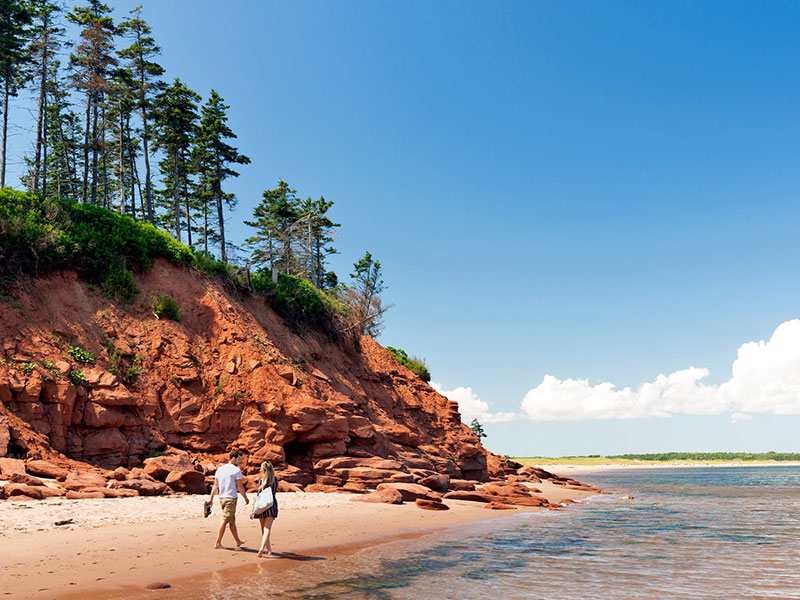 The beach at Basin Head. Image credit Tourism Prince Edward Island and Sean Landsman
10. Experience the Singing Sands
Bringing you back to the beach (this time on Prince Edward Island), there is even more to see... or should we say hear? The beach at Basin Head is famous for its "singing sands", named for the high density of silica and quartz that squeaks when you walk on it.
While the sound is certainly mesmerizing it isn't the only draw to the beach, where sandy stretches, a boardwalk, play area, food and shower facilities make for an easy day of family fun. Pack a picnic lunch and take some time to explore the Fishery Museum, open 9-5 through the summer season.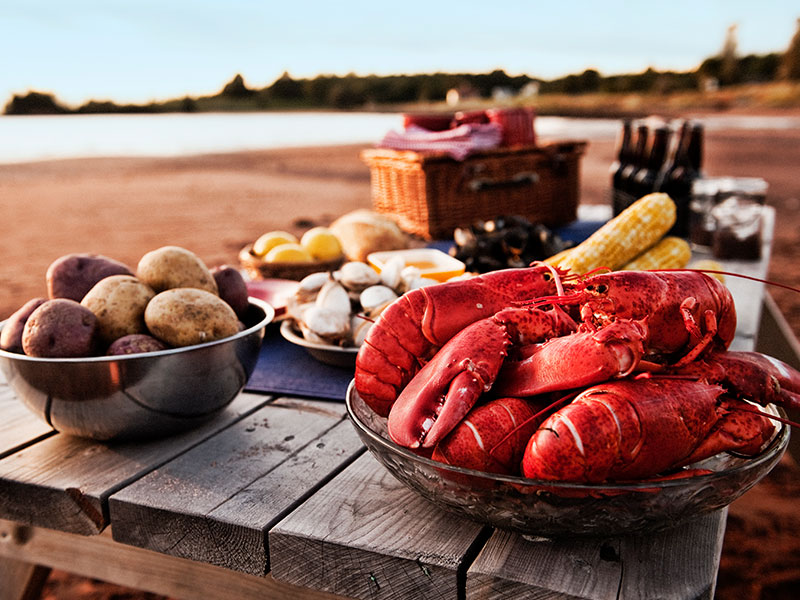 A clambake set up on a picnic table. Image credit Tourism Prince Edward Island
11. Dig into World-Famous Shellfish
Calling all seafood lovers to Prince Edward Island! If you don't know, now you do: this tiny Canadian province is home to some of the planet's finest seafood. Dig into a smorgasbord of oysters, lobsters, mussels, clams and scallops at the International Shellfish Festival. Held this year from September 17-20, it's part of the larger PEI Fall Flavours Festival and showcases the ocean's salty best.
If your dates don't happen to align with the festival in September, don't fret. There are plenty of incredible seafood restaurants in the province that you can visit throughout the year. Try The Cork and Cast in Charlottetown to dine in a floating food court, or Dave's Lobster for what the Globe & Mail has dubbed "the best lobster rolls "In. The. World."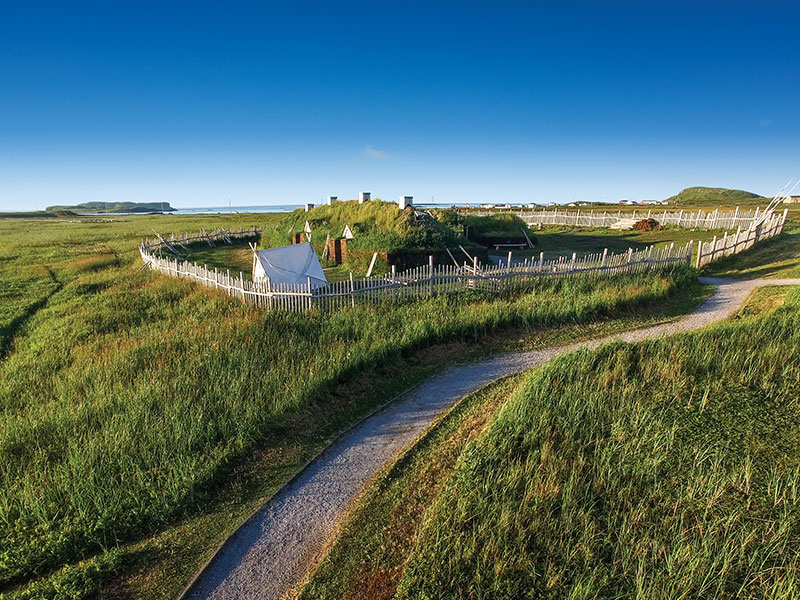 L'Anse aux Meadows. Image credit Tourism Newfoundland & Labrador
12. Explore a 1,000 Year-Old Viking Site
An archaeological site on the nothernmost tip of the Great Northern Peninsula in Newfoundland, L'Anse aux Meadows has ancient and important stories to tell. With signs of Norse presence dating back 1,000 years it's the first known Viking encampment, showcasing the remains of what we know to be the first European arrival in North America.
While there, meet resident Vikings as part of your tour, explore the reconstructed encampment and listen to Vinland Sagas in the main hall. Try your hand at Norse iron forging, dying, wood working and textile weaving, or see original excavated artifacts as well as a replica faering boat. Consider our 8-day Viking Trail Newfoundland package to spend a full day at the site.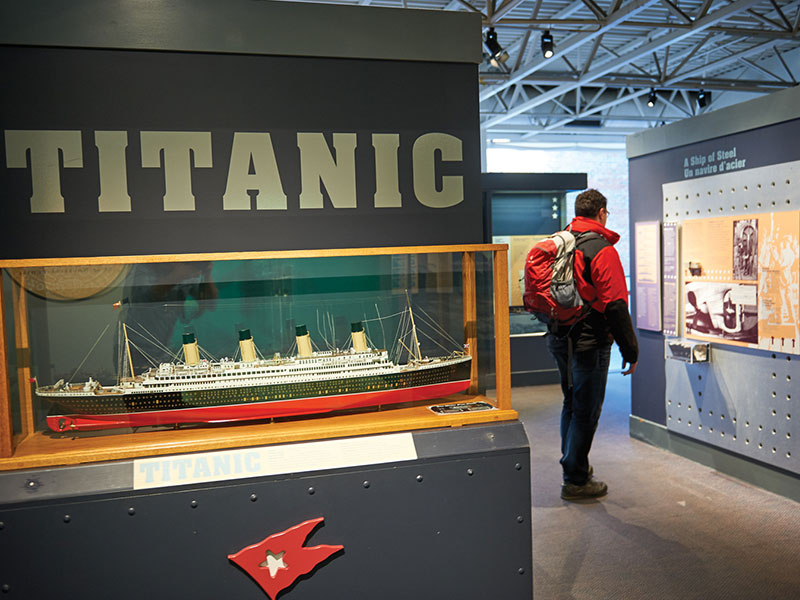 The Titanic exhibit at the Maritime Museum of the Atlantic. Image credit Scott Munn
13. Get Close to the Sunken RMS Titanic
Considered one of the greatest marine disasters in recorded history, the sinking of the RMS Titanic occurred 700 nautical miles east of Halifax, Nova Scotia. Multiple ships from the area were sent to recover the bodies at sea, over one hundred of which are now buried in the city's Fairview Lawn Cemetary (including one very popular J. Dawson).
Travelers can learn more about the ship's past at the Maritime Museum of the Atlantic, where pieces of the wreckage, records and artifacts like a child's shoes are permanently on display. Follow the story of Titanic's creation and demise, plus the key role that Halifax played in the disaster. It's unlikely that you'll ever feel quite as close to the wreckage as you will right here in Halifax.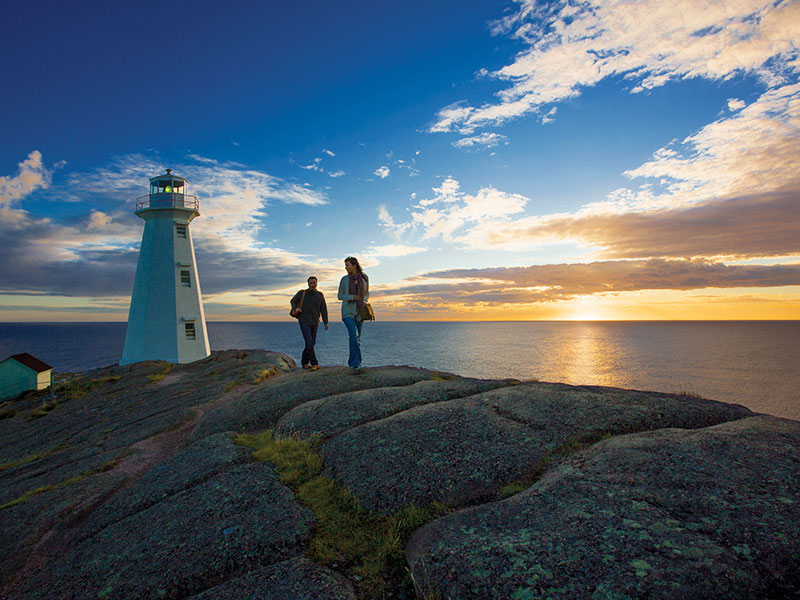 Sunrise at Cape Spear. Image credit Tourism Newfoundland & Labrador
14. Be the First to See Sunrise in North America
The average person sees 30,000 sunrises in their lifetime, but not all can say they were the first. As the most easterly point in North America, Cape Spear in Newfoundland is the first place in the continent to greet the sun each morning, making for special memories (and beautiful photos!) that are more than worth waking early for.
Jutting out into the North Atlantic Ocean, Newfoundland actually has an extra half-hour timezone. Use this to your advantage with a visit to the Cape Spear Lighthouse to learn the story of its keepers. For 150 years, generations of the Cantwell family would work to keep up the light as a beacon of safe passage.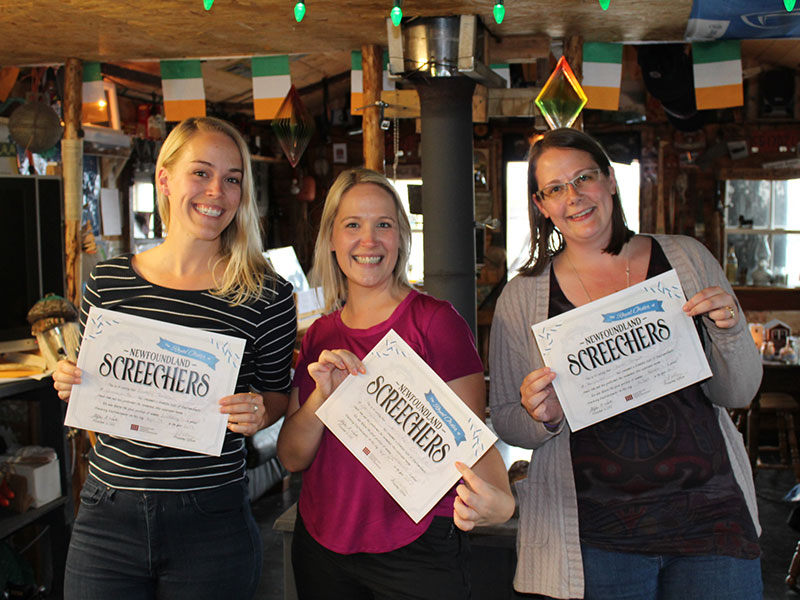 Canada by Design team members Lindsay, Jennifer and Karen.
15. Get 'Screeched In' by a Local
Before ending a trip in Newfoundland, you need to become an honorary Newfoundlander. The province's 'screech-in' tradition is nonobligatory, however it's a unique and fun thing to do involving a shot of screech (rum), a short recitation and the kissing of a cod (yes, that would be a dead fish). A few members of our team have been officially 'screeched in, so we're experts for a reason!
More than just a bit of fun, this is a great way to mingle with locals and share a laugh as you stumble through the steps. Ceremonies tend to take place in bars, at whale watching tours, in restaurants or people's homes, serving as a warm reflection of the hospitality you'll find in Atlantic Canada.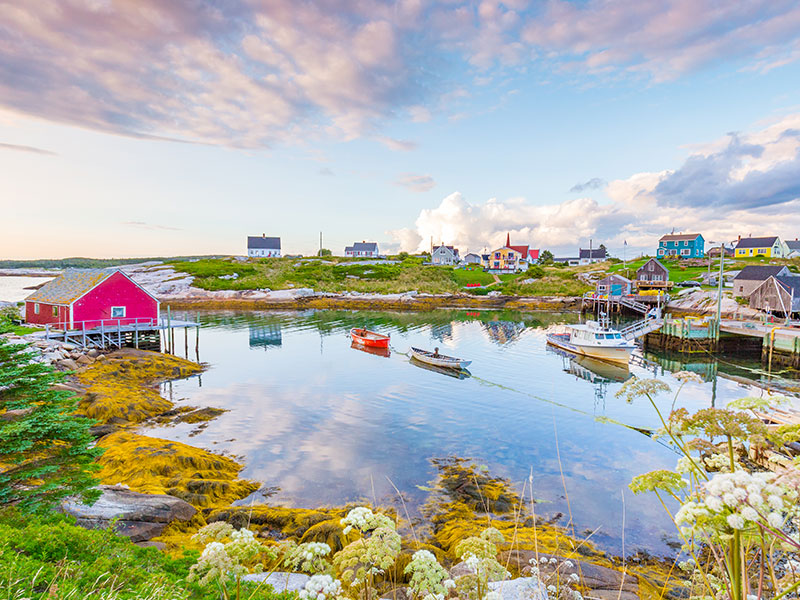 Peggy's Cove village, Nova Scotia. Image credit Tourism Nova Scotia
Feeling inspired?
Get in touch with one of our travel designers to customize your dream trip in Atlantic Canada. Prefer to simply stay in touch? Subscribe to our newsletter for up-to-date deals, trip ideas and more!