Quebec City entices travelers year-round with its European charm and history (400 years worth to be precise!). A main attraction is Old Quebec - a UNESCO World Heritage Site known for it's safe and walkable cobble-stone streets lined with boutique shops and galleries. The city's winter season has grown increasingly popular over the years putting it on the map as a top destination for celebrating the holidays in. In 2016 USA Today named Quebec City the best winter wonderland destination in North America. Find out why visitors are braving a little Canadian cold for a lifetime of winter-wonderland memories.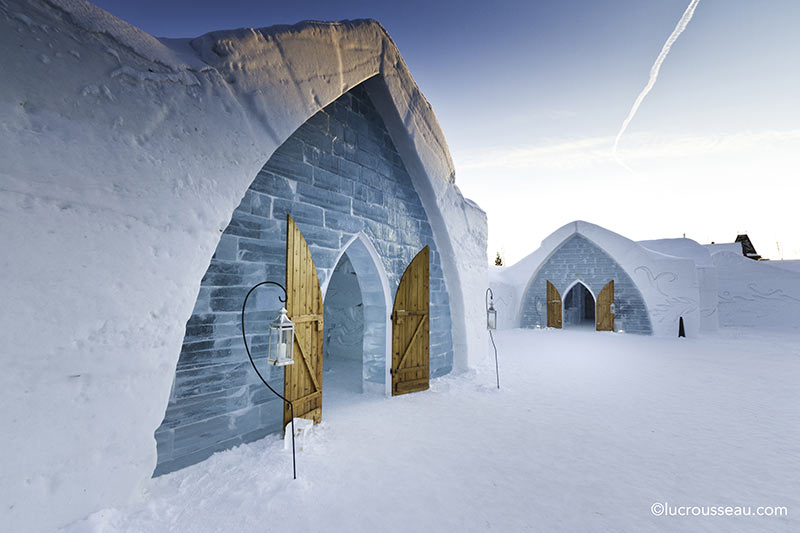 1. North America's Only Ice Hotel
Every year from early January until late March, a brand new hotel is constructed entirely out of ice (furniture and all!) for visitors to explore and even stay the night in. Discover the beautiful Great Hall, Chapel and the ice slide , and of course have a drink from the Ice Bar. Expert Tip: Request to add this experience to your Québec City itinerary at the time of booking to ensure seamless transfers between hotel and other activities, and for additional amenities like a free breakfast and welcome cocktail.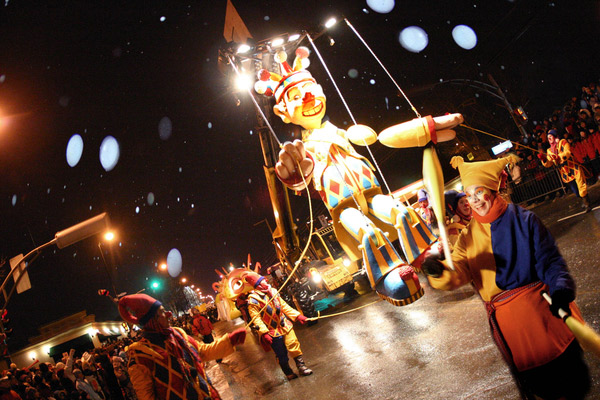 Credit: Carnaval de Québec
2. Québec Winter Carnival
Canadians don't just put up with winter - that'd be boring, instead - we welcome it with epic parties celebrating all things winter. Experience one of the largest winter festivals in the world! Dating back to 1894, this event has evolved from a local affair into a world renowned celebration inviting thousands of visitors every year. The event occurs at the end of January for 3 weeks and features snow slides, an ice canoe race, night parades, sleigh rides, snow baths and more. It's also listed in the Top 3 Carnivals of the world. Expert Tip: You'll want to book well in advance for this event as hotels have already started selling out.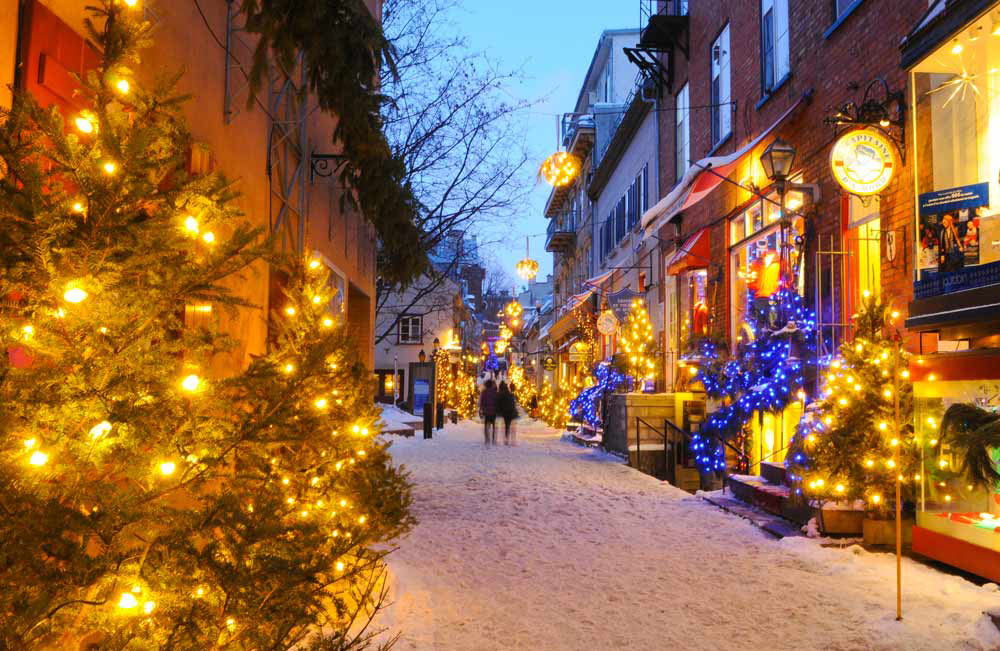 Credit: Ville de Quebec
3. Quartier Petit Champlain & Place Royale
These historical neighborhoods are a draw all year long, and during the winter season the magic is heightened as bustling shoppers fill the cobble stone streets and festive decorations drape over the European architecture. Visitors will blend in with locals as they explore boutique shops, museums and cafes. Expert Tip: Add a culinary walking tour to your itinerary to get an authentic taste of the area from a local perspective.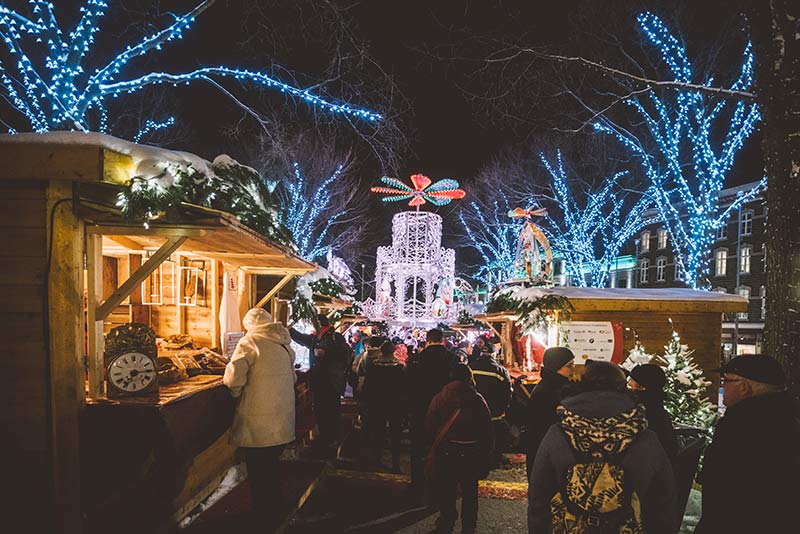 Credit: Marché-de-Noel-Allemand
4. Annual German Christmas Market
Imagine a European inspired village of wooden kiosks, succulent German fare and scintillating lights set in the heart of Old Québec , a stunning area of the city infused with old-world charm. The annual event begins in the end of November and runs every weekend for 3 weeks. Visitors can sip a glass of mulled wine, shop for one of a kind Christmas gifts and enjoy choral singing and other festive performances suited for the entire family.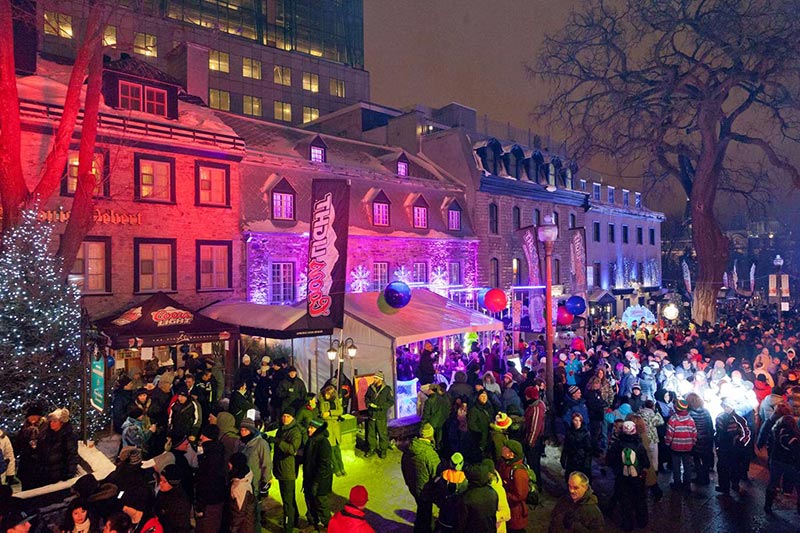 Credit: Ville de Quebec
5. New Year's Eve in Québec City
On December 31, a huge outdoor party will warm the crowds with a musical and pyrotechnic show complete with traditional music, fireworks, Ferris wheel, urban zip line, heated terraces, and outdoor bars. Expert Tip: If you aim to avoid crowds in your travels, book your trip for early January. You'll still experience the city's winter magic, minus the grand-scale events , you'll also enjoy lower rates at this time.
This is really only the tip of the ice-sculpture when it comes to Québec City thriving as a winter destination; in addition to transforming into a real-life Christmas village buzzing with must-attend events, the city offers plenty of snowy activities for travelers looking to try something new , a guided dogsledding experience, perhaps? Looking for a little inspiration? Check out popular winter wonderland itineraries here.
Is experiencing Québec City's winter wonderland on your travel wish list? Let us know!
Want more travel tips and inspiration like this? Join our newsletter list here!