From a grizzly bear stare-down in the Great Bear Rainforest to gasp-worthy humpback whale sightings, discover tales and travel tips from our wilderness adventure at Farewell Harbour Lodge in BC.
Searching for the Best Wildlife Experiences in BC?
When it comes to bear lodges and wildlife viewing, British Columbia is a sought out destination - but after one Google search, you'll realize that it's not easy to pin point what makes each bear lodge unique and which one is the right fit for you.
To help you on your quest for the perfect wildlife experience in BC, a few colleagues and I boarded a short flight from Vancouver to Farewell Harbour Lodge for 3 nights of grizzly bear encounters, black bear viewing, orca & humpback whale watching, and rainforest exploring.
Here's everything you need to know about this hidden gem wilderness experience and what we loved about it - adorable bear photos guaranteed!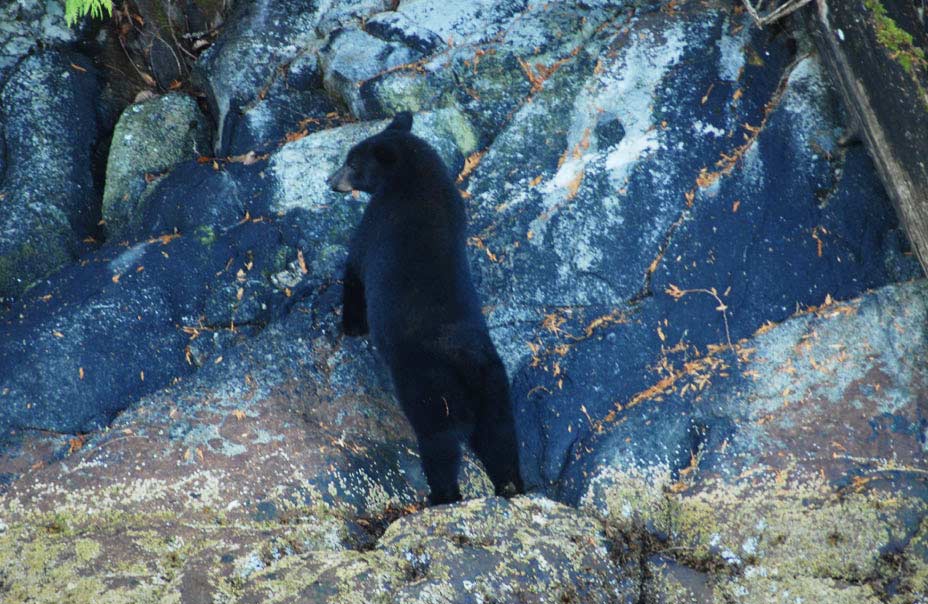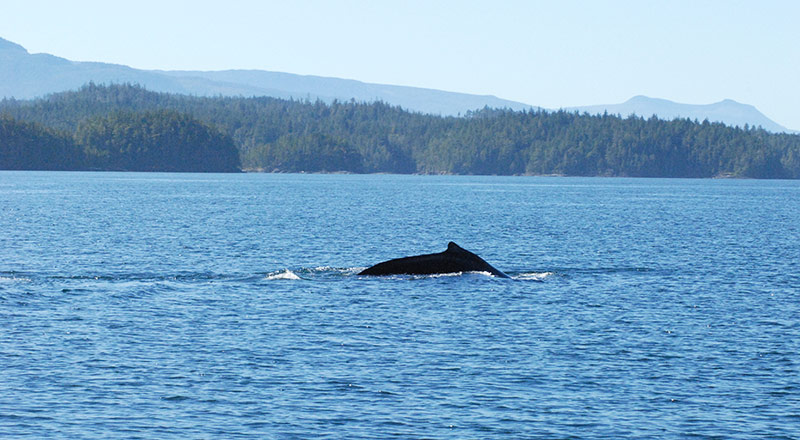 A Whole New World: Location & Getting There
Recently described as BC's Narnia, Farewell Harbour Lodge is located between Vancouver Island and BC's mainland, and is connected to the pristine Broughton Archipelago Provincial Park on a secluded 10 acre old growth forest.
Imagine lush green rainforest, layered mountains, sparkling inlets and more marine life than people (always a good thing). Despite being so close to Vancouver, your surroundings at Farewell Harbour will make you feel a million miles away.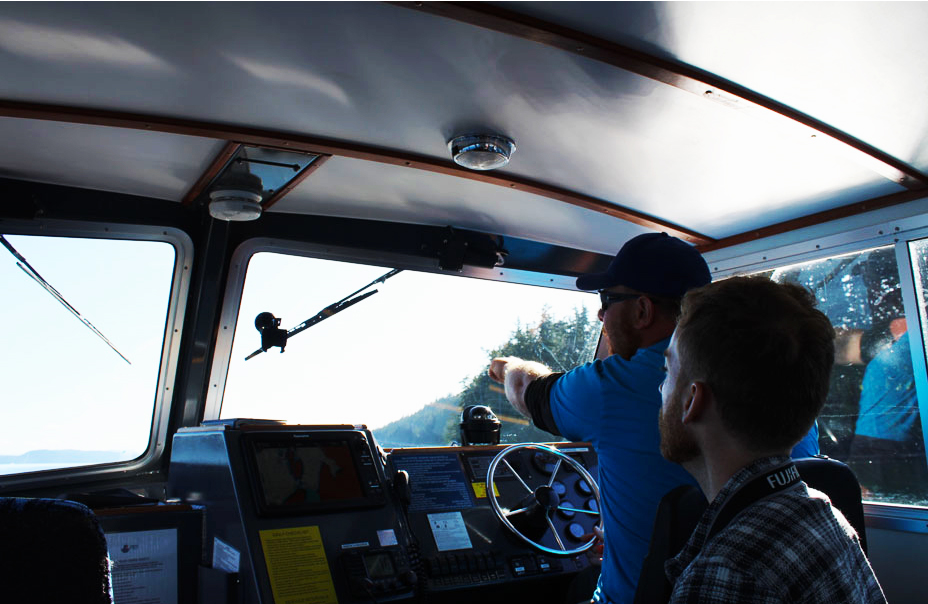 At the Port Hardy airport we were greeted by our guide AJ to take us to the shuttle water taxi to the lodge. AJ introduced us to the area, sharing stories of the local wildlife, while sun-rays bounced off the open water, and the four of us grinned in anticipation for the next few nights ahead.
Mere moments into the boat ride, we spotted a humpback - my first ever humpback sighting in fact (strange for a BC resident, I know!). Not long after, AJ pointed out a black bear combing the beach for food. Another wildlife sighting already?! I couldn't believe it.
It was at this point, not even at the lodge yet, that I felt the palpable shift from regular city life and the cares that go along with it, into a whole new world where nature made the rules and we were just along for the ride.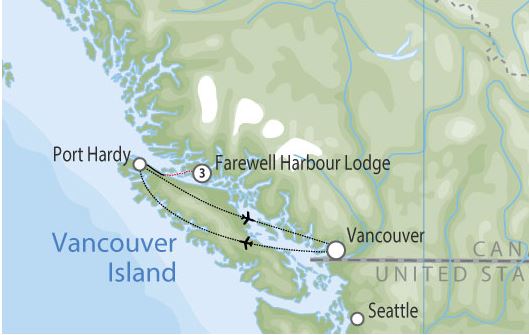 Ways of Arriving
We'll include a direct flight from Vancouver to Port Hardy with Pacific Coastal Airlines in your booking. From Port Hardy, you'll board the complimentary shuttle transfer to Alder Bay and a high-speed water taxi to the lodge.
Road trip it! Farewell Harbour offers complimentary parking at the Alder Bay water taxi pick up, or can pick you up from your hotel in Port Hardy. We can combine this seamlessly with our other BC self-drive packages and even include your rental car.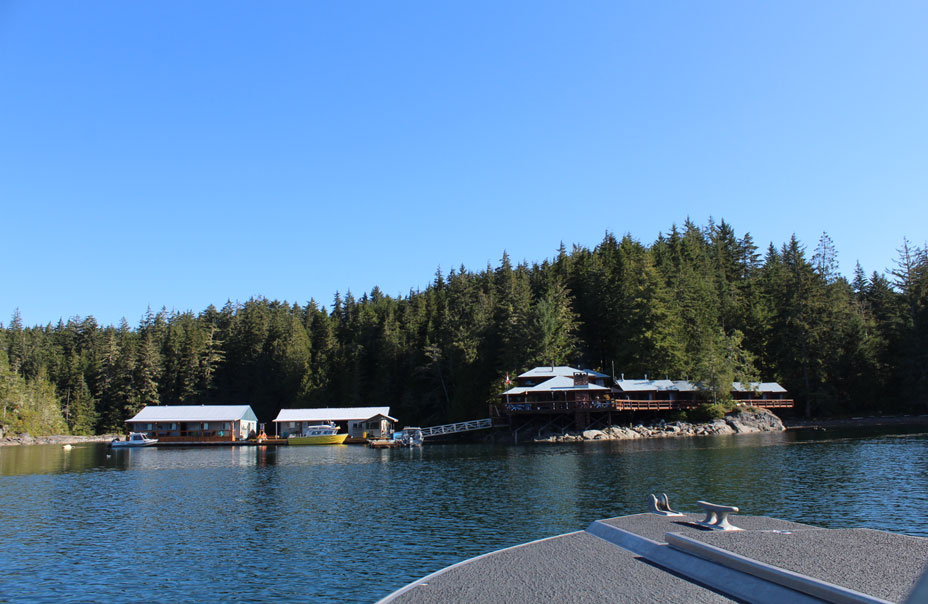 A Look at the Lodge
Upon arriving at the secluded ocean-side lodge , we settled into our rooms (each with a gas burning stove and waterfront views) before orientation and our first excursion.
The lodge is part floating and part land-based, and is connected by wooden walkways. The inside has a west-coast homey feel with cozy leather coaches and a social dining setting.
My favorite features of the lodge? It faces west, which meant we had stellar sunset views each night! There's a smaller capacity of only 24 guests, which is less than most wilderness lodges. This adds to the intimate atmosphere and makes it easy to get to know everyone.
It's family owned and operated by the Brockway and McGrady families, who are so welcoming that you can't help but feel like part of the Farewell family by the time you leave.
Whale Watching in the Johnston Strait
Whale watching was the first excursion of the trip, and one that Farewell Harbour is ideal for because of its close proximity to the Johnston Strait (a whale hot spot).
We set out with one of the owners, Ryne - who quickly spotted a humpback whale feeding in the distance. Witnessing these massive humpbacks in their natural habitat with NO other boats around was something special.
We observed their feeding patterns and learned while we watched - I still can't get over the size of their mouths! Watching whales eat all afternoon got us ready for our own dinner, so off we went back to the lodge for some delicious appetizers and a glass of wine.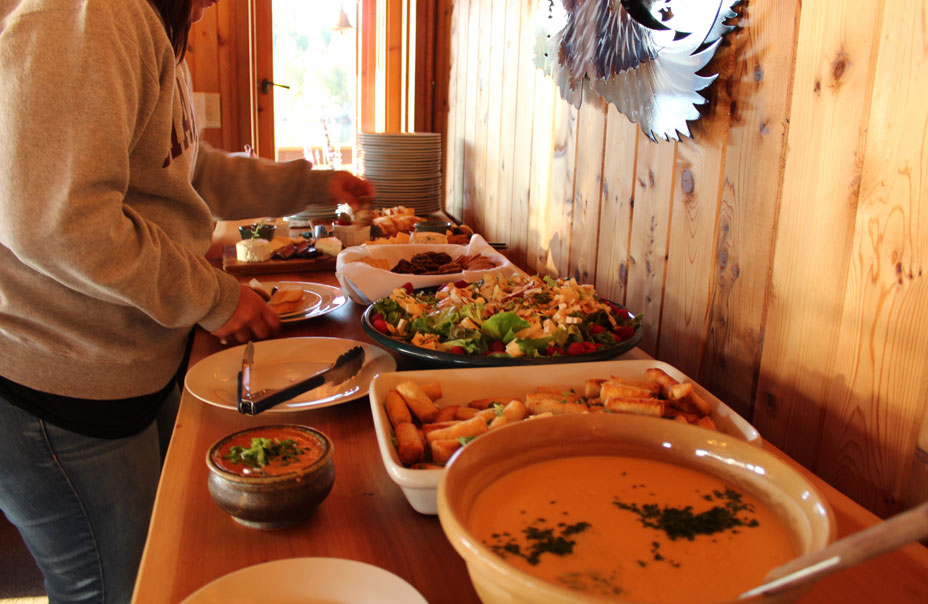 West-Coast Cuisine
Dinner at Farewell is served family style with local ingredients and in hearty portions (yum!). Before dinner, we'd trickle in from our daily activities in small groups and quickly begin swapping stories and comparing photos.
After dinner, the owner Tim would make his way through the guests learning about our specific interests and tailoring the next day accordingly. Later in the evening there were engaging presentations with topics ranging from the cultural significance of the area to grizzly bear behaviour.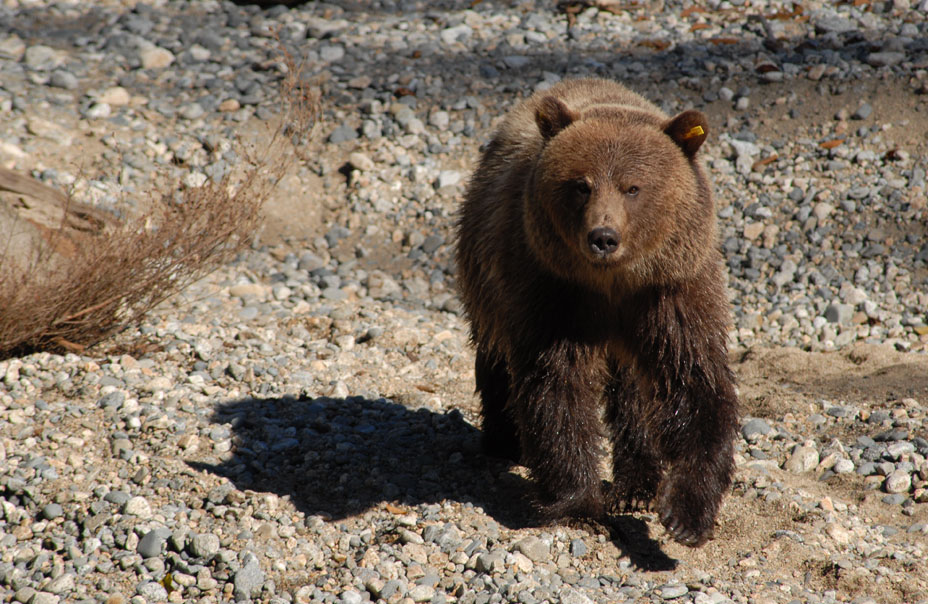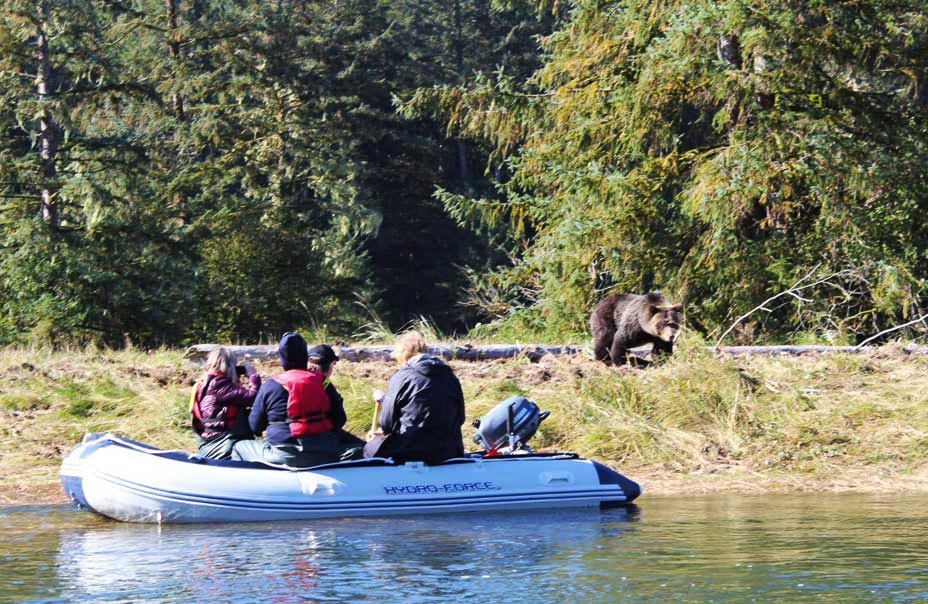 Bear Viewing in the Great Bear Rainforest
Bear viewing at Farewell is done either by foot or by zodiac and always on the animal's terms! Viewing by foot was my personal favorite; we followed Tim along a bear trail spotting day beds and other signs of bear activity.
Despite us being completely on their turf in the Great Bear Rainforest, I surprisingly wasn't scared. It was easy to trust our guides, who have been leading bear viewing excursions for years.
When we reached the opening of the river, we caught a glimpse of a black bear in the distance who slowly continued upstream and out of sight, then we simply sat and waited to see what nature would get up to next.
After waiting for about an hour, there he was , a bear named Gatu, sauntering slowly up the river toward us looking for fish. He glanced over at us, yet remained unbothered by our presence. I clutched my heart…yes, I was still breathing.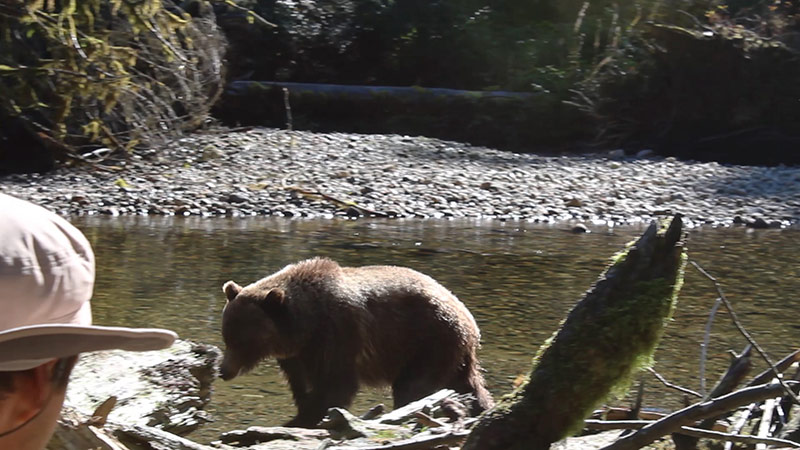 We crouched behind a log with our guide, while the bear sniffed near us and casually walked by. We watched, half fumbling to take photos, half trying to remain as cool as Tim, who was softly chatting with the bear to reassure him we weren't a threat.
After Gatu passed by, the 8 of us let out a collective sigh and a huge smile as we stared at one another , completely in awe and instantly bonded by this once in a lifetime shared experience.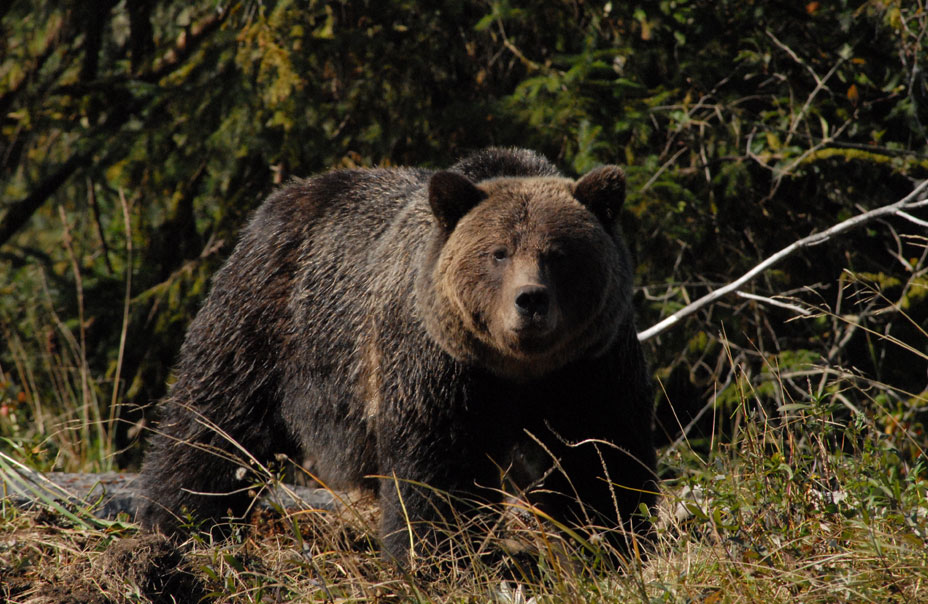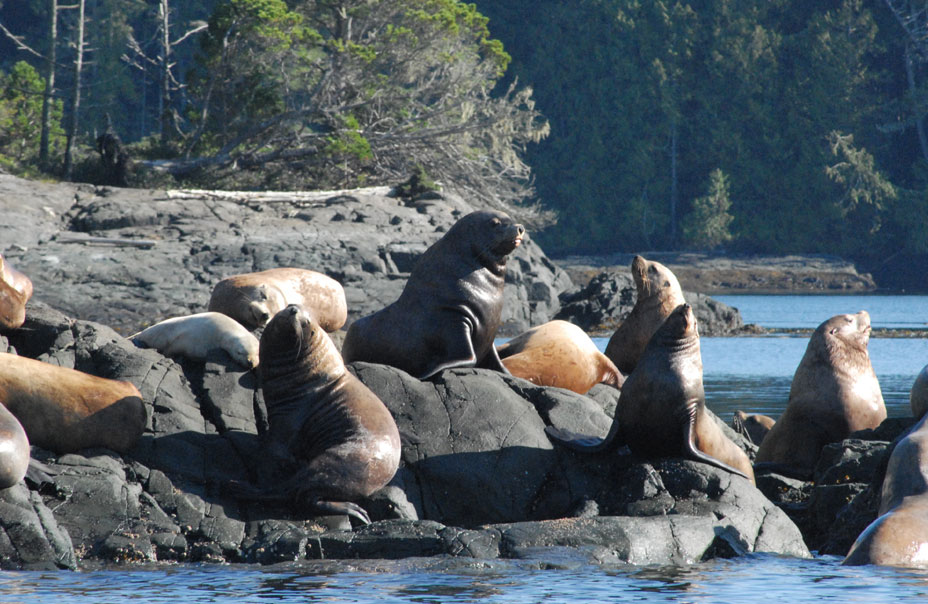 More Than Epic Wildlife Encounters
On a 3 night itinerary, you can expect one full day for marine wildlife viewing and one full day dedicated in search of bears , and there's plenty to do outside of that, such as First Nations cultural site visits, guided sea-kayaking, fishing and even stand-up paddle boarding.
A great option for your last day is to visit Alert Bay, a remarkable First Nations community steeped in history and natural beauty. Learn from the locals and experience the internationally renowned U'mista Cultural Centre.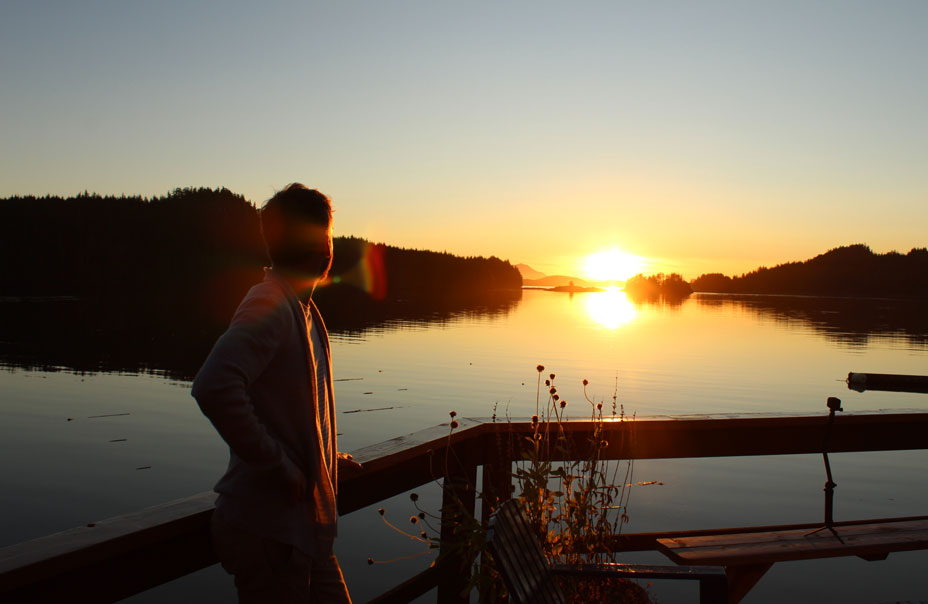 Why We Loved It
The experience at Farewell Harbour has a way of shifting your perspective to create a profound new appreciation and understanding for the natural world. It's the kind of place you bring your nearest and dearest to so that you can share in these transformative experiences together.
A personal highlight for me was witnessing a massive pack of dolphins appear behind our boat and begin following our wake, playing and cruising with us for quite some time. The mammals radiated sheer joy that was impossible not to absorb , equally impossible was not letting out a few embarrassing shrieks of giddiness.
From holding eye contact with a grizzly bear to sipping wine in front of spectacular sunsets while the day's learnings settled in my mind, these special memories have buried themselves nice and comfortable within me, with no plans of leaving anytime soon. I will no doubt be back again one day!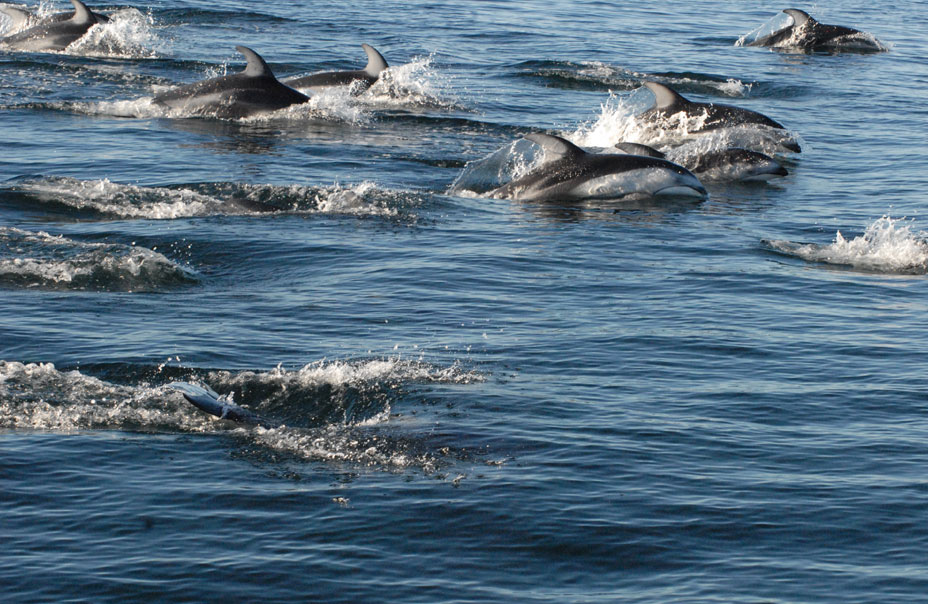 TIPS & FAQ
Best time to visit? There are plenty of wildlife viewing opportunities from May through October. For bears, consider springtime May/June to see bears begin to forage for food after hibernation. End of August to early October is when you'll have a good chance of seeing chubby bears filling up before hibernation. This is high season so booking early is necessary.
Suitable for Children? Their minimum age requirement is 10 years. The activities are focused on full days of wildlife viewing and cultural exploring and require guests to be able to take instruction regarding bear behavior. We can help if you're looking for a family lodge getaway with a younger focus. Farewell Harbour Lodge makes a great choice for multi-generational families.
Is there Wi-Fi? It's available, but trust me you won't be checking your phone unless it's to look at your photos from the day. The common area is for sharing stories of the day's events over a meal together , so leave the Instagramming for when you're in your room.
Tip: The service can be spotty during the daily excursions; so don't plan to work from the boat. I found this made it so much easier to truly be present; a welcomed detox from the digital world!
What to Pack? It's located in the world's last remaining coastal temperate rainforest so rain is possible even in summer months. Note that they provide full rain gear.
Bring layers! In the sun it's quite warm but can be chilly on the water
Camera - with a good zoom lense if you can (300mm or more)
Toque/Beanie, Sunhat/Ball Cap, and sunglasses
Rain coat for when it's lightly raining and/or you don't want to be in the full rain suit
Hiking boots
Casual wear to change into after the daily activities and before dinner
If you're like my colleagues Sam and Rich , you may want to bring your swim suit for an ocean dunk off the dock. (I would have in August, but was too chicken/sane for October)
Any questions about our trip? Let us know below or contact our team to start customizing your own bear viewing lodge experience.
Want more travel tips and inspiration like this? Join our newsletter list here!