Of all the moments and memories we've collected through Canada train tours, self-drives and wilderness lodges, there are some that truly stand out. You know the kind , filled with profound experiences, inside jokes, shared smiles and life-long memories. Here we recommend our best trip ideas in Canada for reconnecting with what, and who, really matters.
This summer, we're calling on you to take more inspired journeys, shared together with those you care about most. To put down your phones, tablets, laptops and even e-readers, and to once again notice the lopsided smile of a loved one or the twinkling eye of a friend. Perfect for multi-generational families or groups of friends from near and far, there's truly no better way to connect than to travel Canada, and we've got a few great trips in mind.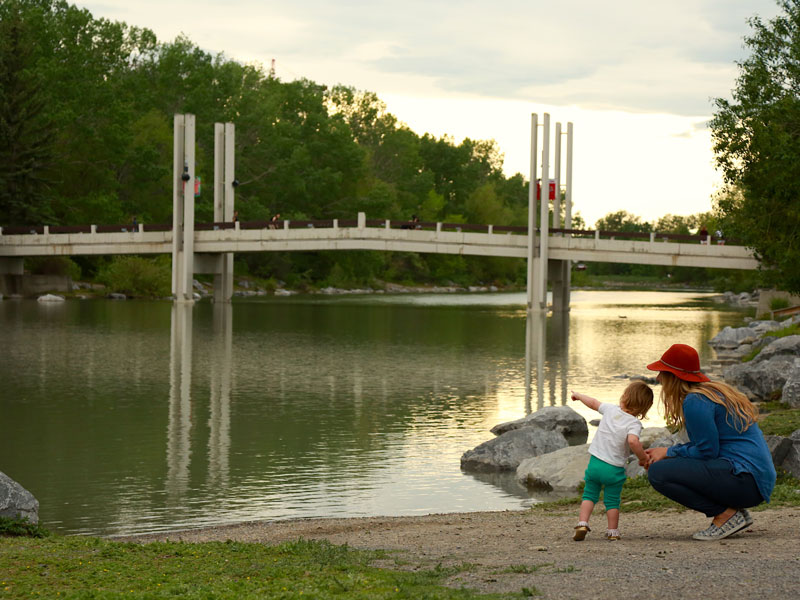 Canada by Design Traveler, Jade of Vagabond3, exploring Southern Alberta with her daughter.
At Canada by Design, we live and breathe travel in this endless and dynamic country. We personally embark on every trip that we sell, ensuring the quality of the experience will be above and beyond for you, our traveler. Our Travel Designers can customize any of our itineraries to fit within whatever length of time, dates or constraints you may be working with. Essentially, we work with you to make your dream trip come to life.
So having traveled extensively ourselves, we know just where you'll find such experiences, and we're here to share them with you across three themes: legendary landscapes by train, must-do road trips and once-in-a-lifetime wilderness lodges. Each has been expertly designed for flexibility, authenticity and plenty of room for unexpected moments, and while the experiences are all unique there is one key similarity: they are all experiences you'll only encounter in Canada.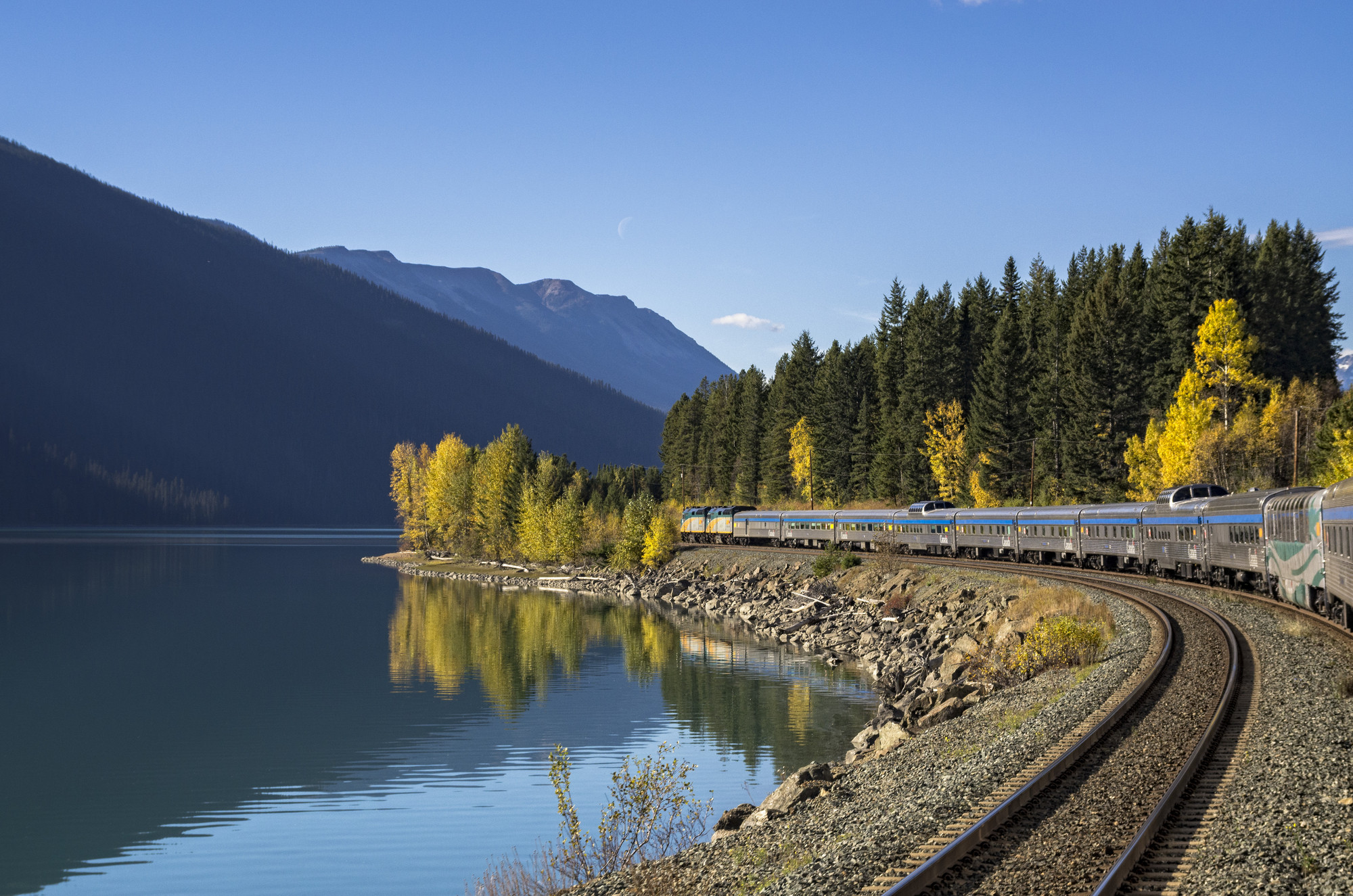 VIA Rail train winding its way through a wild landscape
Legendary Landscapes by Train
There's a certain kind of romance that comes with rail travel, and its managed to surpass the centuries. The chug of the engine, clink of champagne glasses and soft rocking of the cars will swoon even the insatiable traveler, and VIA Rail keeps up the classic experience while covering the width of the country. One of our top recommended tours is the Grande Canadian Rail Journey, all-encompassing in the way that it combines two luxury rail carriers and connects the West Coast with the East.
Pairing VIA Rail with Rocky Mountaineer, this trip starts in Vancouver and ends in Halifax, taking 22 days to get there. Winding through dynamic landscapes like the rugged Rocky Mountains, endless prairies and the coastline of Eastern Canada, you'll watch as the country transitions and transforms, bends and rolls its way from one ocean to the next. Stop for sightseeing tours of Banff, Montreal, Prince Edward Island and Hopewell Rocks, and venture beyond land to witness whales and the world's highest tides.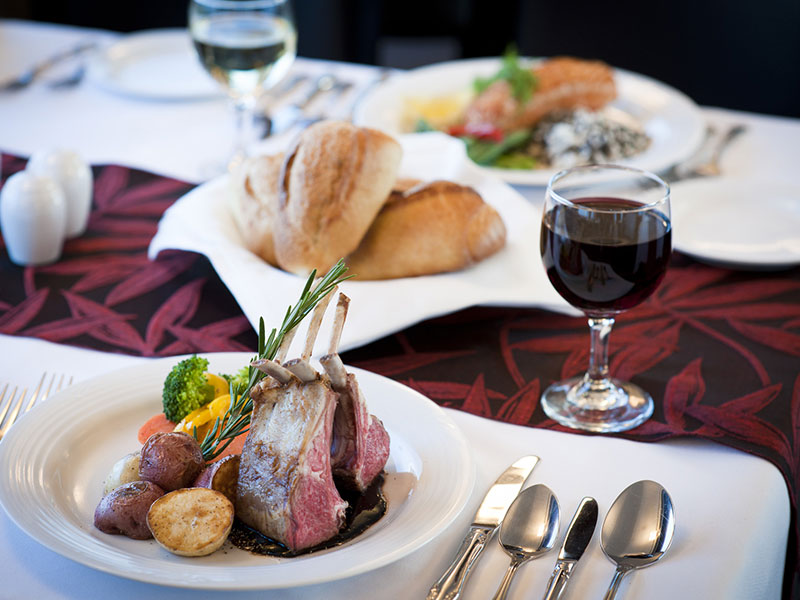 A meal served on board VIA Rail in the dining car.
On board, VIA Rail caters to every comfort you could imagine. Private sleeper berths offer a cozy bed to tuck into at night, a dining car serves dishes expertly prepared by an on-board Chef and the attentive staff are just a wave away from refilling your wine or beer glass. Chat with other travelers and enjoy the transition back in time , you'll lose cell service for parts of the journey, but that's always been fine by us.
This Canada train tour departs from Vancouver on Mondays through the summer months and includes an impressive list of incredible highlights, some of which we've outlined below:
Rocky Mountaineer
VIA Rail
Sightseeing Tour of Banff with Gondola Ride
Ice Explorer Ride on the Athabasca Glacier
Glacier Skywalk
Picnic Lunch on the Icefield Parkway
Niagara Falls Sightseeing Tour with Lunch
Quebec City Sightseeing Tour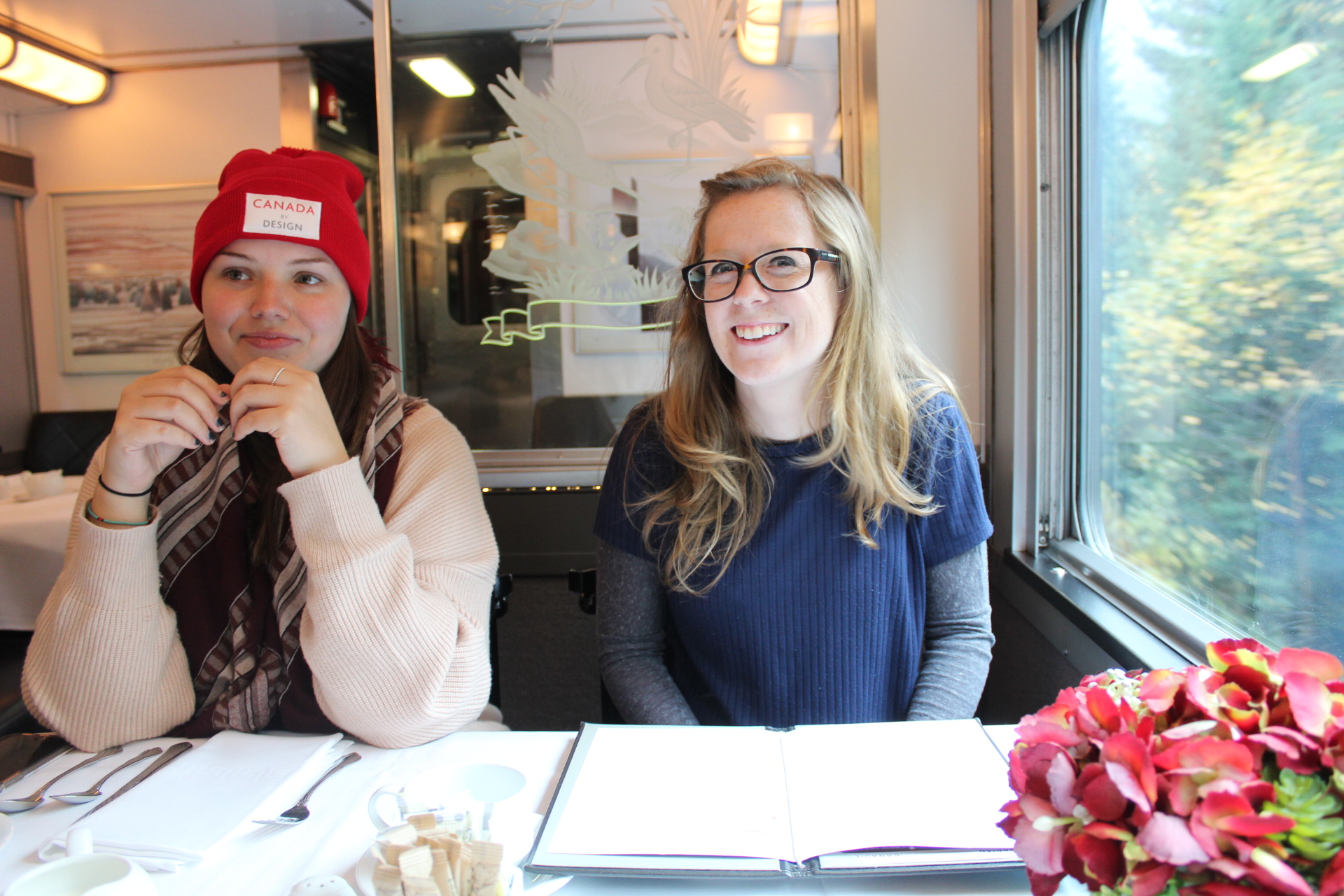 Canada by Design team members Teagan and Abbie in the dining car of VIA Rail
Psst, did we mention the Grande Canadian Rail Journey is included in our Bring on Summer Bonus Offer? Book by March 28, 2019 and receive up to $1,000 per couple in added value which can be used for additional hotel nights, city sightseeing tours, activities or private transfers.
Travel Tip: Opt to add a little more time on arrival in Halifax to explore everything there is to offer. Our travel designers can help you customize your trip to include as much or as little time you need.
More Legendary Train Tours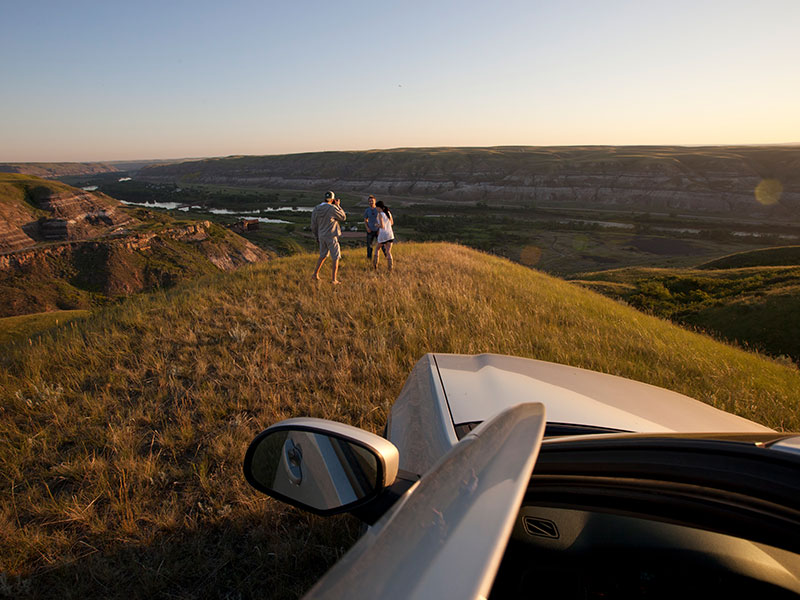 Friends enjoy a road trip stop in Southern Alberta.
Must-Do Canadian Road Trips
Maybe it harkens back to the days when we'd drive aimlessly in our cars, engrossed in conversation and having such a good time that we weren't ready to arrive at our destination. Perhaps it's related to memories of newfound freedom, proudly equipped with our very own license at the eager age of 16. Whatever it is that we love about road trips, the fact of the matter is that it's lasted, and Canada has (quite literally) countless roads for you to explore.
The Jurassic Adventure in Southern Alberta is a 9-night self-drive through some of Canada's best-kept secrets. While we're all familiar with the famous Rocky Mountains and Niagara Falls, name dropping the Canadian Badlands may not initially call an image to mind. Once you go, however, we'll just say this , you won't be able to stop thinking about it.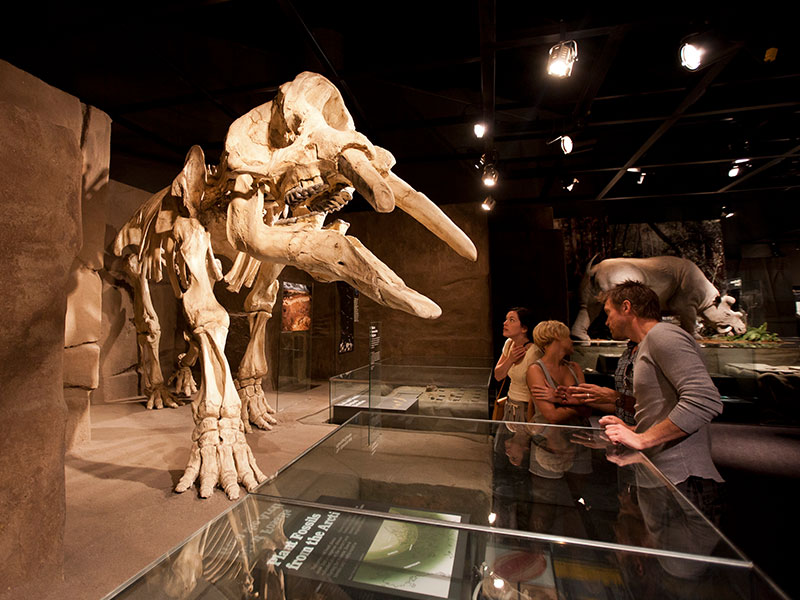 A dinosaur skeleton on display at the Royal Tyrrell Museum in Drumheller, Alberta
First traveling from Calgary to Banff, you'll kick off the trip with the world-famous Rocky Mountains. Spend a night in rustic luxury at Buffalo Mountain Lodge, enjoying the cozy comforts of a room equipped with your very own stone fireplace. Soak up facilities like an outdoor hot tub or head to the hot mineral pools at Banff Upper Hot Springs, then hop in your car and head east to continue the trip towards Drumheller.
Once roamed by dinosaurs and still home to their skeletons, the Canadian Badlands are an incredible piece of history and geology. Here you can visit the Royal Tyrrell Museum , Canada's largest dinosaur museum , and Dinosaur Provincial Park to unearth completely authentic prehistoric bones. Then, you'll continue to Cypress Hills Provincial Park, Waterton Lakes National Park and even Head-Smashed-in Buffalo Jump (which, yes, is as cool as it sounds). Top it all off with the following inclusions and you have a road trip that can't be beat:
Admission to Calgary Tower
Banff Gondola
Admission to either Banff Upper Hot Springs or Miette Hot Springs Jasper
Admission to Royal Tyrrell Museum
Dinosaur Provincial Park 2 Hour Bus Tour
Admission to Head-Smashed-in Buffalo Jump
A cowboy performs at the Calgary Stampede rodeo.
Psst, did we mention the Jurassic Adventure in Southern Alberta is included in our Bring on Summer Bonus Offer? Book by March 28, 2019 and receive up to $200 per couple in added value which can be used for additional hotel nights, city sightseeing tours, activities or private transfers.
Travel Tip: Plan your trip dates to fall over July 5-14 and head to Calgary for Calgary Stampede. Considered the greatest outdoor show on earth, it's a 10-day festival and rodeo that we can include tickets for as part of your trip.
More Must-Do Canadian Road Trips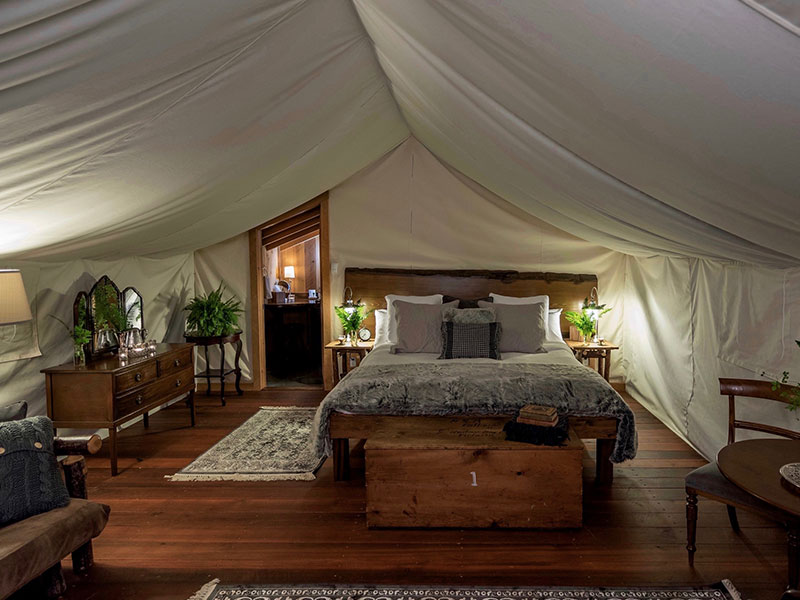 The interior of a tent at Clayoquot Wilderness Resort
Once-in-a-Lifetime Wilderness Lodges
The ultimate way to finish your authentic adventure is with a stay at a Canadian wilderness resort. From west coast wildlife resorts (Farewell Harbour) and floating lodges (Nimmo Bay) to spa hideaways (Sonora) and safari-style tents (Clayoquot), wilderness lodges are the perfect place to stay, play, eat and relax. Tucked away in secluded locations that are often only accessible by water or air, everything from the architecture to gastronomy is inspired by the surrounds, making for a truly local experience.
Making the Conde Nast Gold List for 2019, Clayoquot Wilderness Resort is undoubtedly one of our favorites. Blending pristine natural surroundings with fine dining and unique activities, the extraordinary aspects of the resort go well beyond its eco-safari tent-style accommodation. Spend days horseback riding, kayaking, hiking or heli-sightseeing , there's a long list of activities available to enhance your stay. Plus, everywhere you go you'll encounter abundant wildlife like black bears, gray whales, humpback whales, eagles, orcas, sea lions and porpoises.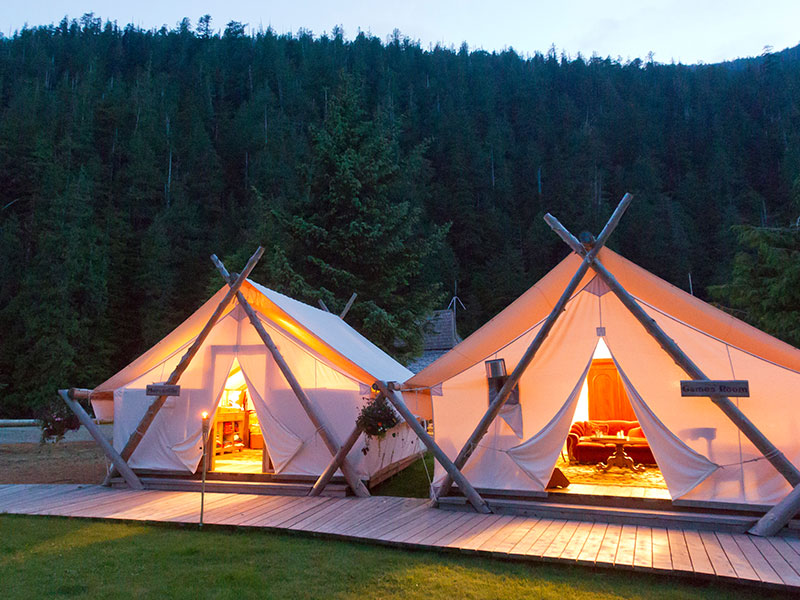 Clayoquot Wilderness Resort lounge tents and games room
This small, eco-friendly resort holds a huge commitment to providing an authentic wilderness experience while protecting the biosphere's delicate ecosystem. Balancing that with an incredibly high standard of comfort, each of the safari-style tents is richly appointed with cast iron stoves, ensuite bathrooms with heated floors, private outdoor showers and antique furnishings.
This trip departs from Vancouver on Thursdays for the 3-night stay, Sundays for the 4-night stay and both Thursday and Sunday for the 7-night stay. It also includes the following:
evening turndown service and room amenities
all gourmet meals and snacks
all beverages, including house wine and beer
all guided and unguided activities
massage
gratuities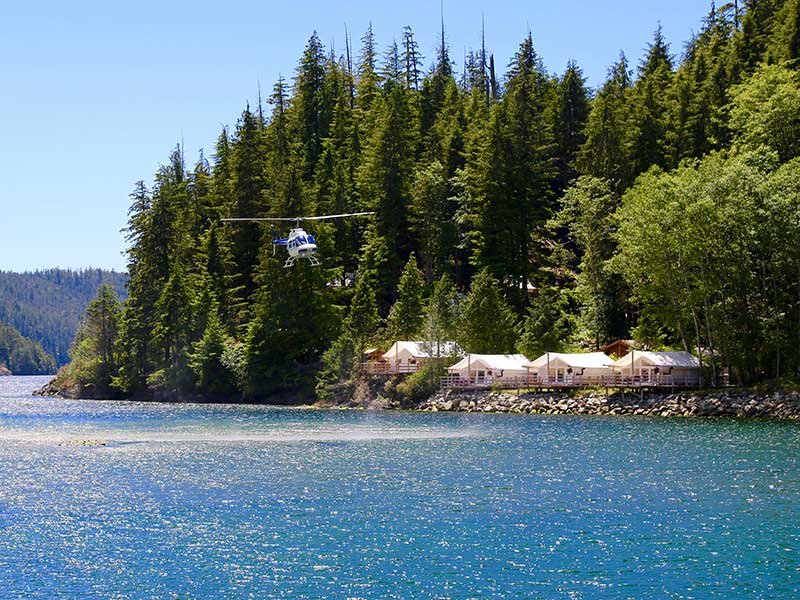 A private helicopter carries guests to Clayoquot Wilderness Resort.
Travel Tip: Ask us to include your transfers to Clayoquot. You can fly to Vancouver and connect directly to the resort dock via a scenic 45-minute floatplane ride or transfer by boat (40 minutes) to the resort.
Other Once-in-a-Lifetime Wilderness Lodges:
Feeling inspired? Chat with one of our travel designers to create a custom trip that's just for you. Prefer to simply stay in touch? Subscribe to our newsletter for up-to-date deals, trip ideas and more!